The vinyl record has gone through a remarkable resurgence in popularity over the past several years—quite a turnaround from the 1990s when it seemed like vinyl was headed for obsolescence. In April, Billboard reported that vinyl record sales went up 53 percent for this year's first quarter; overall  sales have risen 260 percent since 2009.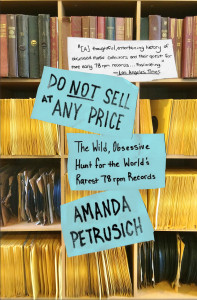 Before 33 1/3 rpm records became the standard after their introduction in 1948, the 78rpm disc was the norm; 78s held considerably less music and were made of shellac, ensuring their fragility. As such, vintage 78 rpm records are extremely rare (I've never held or even heard one played), making them catnip for collectors. Music writer Amanda Petrusich outlines the story of 78s and the collectors who seek them out in her critically-acclaimed book Do Not Sell At Any Price: The Wild, Obsessive Hunt for the World's Rarest 78rpm Records. First published last year via Scribner, the book was recently been released in paperback.
One chapter (read an excerpt in Brooklyn Magazine) recounts the story of Big Joe Clauberg, who owned the Jazz Record Center in midtown. In the 1940s, Clauberg's customer, James McKune amassed 300 78s, a huge trove of these rare gems, which he stored in his room at a YMCA in Williamsburg.  Clauberg's collection played pivotal role in preservation of old blues records.
Petrusich, a Brooklyn resident who also wrote 33 1/3, a book about the Nick Drake album Pink Moon, and who teaches at NYU, will make an appearance at WORD this Thursday in conversation with Rolling Stone writer Rob Sheffield. It should be a lively evening for die-hard record collectors as well music history buffs.
Below is Charley Patton's blues song "Some These Days I'll Be Gone," which appears on a record purchased by James McKune in 1944.
'Amanda Petrusich Presents 'Do Not Sell At Any Price" will take place Thursday at WORD, 126 Franklin St., Brooklyn, 7pm. RSVP preferable. Do Not Sell At Any Price: The Wild, Obsessive Hunt for the World's Rarest 78rpm Records is now available in bookstores and online outlets.