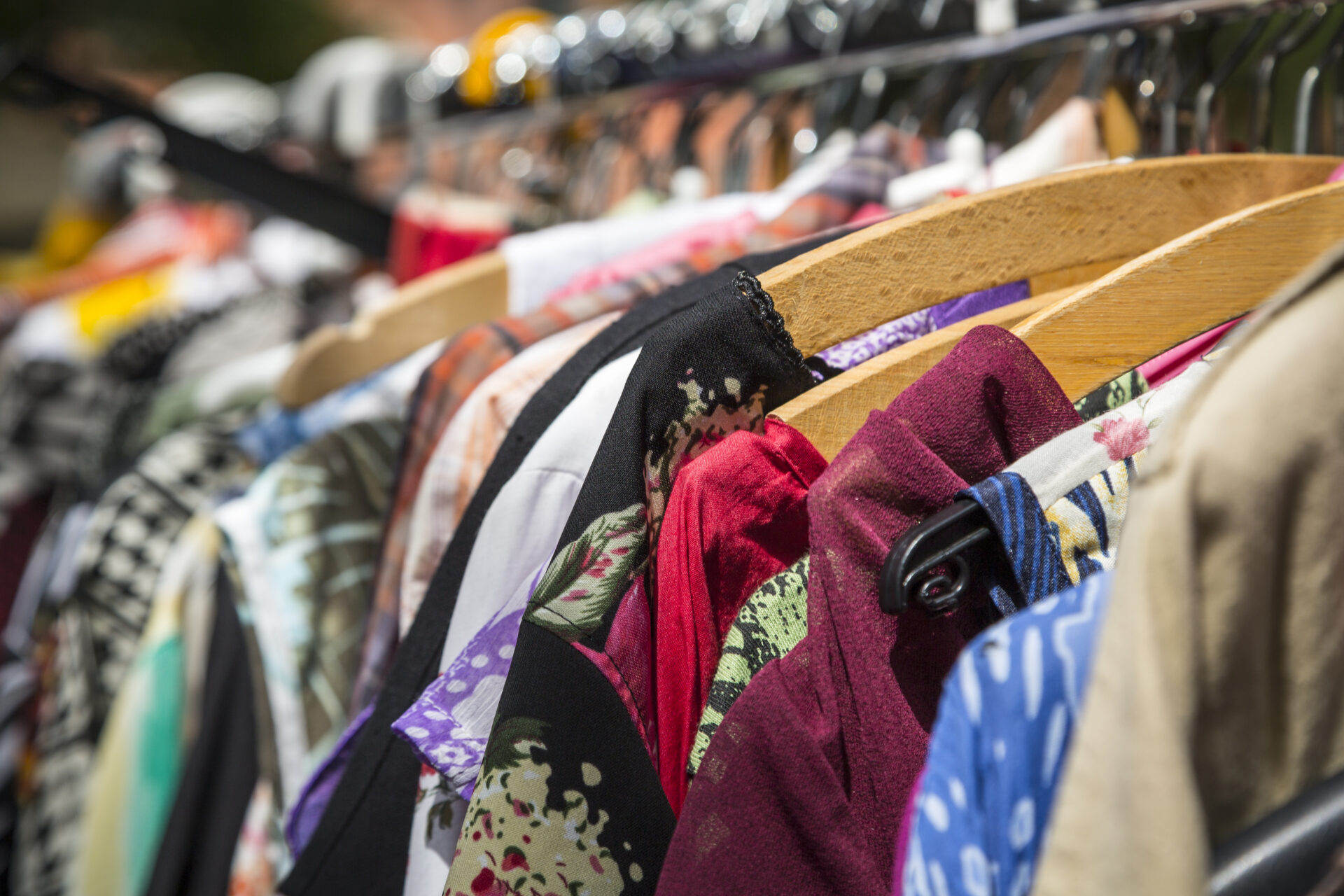 I spent a long period of time in college depending on thrift store finds at Goodwill to help define my late-90s, early 2000s style. Alongside weird junk for "decorating" my first apartment, I also prided myself on t-shirts that fell apart on my body, dresses sometimes two sizes too big (or small), and the most killer pair of low-top, yellow and orange vintage roller skates that fit me perfectly (that I wore ALL THE TIME). After I graduated, in some dumb effort to grow up, I sold the skates back to a thrift shop and tried not to look back. Worst. Mistake. Ever.
These days, I buy clothes that actually fit me, but I still thrift in search of great prices. There's only so much online shopping you can do to find a good deal, but even more than that, every time I step into a thrift store the feeling of possibility is palpable in a way that can be addictive. Whether you're searching for bargain on your work wardrobe, a vintage Diane Von Furstenberg dress, or the perfect pair of roller skates, half the fun of thrifting is the search.
So  I can really get behind National Thrift Store Day, which ReuseNYC is celebrating this Monday, Aug. 17, 2015. ReuseNYC member-approved shops including Beacon's Closet, Angel Street Thrift Shop, Cure Thrift Shop, and Rags-A-GoGo, are getting in on the thrifty fun, with sales and specials. To make the most of Thrift Store Day, and to help you make shopping more of an adventure every day, I chatted with pro-thrifters, shoppers and sellers alike, about how to get the best deals, whether you're buying, selling or browsing. 
Bring a Co-Pilot Shopping with friends is better, especially when you're thrifting. You can find yourself trying on so many clothes that you're ready to just say fuck it and walk out with nothing. Queue your co-pilot.
"I've seen so many people, women especially, who have confidence issues with shopping,"says Sam Schaeffer, a long-time retailer and avid co-pilot. "It's nothing about the money, it's more that they need someone to say, 'Try this on, it will look amazing on you.' And it does."
Having a second set of eyes (or more) while you shop can help you find what you're after more quickly, and also help you pick things that you would normally pass over, but are actually a great fit.
Know Your Needs, and Stay Seasonal This is especially crucial if you forgo a co-pilot. Sure, sometimes you're just browsing, hoping that a sweet pair of shoes will pop out at you from under a cute little clutch that someone decided not to buy. It's tough though, when there's a plethora of clothing and shiny things to scrounge through and you get overwhelmed. Know what you're after and come with items in mind, when they're most likely to be available. Shop in season–this goes for both purchasing and selling. Most thrift shops won't even look past your trash bag if you've got a pile of holiday sweaters mixed in with your shorts and sundresses.
Sold to the Highest Bidder! You may already have one store where you prefer to sell clothes. Consider trying more than one spot–often I find myself with a big pile of "nos" at Beacon's Closet, and then a bunch of resounding "yeses" at Buffalo Exchange. In fact, the folks at Buffalo Exchange suggest that you call before you come in to see what they need.
"It really depends on who you get looking at your stuff, and whether it's in season and happens to be stuff they are currently low on," says Kara Dalhberg, former NYC resident, and current web designer for the Honeypot Vintage Store in Asheville, N.C. Oftentimes getting cold hard cash is also problematic if you have a bunch of stuff that they will take, but nothing that is worth all that much green. "No problem," Kara adds, "Store credit is a great deal if you like to shop there anyway." Especially if you want to trade on-spot.
For consignment selling tips and inspiration, check out what happened when writer Peggy Truong took the same dress to five different shops in Brooklyn (the price offered ranged wildly).
Organization My favorite shops organize their clothes by color, era or decade, though that can be frustrating for harder-to-find sizes, so if that's you, head to a place that sorts by size. To hit up several shops at once, head to a thrift store hotspot like Williamsburg, where you'll find Buffalo Exchange right next to Monk Vintage Thrift Shop, as well as Narnia Vintage. There's also a big Beacon's Closet within walking distance in Greenpoint (they're celebrating Thrift Store Day with big sales). Each place has a different system, (Beacon's, notably, by color). Monk has so much stuff that they are the least organized, but it's a thrifter's paradise in there.
Vintage Versus Thrift Most thrift stores sell both true vintage–clothing that was made in another era–and more recent duds. Then there are strictly vintage shops, like The Glasgow Vintage Co. in the East Village, which specializes in clothing from 1950-1980. While no lack of polyester abounds in either type of retailer, the cost can be triple at more specialized
shops. Don't be afraid of true vintage shops, especially if you need something special or very specific. And keep an eye out for their sales.

Not Just Your Closet If you play it right, you can shop for your closet and your living room (or record collection) at the same time. Housing Works has furniture, dishes and other home goods, and it's a great place to donate, if you can't stand selling your stuff. Rags-A-GoGo, which has been open for more than 25 years, specializes in vintage clothing and records, and they offers a discount question of the day, YouTube interviews, and a live feed so  you can check out what's in the store in real time.