[sponsored_by action_blurb="Sponsored By" name="Luna Park" url="http://lunaparknyc.com/" logo="http://explorebk.com/wp-content/uploads/2015/08/luna-park-coney-island.png" byline="Luna Park, in iconic Coney Island is the best place in NYC for mild, moderate, and extreme thrills!" attribution_action_blurb="Created By" attribution_name="BlankSlate" attribution_url="http://www.blankslate.com/"][/sponsored_by]
Still working on your summer bucket list? Forget about everything else and go to Coney Island. The seaside resort overlooking the Atlantic Ocean has been New York City's playground since the 1880s. Its iconic wooden boardwalk, built in 1923, affords some of the best people-watching in Brooklyn and is home to the original Nathan's Famous, (which began as a nickel hot dog stand in 1916).
For the true Coney Island experience, though, you need to check out Luna Park, the storied amusement park that still operates the 88-year-old Coney Island Cyclone rollercoaster. Sixty-six years after the original park burned to the ground, Luna Park returned to the Coney Island Boardwalk in 2010, and quickly became a favorite for New York City families and anyone who's a kid at heart.
This summer, the park is celebrating its 5th anniversary by adding five new rides to their already impressive collection. Four of them are already up and running: the kid-friendly Brooklyn Barge, the spin-filled Power Surge, Seaside Swing, and WindstarZ which allows riders to control the movement of their ride experience! The much-anticipated Endeavor will be unveiled in coming weeks.
On a sweltering Thursday, I decided to hop on the Q train to test-ride Luna Park's attractions for myself. Here's what to expect!

Luna Park is located right off the iconic boardwalk. Bonus: You don't have to pay an entry fee to get in. In addition to the world-famous Coney Island Cyclone Rollercoaster, you'll find a variety of games and over 25 rides ranging from mild to extreme thrill, including the brand-new Brooklyn Barge, Power Surge, The Thunderbolt, and WindstarZ.
For the purposes of this story, this intrepid reporter decided to try the rides out for herself. (And by intrepid, I mean I was very, very trepid.)
The Thunderbolt
When I saw the towering orange lasso known as The Thunderbolt, I was suddenly overcome by a powerful urge to play every arcade game in the vicinity. The 115-foot-tall coaster replaces the original wooden Thunderbolt, which ran from 1925 to 1982. The 90 second ride stretches the length of an entire city block and moves riders along 2,233 feet of track at 55 miles per hour.
After several spirited rounds of Whac-A-Mole, my friend managed to drag me into the line. The ride kicks off with an adrenaline inducing 90-degree vertical ascent. Reputable sources have informed me that the view is stunning if you actually keep your eyes open.
Once you reach the top, you're thrown into a 90-degree vertical drop that leads into a 100-foot vertical loop followed by an 80-foot, zero-gravity roll, and five inversions. I was too afraid to scream. It was definitely worth it, and I am still high-fiving myself for braving it!
Power Surge
Located directly behind the boardwalk location of Nathan's, you'll find this high thrill ride featuring a six-armed claw with a two-person seat on each end. I'd just ridden The Thunderbolt, so this looked like a cakewalk. Not so much. The Power Surge may not have a zero-gravity roll—but it's definitely thrill-inducing.
Once the seemingly benign claw began to rotate, I discovered that my seat was capable of executing full 360-degree flips. The ride is scary in an "Oh my god! I am terrified but the view is amazing!" kind of way.
WindstarZ
Billed as the world's first self-directed ride, the all-new WindstarZ makes you feel like you're hang gliding above the boardwalk. The 24-seater utilizes the ocean wind to achieve liftoff. Once you're airborne, you can control your flight experience by adjusting the glider's wings. The one-of-a-kind attraction makes eight revolutions per minute.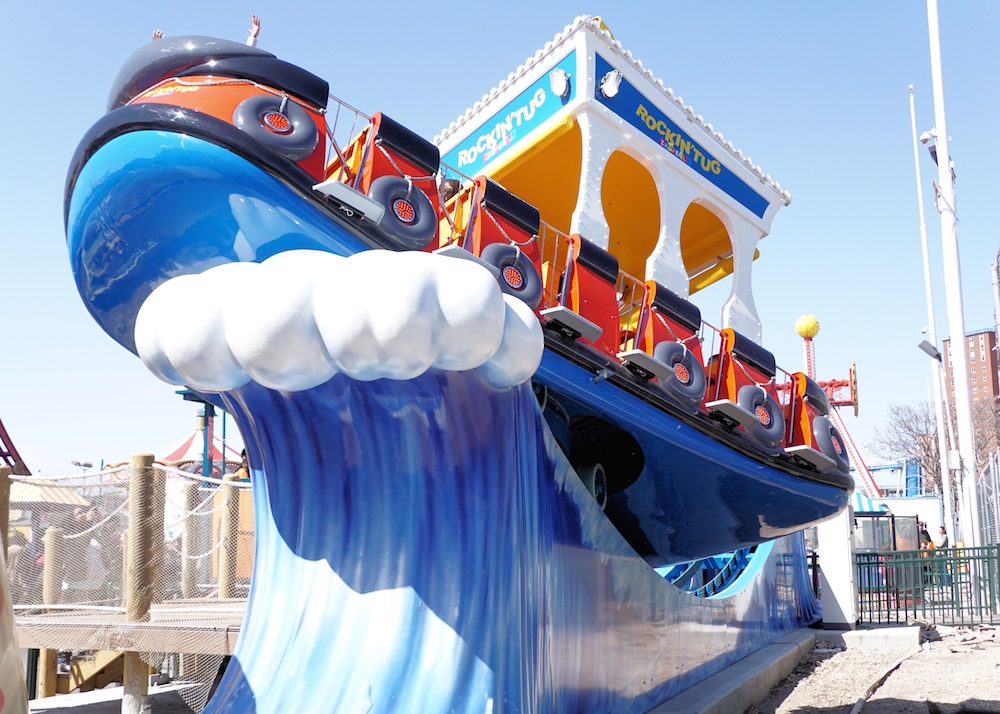 Brooklyn Barge
I finished off the day on Brooklyn Barge. Although I was the only adult on the ride, it was exactly what I needed after a day of white-knuckled thrills. The ride features a cute tugboat that simulates the rocking of a ship. It's a mild thrill ride that anyone can enjoy (as long as they're with a guardian, or 42 inches tall).
Coney's Cones:
Braved all of the rides? Reward yourself with a trip to Coney's Cones. Luna Park recently recruited Italian gelato expert Daniele Dal Sasso to set up shop next to the boardwalk entrance to Luna Park. Their 24 rotating flavors of artisanal gelato are made from scratch daily. The Milano gelato will change your life. If you can't pull yourself out of the park, there is Coney's Cones 2 located inside the park, across from another amazing ride, Luna 360.
Luna Park is an unforgettable destination for families, groups of friends, camps, schools and corporate events. Basically, there is something for everyone. Luna Park is open every weekend until November 1st. Make sure to stop by for their annual Halloween Harvest, beginning the last weekend in September and every weekend in October. This fun for the whole family event is filled with pumpkin picking and decorating, Kooky Spooky Karaoke, magicians, balloon artists and so much more. There is even a dog costume contest on October 11! You can't get more Coney Island then that. Your year in Brooklyn isn't complete until you've visited Luna Park in Coney Island.