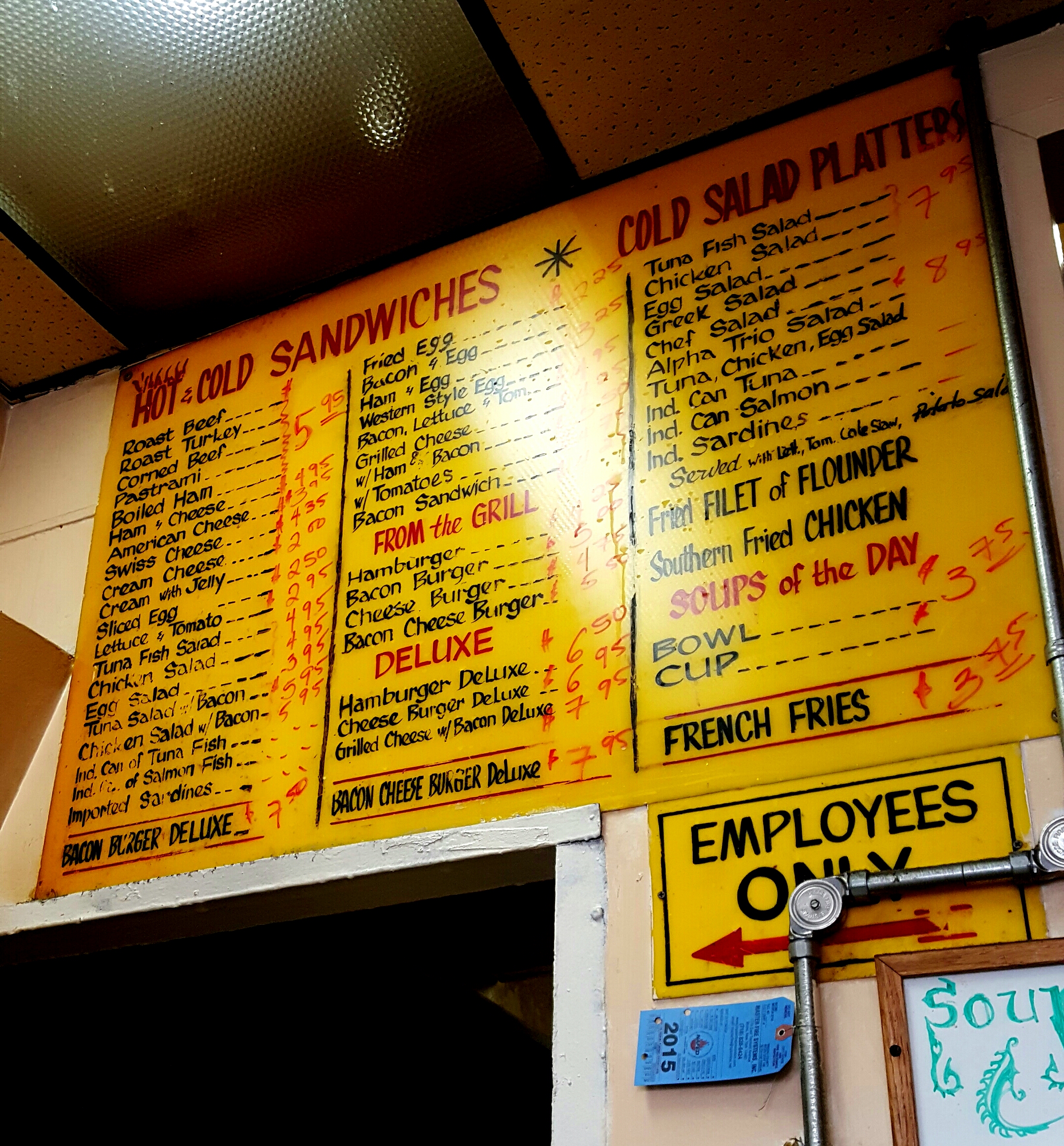 My days begin after dark. I sleep in the dark, I wake in the dark, I work in the dark and, seemingly always, I eat in the dark.
For more than a year I've worked the Lobster Shift at The New York Times, a tenuous overnight stint at our office building in Times Square. The origins of the name are highly disputed, though it is agreed that the term appeared in the 1940s. My favorite story is that newspapermen would go out drinking and come in for their shift "boiled." More probable is that "lobster" was slang for a fool in the early 19th century. From 9pm to 4am (more recently 8pm to 3am) I work on the News Desk, where editors work to put out the next day's four or more editions and oversee the production of nytimes.com. None of us are ever boiled. Perhaps we're just fools.
Any sort of digital work, deadline editing and reporting, means sitting for hours–and no lunch breaks. We eat when we can, where we can. Seamless and Grub Hub, for their numerous conveniences, are godsends. When I venture out, either mid-shift or after-hours, I find myself in search of culinary satisfaction in a city that's up all night, and sometimes what I need, beyond a dry slice of $1-pizza or the chow mein that seems to be available at any hour, is something approximating a home-cooked meal.
Often praised for their righteous fried dough, Alpha Donuts, on Queens Boulevard in Sunnyside below the elevated 7 train, is more akin to a community mess hall than an all-night eatery. It's a hangout for local insomniacs and the swell of livery cabbies who come for the fresh if sometimes burnt coffee, crisp crullers, Irish specialities including mashed potatoes and white and black pudding, breakfast sandwiches and platters, and the chrome-rimmed stools lining the S-shaped flat-top plucked from a 40s lunch counter.
(Fun fact: Robert De Niro recently filmed Being Flynn here, the film adaptation of Nick Flynn's Another Bullshit Night in Suck City.)
The handwritten signage at Alpha Donuts evokes a simpler time, unchanged and weathered by years and the food is much the same. Heavily-stacked roast beef and turkey triple decker sandwiches, fish and chips, small Irish breakfasts (egg, sausage, beans and fries), and simple breakfast sandwiches stand as heavyweight contenders against the New York's abundant culinary genius, and many dishes start at about $5. This is a place for the hungry, the late-night wanderers and, perhaps more importantly, the early-risers gone in search of what is arguably the best donut in the borough.
Renowned locally for their crullers, crumb-crowned, apple, blueberry or blackberry-stuffed fluffs, and dozens of other cream-filled feather lights, there's no pretension to these fried orbs, just plenty of flavor.  To dunk: $1 coffee and bottomless sugar. Arrive early if you want a wider array to choose from–you'll find the baskets near-emptied before the start of any normal (boring?) 9am shift. That's how you know the place is really for the denizens of the wee hours.
Late-night visitors to Alpha Donuts are hard-pressed to keep out of local gossip, while alternatively being afforded the reprieve and privacy to slip behind a Daily News (delivered about 3am) or The Times (delivered at about 3:30am) and a stack of fries, beans, eggs, sausage, and of course black and white pudding—the perfect Irish breakfast.
In a pinch, if the crowd's too thick, I might grab a coffee from Dunkin' Donuts, located a few blocks west, if they're open. But, during a recent trip, I was assured that'd be making a mistake.
"Dunkin' Donuts, not for nothing," said one diner with a heavy Queens accent, "their donuts suck."
Alpha Donuts
45-16 Queens Blvd.
Sunnyside, N.Y. 11375
$ (Cash Only)
The Lobster Shift is a recurring monthly column by Kenneth Rosen that explores the city's all-night eateries and their inhabitants.