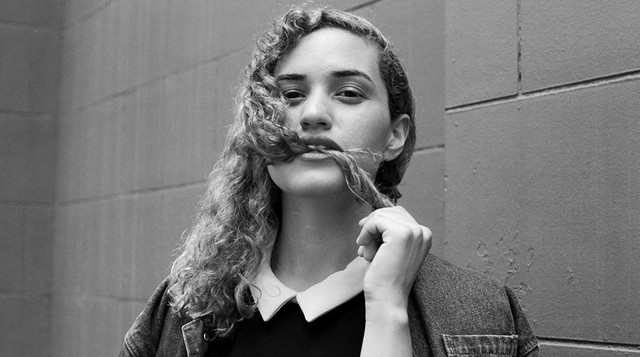 CMJ Music Marathon, now celebrating its 35th anniversary, returns to New York on Tuesday, Oct. 13. The line-up includes some surprising big wigs, including British singer Kate Nash, and rockers Motion City Soundtrack (if you didn't have this song playing over your blog in the early 2000s, you were doing something so very, very wrong), as well as hundreds of talented bands peeking up from the underground and flocking to the streets of New York from all across the nation. (Probably a few bands from Sweden, too.) CMJ has an app to help you navigate the waters of their insane schedule, but we've got a layout that's a little simpler. Five days, five bands. You've got this.
Side Saddle
Playing: Rockwood Music Hall Stage 2, Oct. 14, 6:15pm
For fans of: Good Old War, Fleet Foxes, The Decemberists
This six-person folk-pop group from Astoria creates something utterly sensational: music that just makes you feel really damn good. Originally formed as a solo project by lead singer Ian McGuiness back in 2013, Side Saddle has evolved organically into an ensemble. They've released an LP and two EPs in a little over a year, and have been performing stripped-down sets in nearly every borough. With subtle, artful harmonies and lyrics that are equal parts graceful and forlorn, Side Saddle maintains a vivid sincerity to their craft, felt deeply by the listener.
Frankie Cosmos
Playing: Baby's All Right, Oct. 14  13 at 9pm; The Knitting Factory, Oct. 15, 4pm; The Wick, Oct. 16, 9:30pm
For fans of: Best Coast, Courtney Barnett
There are so many bands out there handing us slacker rock on a plate, and not very many of them are truly delivering. Frankie Cosmos delivers, but not exactly in the way that you'd think. The girl behind the name is 21-year-old Greta Simone Klein and she is A Sad Girl. According to the lyrics from her 2014 debut album Zentropy, she's the kind of girl who gets splashed by buses, is bitter like an olive, and her hips are made of stone. So while the story arc of Frankie Cosmos may not be wide, her brief songs still pack a lot of punch; they're stitched-together notes on solipsism, intimate in their brevity.
Empress Of
Playing: Terminal 5, Oct. 15, 8pm; Cameo Gallery, Oct. 16, 11:30pm
For fans of: Banks, Purity Ring, Grimes
Lorely Rodriguez, the woman behind Empress Of, is a dream. The music she creates is dark and thrillingly layered, sloppy and sexy synth punctured by bursts of clear-cut vocals. Most impressive of all, she's basically a one-woman machine who writes, records, produces and engineers nearly all of her own music. Quite the show-off. One listen through her 2015 debut album, Me, and you'll be body-swaying your way down the street in the direction of her next show.
Juan Wauters
Playing: The Knitting Factory, Oct. 14, 11:45 p.m.
For fans of: Allah Las, Real Estate, Devendra Banhart
Formerly of The Beets and coming to us from Queens-via-Uruguay, Juan Wauters brings poignant, lo-fi, simple little bilingual stories that feel something like Dylan and The Beatles and 1970 and a chilly grey day in New York all at once. His latest album, 2015's Who Me? sighs through composed rumination on growing up, falling in love, and trying to figure out what to do with your days. "Who's that in my skin? Has he done much for me?" Wauters croons on the track "Water." Don't we all feel that way sometimes?
Glass Animals
Playing: Terminal 5, Oct. 15, 8pm
For fans of: Chet Faker, Flying Lotus
Ah, Glass Animals. A lovingly wrapped gift from Oxford, England, which we here in America have seemed to only just open. This quartet doesn't just make deliciously atmospheric music; they understand the intricacies of making that music complex and off-kilter, folding electronic patterns into a funk-filled haze, and totally seducing with a melody. Step into their world for a few hours.