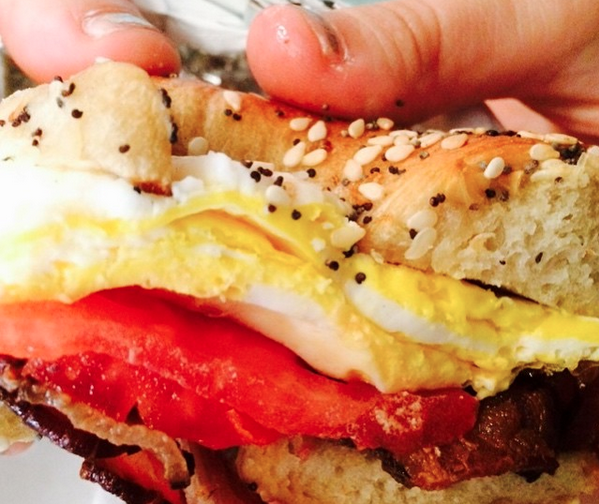 Joe Checkler, a name now synonymous in some circles with the New York City breakfast sandwich, spent a few weeks last summer as something of a local-media superstar. It was all my fault.

I'd stumbled across his Kickstarter campaign to raise money to "save the adequate-but-underachieving NYC egg sandwich by delivering instructional leaflets to all Midtown egg-sandwich makers."

"I haven't really checked on egg salad, but I do think there's a dearth of notable tuna melts."

When I reached out to Joe and asked about his campaign, he spoke with a mix of modesty and confusion: Like many New Yorkers, he loved his breakfast sandwiches, yet there seemed to be a dearth of places that produced what could pass as a decent one. His point was that the long-suffering breakfast sandwich is often put together in a rushed fury and inadequately layered with disproportionate amounts of egg, cheese and bacon. Joe wanted to change that.

His wants were indeed small: his Kickstarter goal was just $310 to help with flyer-making expenses. When my on City Room piece went live at 6am on Aug. 7, 2014, no one had pledged even a dollar. No one knew Joe. But 6pm, Joe was on the PIX11 and dubbed the Egg Sandwich Guy.

Gawker called him an "asshole," he was invited onto Good Morning America, appeared in New York Magazine's Grub Street, and covered on local Fox News and NBC affiliates. Of the $310 he pledged, he received $735.

One year later, and with McDonald now offering breakfast all day, I caught up with Joe to see what happened in the aftermath. Like many Kickstarters, things didn't go exactly as planned. Most importantly though, did he ever find that perfect egg sandwich?

When we last spoke you'd started a Kickstarter that grabbed my attention. I wrote about it for the Times. What was the idea behind the Kickstarter? 

The idea that something as simple as a good egg sandwich should always be good, with no exceptions. For those who had gotten lax, I spelled out a few rules. Cheese in every bite, decent bread-to-filling ratio.

Then what happened? 

Well, I got some feedback, positive and negative, but mostly positive, from people who were really passionate about egg sandwiches.

I'm sure the experience was a bit out of left field. You went from being on one end of the microphone to the other. How was that experience? 

It was definitely interesting, but I think I was able to use some of the experience I've gained as a reporter to think about what kind of message I wanted to convey. This could all come in handy, especially now, because I'm about to take a job as a media specialist for a communications firm.

The Kickstarter was funded in a few hours and then some. What happened next? Did you distribute the flyers? 

After careful consideration, the campaign was changed to eliminate the flyers. My thinking was, it would be demeaning to deli workers, and in the rush of their day, I wouldn't be able to explain what I was doing and they'd probably think I was applying for a job or something. I told my backers I'd be introducing the Egg Sandwich Guy Seal of Approval, to give to all places that made a good egg sandwich, regardless of the neighborhood. I had a friend design a seal for me, although now I'm being told that the design MIGHT be too similar to something else. In the meantime, I'm making a list of all the best places and will soon be developing a map on my website, eggsandwichguy.com.

What was the response like? 

JC: My backers were generally happy with the idea of the approval, and the t-shirts they've gotten (if they donated $25 or more.). The shirts are also for sale, details available on the Egg Sandwich Guy Facebook page.

I guess the important thing to ask is have you found the best breakfast egg sandwich in New York? Care to plug a few of your favorites? 

The best? That's tough to say. My goal is very very simple but also specific: I want any person walking around any neighborhood in New York City to be able to ask herself or himself, "Where can I get a good egg sandwich around here?" and have an immediate answer.

As far as my faves, I still love the breakfast burrito with bacon, egg, cheese, avocado and hot sauce from Gourmet 47 Deli on 47th between 6th and 7th in midtown. (Further proof that there's not ONE way to do an egg sandwich. A good BEC burrito is good, too.). I recently went to Egg Shop down in Little Italy (or do they call it NOLITA?) and I love theirs. It's spicy. I think they've got jalapenos on it. Mile End is also excellent.

And your thoughts on the ubiquitous Egg McMuffin, especially now that they are available whenever McDonald's is open?

The Egg McMuffin is an old stalwart. It has an excellent bread-to-filling ratio (English muffins are superb for egg sandwiches) and it doesn't fall apart. It's not fancy, but it's like an old lover: It's comfortable, and there are no surprises, and it's nice to catch up every now and then.

Have you considered taking the fight to city hall? 

City Hall has enough on its plate.

What should we think about the current state of egg salad in the city? 

I haven't really checked on egg salad, but I do think there's a dearth of notable tuna melts. I feel like the best one in the city is the one I make in my kitchen, with tuna, chopped onion, vinegar, lime juice, paprika, maybe some shallots, a bit of dijon mustard and of course mayo. I bake the bread at 500 on my pizza stone for two minutes, take it out, put the tuna on, put some cheese on top, then some tomatoes, then more cheese, then I put it back on the stone until the cheese is melted. I'm not sure why tuna melts have fallen out of favor.

Should that be my next crusade?