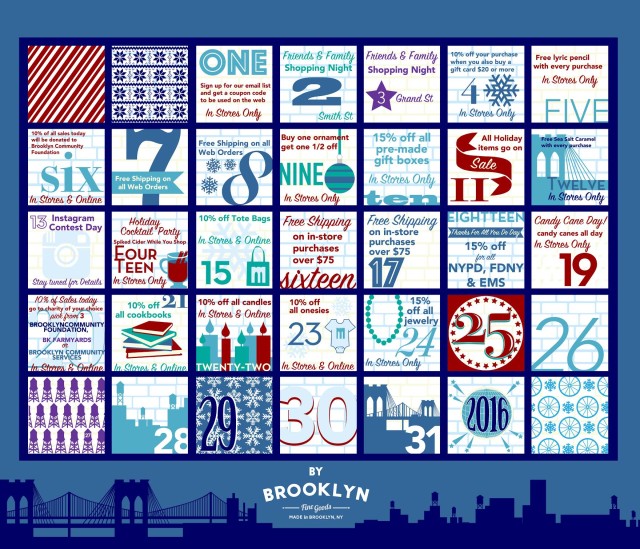 When Gaia DiLoreto opened the first By Brooklyn in Carroll Gardens 2011—the only shop that exclusively stocks its shelves with borough-made goods—she expected a few things to sell well, namely food, from chocolates to gift boxes to the always popular local hot sauces.
But there was one item that was an unexpected hit. "I didn't know what a tea towel was before I opened my shop, then I started getting requests for them ALL the time," she said. "Now that I have a variety, Three Legged Dog, Brooklyn Bell Tower and our custom one from Maptote, it's hard to keep them in stock!"
The fun of perusing the gifts in her two stores (the newest outpost opened on Grand St. in Williamsburg this fall), lies in discovering the breadth of things are made here, from this speckled ceramic pour over cup to these suede baby booties.
Both locations are offering an array of deals for in-store and online shoppers all pegged to different days of their "Advent" calendar. (This week alone you can expect half off ornaments, 15% off gift boxes and a sale on holiday items.) And if you want to try your hand at winning a gift this season, just tag your favorite place in Brooklyn with the hashtag #ByBrooklynDoesTheHolidays on Instagram for a chance to win a $50 Foodie Gift Box by this Sunday, Dec. 13.
Here are a few more ways to send your love from Brooklyn this season:
It's going to be a dark and stormy winter, so bring on some fireworks with this Ginger Lover's Gift Box.
Like a Douglas Fir in a box, this Christmas Tree candle blends the yuletide scents of cedarwood, spruce, and pine and casts them in an amber tumbler for a warm glow.
After all the holiday meals have been served, your favorite host will appreciate this Takeout Block, a Magic 8 Ball-spin on the eternal question, "What's for dinner?"
Take a pound of beef, add this kit, and you can make your own jerky using Fleishers Craft Butchery's Mexican or signature spice blend.
Think you've seen all the Brooklyn totes? No one else stocks this South Brooklyn Maptote, custom made for By Brooklyn and featuring key details like that three-eyed fish from the Gowanus Canal.