Customarily, we tell you about the best events for the coming week so that you can plan seven days of revelry and fun. We're still doing that this week, but with one break from the usual. We'd like to issue a warning to decent people everywhere that Santa Con convenes in McCarren Park at 10am on Saturday. Brunchers beware.
In more positive weekend news, on Friday the Gowanus Alliance is hosting a holiday party and potluck where you can get your photo taken with the K from the Kentile Floors sign. Yes, it is the actual metal "K" that used to be an iconic G and F train sight–the Alliance is currently searching for a new home for the sign. If you're looking for more party and less potluck, Andrew W.K. will be performing a special solo show in his spiritual home in Williamsburg on Friday night. Or, head to The Unicorn for Kweendom: Gayer than Christmas! Holiday Spectacular. Suffice it to say that this party promises a little bit of everything and we believe them. It's also a benefit for Streetwise and Safe, an organization that helps LBGTQ youth of color.
On Saturday there's a window display competition on Grand Street–all the windows were designed and built by local students from local schools. In the evening, head to Beast of Bourbon and meet your favorite host from Radio Free Brooklyn at the independent internet radio station's holiday party. All that plus seven more events that don't rely on red polyester plush and copious amounts of Bud Light await you this week.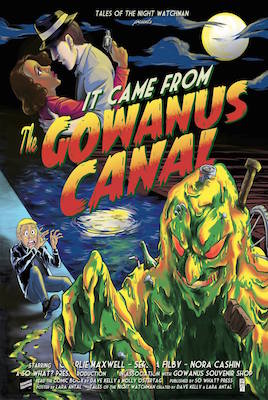 Thursday, Dec. 10 The idea of superheroes with day jobs dates back to Superman, and the Tales of the Night Watchman carries on the tradition, only with characters working in fields that no one would have recognized in Clark Kent's day. Baristas Charlie and Nora, who is also a blogger, solve paranormal mysteries when they're not pulling espresso shots, and their latest adventure, It Came From the Gowanus Canal… takes them to our favorite toxic getaway. Gowanus Souvenir Shop picked up on this too-incredible-to-resist title and commissioned the comic book artists to create a faux movie poster (above), which they're releasing tonight at their launch party. If you have a special place in your heart for this neighborhood and its storied environs, you'll want one. Beer, wine and sea monster flicks like Creature from the Black Lagoon will be screened in keeping with the evil Loch Ness theme. While you're there, you can cross a few more people off your gift list and see an exhibition of Mikael Levin's photographs of Gowanus signage. –N.D.

Friday, Dec. 11 With the impending release of the next installment in the Star Wars saga it has become next to impossible to keep our excitement in check–some people are *already* in line for tickets, after all. Twenty-Sided Store is prepared to help fans stay entertained until the movie premieres next week. Get a team together for an evening of Star Wars trivia and test your knowledge on everything from Ackbar to Zabrak over the course of four rounds of questions. At the end of the night, two teams will be crowned champions and win some pretty great prizes. Admission is free, but be sure to register before showing up. Doors open at 7pm. –N.R.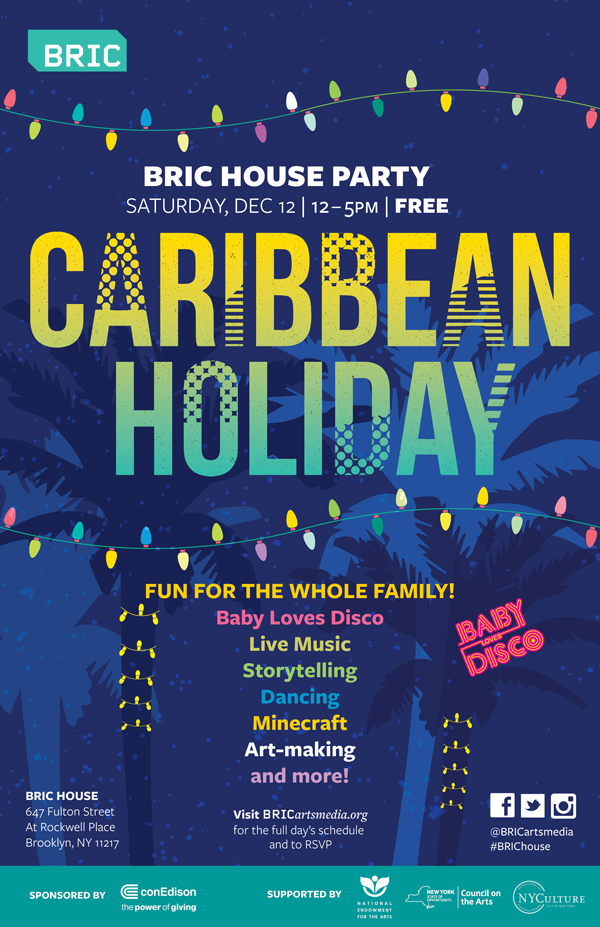 Saturday, Dec. 12 Winter may be coming, but why give in to despair when you can dream of sandy beaches and tropical islands? Head to BRIC for a very special Caribbean-themed edition of the arts venue's House Party series. Celebrate the many colorful cultures of the Caribbean Sea by building your own Puerto Rican-style casita or drum to your heart's content at a Latin percussion workshop before learning all about life in Haiti through storytelling, and then dancing the afternoon away at Baby Loves Disco. There will also be live music and activities, including a Minecraft meetup. Admission is free with RSVP, doors open at noon. –N.R.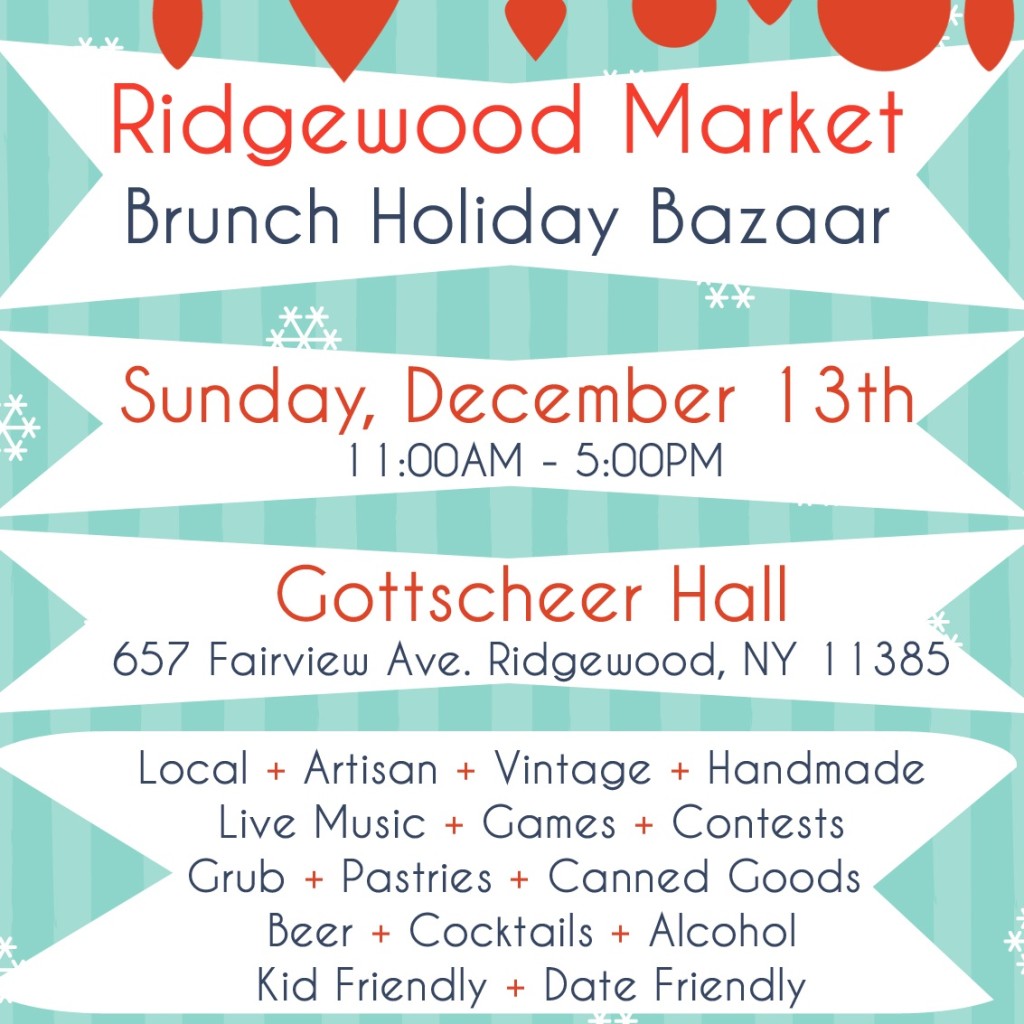 Sunday, Dec. 13 Queens alert! This Sunday, nurse your hangover and get some holiday shopping done at the Ridgewood Market's Brunch Holiday Bazaar, the last market until the city thaws in March. Drop by German beer hall Gottscheer Hall and enjoy a relaxing (albeit boozy) stroll through the market's lineup of more than 40 vendors and their locally-sourced, vintage, handmade, and artisan goods. While browsing (with a date or a gaggle of kids), enjoy live music, tasty grub and pastries, games, and contests with some pretty sweet prizes. Entry is free, doors open at 11am. –N.R.
Monday, Dec. 14  After another great season of readings and revelry, Franklin Park is capping its literary series off with an unmissable year-end bash. Mosey on over to the Crown Heights bar and venue for a wonderful evening of fiction, non-fiction, and poetry with six rising luminaries, including O.Henry Prize-winning author Chinelo Okparanta, New South founding editor Jamie Iredell, prolific essayist Ryan Britt, critically-acclaimed poet Niina Pollari, author and education advocate Annie Liontas, and short story writer Rachel Sherman. Throughout the evening there will be a free-to-enter raffle for books and merch, $4 draft beers,and holiday treats. Admission is free, doors open at 8pm. –N.R.
Tuesday, Dec. 15 Some people turn to Seamless when they don't want to cook, personally I head to the cheese shop. I would eat a soft-ripened goat and a runny washed rind, plus bread accompanied by a glass, or three, of wine for dinner most nights, if left to my own devices. A fancy cheese plate is also an easy way to up your holiday entertaining game, and Pair Wine and Cheese in Cobble Hill wants to help you learn to, well, pair wine and cheese. This week they're hosting a French wine and cheese class where you'll sample Barmes Buecher Alsace Cremant with Delice de Bourgogne Triple Creme, Bernard Defaix Chablis with Marcel Petit Comte Fort St. Antoine, Pierre Rougon Beaumes de Venises with Berthaut Epoisses, and Sauternes with Roquefort Papillon. The class costs $35, starts at 7pm and owner Chung Park will be your guide through a wonderful world of butter fat and fermented grapes. –A.G.
Wednesday, Dec. 16 Today is the last day to donate to the Big Brooklyn Holiday Toy Drive, and if you haven't already dropped a new, unwrapped present for a 2- to 13-year old who can use one this season in one of their bins around North Brooklyn, Dumbo and Park Slope, you can still bring a present for a 10- to 15-year-old to their end-of-gift-drive party tonight at Biba. Tickets are $25 in advance and $35 cash at the door for three hours of open bar, food and a photo booth. Not only is this a steal, every penny collected will be used to purchase additional gifts. –N.D.