Are we the only ones who suddenly feel like we're way behind on holiday preparations? Maybe it's this warm weather, or the fact that Christmas is on a Friday and next week will be a weird work week, but it feels like time is running out to get a tree, drink some eggnog, stock up on Champagne and, well, finish our shopping. To that end, we're headed out on Saturday to the second annual Crown Heights Holiday Stroll. Lady J Jewelry and Owl & Thistle General Store, two of the local shops featured in our Brooklyn Gift Guide, are part of the fun, plus, we fully intend to get some biscuits and a boozy milkshake at Butter & Scotch.
What else should you do with the next seven days? We've got lots of ideas–read on to plan your ideal week.
Thursday, Dec. 17 Ok yes. We know that The Most Anticipated Movie of All Time® comes out Friday.  That makes Thursday a perfect night to go out and catch Spotlight or The Big Short before the theaters are overrun by dudes in Han Solo vests. Or, you could also head to IFC Center for a screening of The Winding Stream: The Carters, the Cashes & the Story of Country Music, which traces the origins of American roots musics. Director Beth Harrington will speak after the 7:30 show, with live music from Smokey Hormel.


Friday, Dec. 18 Can a prank go too far? Comedian Kyle Ayers probably doesn't think so. A few years back, the local funny guy posted a fake Craigslist ad posing as a porn producer looking for a script for his next adult film. Within a week, Ayers received more than 1000 seedy scripts, and ever since has recruited friends, fellow comedians, and attendees to act out three- to four-page scenes word-for-word at the Knitting Factory for his show, First Comes Love. It's sure to be an unforgettable, as well as inebriated, experience for actors and audience members alike, so grab your tickets ($8 advance; $10 at the door). Shenanigans begin at 8:30pm. —N.R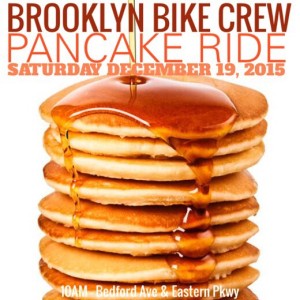 Saturday, Dec. 19 Usually around this time of year, we would be bundled up on the couch with a full Netflix queue calling our names, but since the weather has decided to stay ridiculously temperate, we say get in as many days of outdoor fun as you can before some polar vortex lays siege to the city. This Saturday, grab your bike and head to the corner of Bedford Avenue and Eastern Parkway for Brooklyn Bike Crew's annual Pancake Ride—to New Jersey. Yup, the whole gang is heading to Weehawken via the George Washington Bridge—a 35-mile ride in all—just to devour plate after plate of scrumptious pancakes at the Brownstone Pancake Factory. Call time is 10am and riders will move at a moderate pace, so newbies be prepared for a fairly serious ride. Participants are encouraged to bring a helmet, lock, $11 for the ferry back from New Jersey (no, you don't have to ride all the way back after pancakes), and, of course, a healthy appetite and pancake cash. The ride itself is totally free. –N.R.


Sunday, Dec. 20 Finish your holiday shopping, treat yourself to lunch, and go on a little adventure, all in one trip to Industry City. It's home to the Flea for the winter, has a food hall worth traveling for, and really, truly, is a quicker trip than you probably think it is. Check out our favorite 14 things at Industry City right now and you'll see what we mean.


Monday, Dec. 21 If you need to get some pre-holiday good feelings flowing, or just dance out your angst, look no further than the Reverend Vince Anderson Christmas Spectacular at Union Pool in Williamsburg. The Rev and his Love Choir play what they refer to as "dirty gospel." There is a real, and heartfelt spiritual component here, but with zero churchiness. You might say that Anderson is one of Brooklyn's foremost purveyors of posivibes, and what better way to start the beginning of the end of December? Show is free and begins at 10:30pm.

Tuesday, Dec. 22 With 6am dance parties on the rise, it was only a matter of time before someone turned sunrise yoga into a steamy, nighttime affair. This Tuesday night, drop by Williamsburg club Verboten for Willkommen Deep House Yoga, a weekly stretchfest featuring calm-inducing tunes spun by DJs George Faya and Tasha Blank. Find your center and set an intention in Verboten's outsized control room—video walls and cushioned wooden floors included—while sipping bottled water and coconut water between poses on a complimentary lululemon mat. Tickets are $20; class begins at 8:30pm. –N.R.

Wednesday, Dec. 23 Laugh off all the family dysfunction you're about to endure (or have already experienced) at an improv show whose theme is "Blended Family." Hosted by The Struggle at the Experiment Comedy Gallery in Williamsburg (which recently garnered press for holding its second "Hilarious Muslims" standup show ), the night will combine improv teams, storytellers and standups to riff on the idea of "one big, happy, court-ordered family"—just the send-off you need if you're already regretting the number of days you've committed to spending with your family. Tickets are $8 in advance/$10 the day of, and free if you can prove you're a card carrying improv student at a comedy school like UCB or the PIT. –N.D.