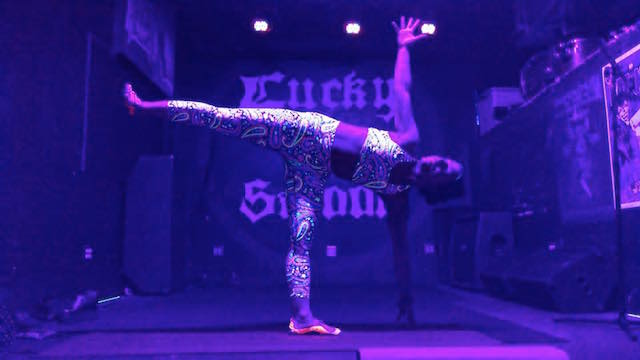 Brrrrr! It is finally winter out there. AND as of today we might be getting an epic powder dump just in time for the weekend (sorry, haters, but some of us love a snowstorm)! While you're gearing up for the latest SNOWMAGGEDON (which we all know will probably peter out at the last minute when the storm changes course), you can get cracking on filling out your weekly social calendar. As usual, there's lots going on in Brooklyn and beyond so you have plenty to choose from.
If you resolved to make yoga a more prominent part of your life in 2016 but are having trouble making it happen, the Black Light Black Metal Yoga class that takes place at Park Slope's Lucky 13 Saloon on Thursday nights might just be the unorthodox approach you need. The class starts at 8pm, welcomes all levels, and will done in the dark with a black light with a soundtrack of bands like Burzum, Wolves in the Throneroom, Blut Aus Nord, and Satyricon. Relaxing? Maybe not, but interesting for sure.
On Friday or Saturday, head to Brooklyn Bowl for the world's best Bruce Springsteen and the E Street Blues cover band, Bruce in the USA, as they meticulously recreate the legendary Boss concert-going experience. Or if you want to be the one covering the classics, get some Live Band Karaoke in between rounds of trivia at the Big Quiz Thing's musical trivia spectacular at Livestream Public next Tuesday night. Tickets are just $10 if you buy them in advance.
Finally, if you're one of the sadistic souls who plowed through the 700+ pages of sadness that is Hanya Yanagihara's A Little Life, you should pick up tickets now to the author's conversation with Isaac Fitzgerald of Buzzfeed Books, scheduled for next Thursday, Jan. 28, at St. Joseph's College.
And that's just a small smattering of the dazzling array of events that are lined up for this Ideal Week–read on for more ideas to fill up the seven days ahead.
Thursday, Jan. 21 What's better than three drunk comedians? How about three drunk comedians competing to explain complicated science to a real scientist? That's the premise of experimental comedy show Drunk Science, which will take over the stage at Littlefield this Thursday for a night of laughter and education (sorta). The evening's theme will be pandemics and an epidemiology professor from Columbia will be on hand to judge which of the hammered featured players presents the best scientific dissertation. Comedy circuit regular Aparna Nancherla (Late Night with Seth Meyers), UCB stalwart Aaron Jackson, and super-prolific standup comic and impressionist Lane Moore, whose work you might have seen in The Onion and Ms. Magazine, will be tasked with convincing him that they know what the hell they're talking about after imbibing all night. The winner takes home bragging rights and a hangover. Tickets are $5; doors open at 7pm. –N.R.
Friday, Jan. 22 Table of Contents, the excellently-named literary supper club, is bringing us all back to high school English class with a Moby Dick-themed dinner this Friday night at Court Tree Collective. A $60 ticket gets you a multi-course meal including Ahab-inspired dishes and cocktails like New England clam chowder, Queequeg's beefsteaks, and Peruvian corn beer. You can chow down starting at 7:30pm. –K.H.
Saturday, Jan. 23 UPDATE: This even has been canceled. From the Parks Dept:
Due to an active blizzard watch and a citywide hazardous travel advisory notice, Winter Jam 2016 is cancelled. The event will not be rescheduled.
 At press time, meteorologists were already starting to dial back the early reports of the giant snowstorm that was poised to blanket Washington D.C. to Boston sometime late-Friday-into-Saturday. If the news that the wintry weather might bypass the city bums you out because you were looking forward to some good, old-fashioned sledding, skiing, and snowball fights, you are in luck! In fact, you are completely guaranteed a fresh blanket of powder on Saturday no matter what your iPhone's weather app says. That's because the NYC Parks Department is bringing back its annual Winter Jam celebration to Central Park, and the snow-makers from Gore Mountain are on hand to ensure that you can frolic in a football field-sized winter wonderland from 11am to 3pm. Feel free to bring your own skates, snowshoes, skis, snowboards and sleds, but you can also rent equipment and brush up on your technique from qualified instructors—all for free! Hot chocolate, a special Taste NY Winter Market, and live music performances will round out the list of activities. –K.H. 
Sunday, Jan. 24 What better way to bust up the winter Sunday blues than with some brunch, bowling, and bluegrass music? Brooklyn Bowl will be racking pins, dishing up its delicious brunch menu (Blue Ribbon fried chicken, please!), and hosting Philly-area folk-rock outfit Mason Porter from 11am-1:30pm. The best part is that there is no cover, so grab the gang (kids are welcome too) and get ready for some serious toe-tapping. –K.H.
Monday, Jan. 25 Whether you're a serious oenophile or just someone who enjoys a glass of vino from time to time, there's no reason to pass up a good deal. On select evenings through Feb. 2, Brooklyn Winery is offering discounted tours and tastings to anyone hardy enough to trek through the cold to visit their Williamsburg wine bar. Just enter the discount code WINTERTOUR to score $10 off the $35 admission, and see for yourself how Brooklyn Winery creates bottles of wine right here in the heart of New York City. Tours begin at 6:30pm or 8pm and tickets can be purchased here. –N.R.
Tuesday, Jan. 26 Parents of Brooklyn, book your babysitter now. This Tuesday night, Slate's Allison Benedikt and Dan Kois will host a live taping of their popular parenting podcast Mom and Dad Are Fighting at the Bell House and the lineup looks stellar. Joining the duo for a fun evening of parental war stories are real-life mother of two and First Lady of New York City, Chirlane McCray; The Day the Crayons Quit author Oliver Jeffers; bestselling children's recording artist Laurie Berkner; Newberry Award-winner Rebecca Stead; and Gawker executive editor John Cook. General admission tickets are $25, but $40 will get you tickets for a special pre-show cocktail hour at 5:30pm and front-row seats once the show begins. Purchase your tickets here and tell the kids not to wait up. The show starts at 7pm. –N.R. 
Wednesday, Jan. 27 You aren't a true New Yorker until you have lamented the transformation of some specific neighborhood that "used to be real and gritty" before money swept in and made it feel sterile and generic. And the part of town that inspires perhaps the most ardent longing for a bygone era is the East Village, home to vanishing dive bars, skyrocketing rents, and the CBGB. à DBGB debacle. If this is the kind of conversation that gets you fired up, you won't want to miss the book signing and discussion taking place on Wednesday at the Museum of the City of New York. Ada Calhoun, the journalist and NYC native who wrote St. Marks Is Dead, will be teaming up with Luc Sante, a critic and journalist with a special interest in the urban underground, to discuss the history and ever-changing socioeconomic landscape of the three-block strip known as St. Mark's Place. Tickets are $16 and the talk starts at 6:30pm. –K.H.