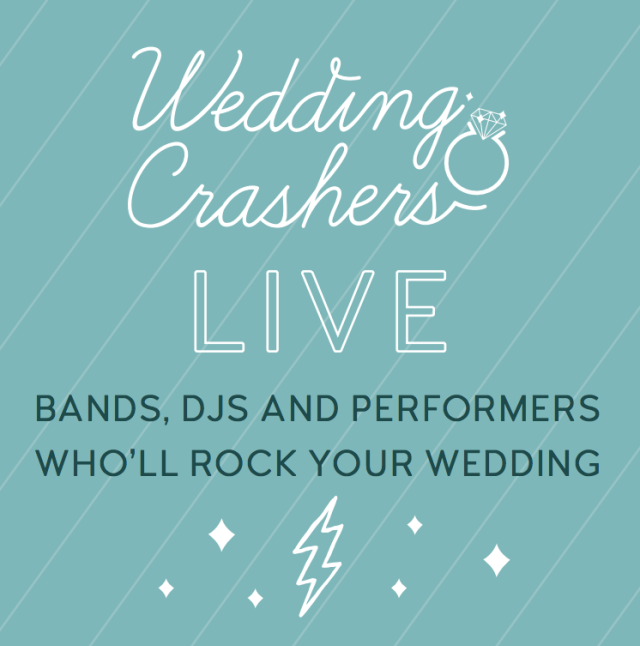 In the midst of wedding planning, the average couple will spend over 1,000 hours on Pinterest. We just made that stat up, but it's probably close! Those pretty pictures won't help you put the pieces of your celebration together, though. You need to meet the vendors who will bring your day to life, and our wedding fairs, Wedding Crashers and Wedding Crashers Live, will turn you on to the most talented, original wedding pros in Brooklyn and beyond.
Monday, Feb. 22 at The Bell House, Wedding Crashers LIVE brings together the city's best live wedding talent in one venue. Over the course of the night, you'll hear from The Affections, The Dexter Lake Club Band, 45 Riots and MIXTAPE: a cover band for hipsters. These bands are not just great at playing weddings–these are kick-ass bands, period, filled with musicians who have performed with the Yeah Yeah Yeahs, Willie Nelson, David Byrne, Lauryn Hill, and more. In between, you'll hear sets by DJ Colleen Crumbcake of Sugartown Industries, whose clients include J. Crew, Madewell and the Renegade Craft Fair, and meet creative performers and vendors that will make a lasting impression on your guests, from Antique Phonograph DJ Mac to live poets The Haiku Guys and Gals to tarot reader Naomi Rosenblatt to The Booth's GIF photobooth. Doors open at 6:30pm, and tickets are $10 in advance.
Then on March 13, the 8th annual Wedding Crashers returns to 501 Union and The Green Building, with over 50 fabulous vendors. Tickets are on sale now—get one of our limited VIP tickets to reserve yourself a goody-filled tote and an entry in our grand prize raffle. Considering the vendors you'll meet and all the food you'll get to sample, it's a win no matter what.