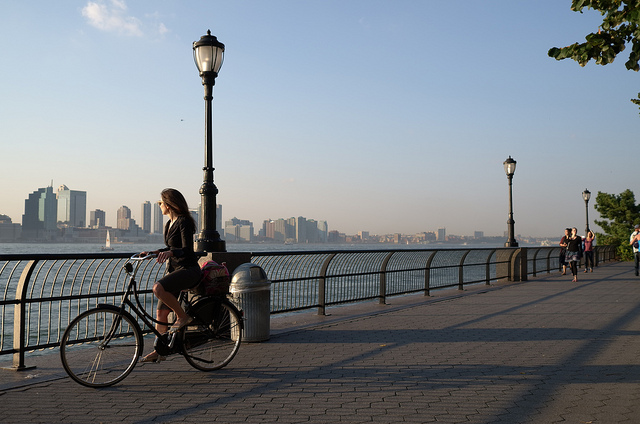 So, how many icy lagoons did you step in, on your way into work this morning? It might seem like a strange day to talk cycling in New York City, what with the record-setting snow mounds still looming on every corner, but really, at its core, the blizzard we just experienced is a story about transportation and our frequent lack of control over how and when we get from place to place. Right now is not a great time to ride a bike, what with the rivers of slush everywhere, but for most of the year cycling gives you more control over your commute, and the way you navigate the city, than any other form of transportation, save walking in your own neighborhood.
Even before the snow, transportation woes were very much in the news, considering the possibility that the L train may close for up to 18 months for repairs (this article has an in-depth analysis of what that would mean for affected neighborhoods), and the announcement that the MTA will renovate 30 stations, eight in Brooklyn, over the next few years, which will shut those stations down during repairs. There are more bike lanes than ever in New York City, so it's a great time to start thinking about how to get yourself off that crowded train and onto a bike.
Cycling in the city can feel intimidating though, so we spoke to Rich Conroy, director of education at Bike New York, about how to ease into riding a bike safely.
Choose the right bike Super light, high-speed road bikes are great–for racing. But their forward-leaning posture, skinny tires and touchy gears aren't necessarily practical or comfortable for a leisurely commute. And why shouldn't your commute be leisurely? On a bike, you can't be delayed by a sick passenger or get nearly as hung up by traffic as someone in a car. Commuter bikes, whether you're talking an Electra Townie, a Detroit Bikes A- or B-Style, a Brooklyn Bicycle Co. model or some kind of European city bike or a Dutch bike (or a Citi Bike, for that matter), are designed to be comfortable and easy to ride. Folding bikes can also be a good option too, especially for commuters.
"Your bike is like a tool and there many different types of bikes for different purposes," says Conroy. "If you're new to cycling the city streets, you want something that is easy to handle, comfortable and has an upright riding position and handles with stability." Basically, your time on a bike should be a pleasure, not a punishment.
If you already have a bike, give it a inspection. "Make sure the bike is in good condition and fits and that the bike itself doesn't seem scary," says Conroy. "Bikes that are too big are scary. If it has loose parts or has gone out of adjustment that can be scary. It's a good idea to take your bike to a bike shop to check it over." We've found Ride Brooklyn, which has Park Slope and Williamsburg locations, to be a helpful and non-intimidating place to both shop for bikes and have your bike tuned-up.
Consider bike sharing There are a lot of advantages to using Citi Bike, New York City's bike sharing program. For one, your bike will never be stolen. You're not on the hook for maintenance (tune-ups, once you add parts usually run somewhere in the neighborhood of $100). And if you're at work and there's a late afternoon thunderstorm, you can just hop on the train without having to leave your bike behind. Same thing if you ride a Citi Bike to a bar and then need to take a cab home. Plus, who really wants to store their bike in their apartment, or squeeze by it in the hall every day?
A membership costs $149 a year, and with that you get unlimited rides of up to 45 minutes. Longer rides will tack on an additional charge of $2.50 for up to 75 minutes and $9 for up to 105 minutes. You can also choose a weekly plan for $25, if you want to give the whole biking thing a test run before you buy a membership or a bike of your own.
Prep yourself If you haven't been on a bike in a few years, or have never ridden in city traffic, you may want to ease into riding in New York with a few strategic low-traffic trips, or even a defensive riding class. Prospect Park is closed to traffic on the weekends (and the 3.35-mile loop is a solid workout that will help you get your cyclist legs back), and the bike path in Brooklyn Bridge Park leads to a protected bike lane along the Columbia Waterfront District. "If you're new to riding on streets or in New York City traffic, it's a good idea to start in some of the parks or greenways, where you're physically separated from automobile traffic," says Conroy.
If you want a little more help, Bike New York offers free classes all over the city including indoor street skills classes in which an instructor explains the rules of the road and safe biking strategies, and three-hour street skills rides where you first practice cycling skills on a car-free course, and then head out on a guided ride on city streets. There's even a Citi Bike-specific skills ride, if you're going the bike share route. If you want to learn how to ride a bike, Bike New York holds indoor classes on Roosevelt Island all winter long, and most newbies get the hang of it in just one session.
Get the right gear You need a helmet. End of story. You're also required by law to have a bell, though these, annoyingly, tend to get stolen, as well as front and rear lights. And, consider some sort of basket or rack for your bag, or your groceries. "Your bike is very happy to carry your stuff for you," says Conroy. "You won't even notice it's there, unless you've got a couple cases of beer or a load of bricks." If you want to start now, riding in winter really isn't all that bad, especially if you gear up like a pro–make sure to remember your lights, it gets dark early these days. 
Plan out your route It will take some time, but you will develop a feel for how to safely and efficiently move around the city on a bike–the same way you know exactly where to stand on the train platform to be close to the right staircase when you exit, to get your to your next train as quickly as possibly. To start though, plan your commute around bike lanes. Ride the City has one of the most useful map tools out there–it shows you where there are bike lanes and what kind of bike lanes they are, the location of bike share stations and how many bikes are currently available, as well as the location of bike shops. It will even plan out the safest route if you enter your location and destination.
Follow the rules According to Conroy, in at least half of serious injuries and cyclist deaths in New York City, cyclists not following traffic rules plays a role in the crash. Stop at stop signs and stop lights. Yield to pedestrians in crosswalks. Signal. Don't ride the wrong way on a one-way street or against traffic on a two-way street. The NYPD can and does ticket cyclists–a single red light ticket can run you $300.
Know when to take the lane This is one of the most important defensive cycling skills to develop and it can feel counter intuitive, especially at first. Give yourself at least four feet of space between your bike and parked cars. On narrow side streets, where many bike lanes tend to be located, this may mean riding closer to the center of the street than the curb–cycling advocates call this "taking the lane." It's also a great technique for navigating around vehicles that are parked in the bike lane. Yes, there are some motorists who will honk if they think there should be room for them to pass you, or if they think you're taking too much of the street. Don't let them deter you from putting your own safety first.
"I don't think any motorist wants to hit a cyclist," says Conroy. "Some are impatient or distracted, or just not great drivers. You want to make your presence crystal clear to anyone coming up behind you–it's better to have them be impatient than you in hospital."
Enjoy the benefits No, your commute is not likely to be as intense as spin class, but once you own a bike, exercise and transportation are both free. Just think of the cash you could save if you ditched your gym membership and your monthly MetroCard, at least for the spring, summer and fall. Plus, your workout is built into your commute, gifting you more free time. Some commutes, especially if you live and work in the same borough, are actually faster on a bike. It's environmentally conscious as well, so you're contributing to the health of others, freeing up space on the train, and improving your own health.
And, there are less tangible benefits.
"I do my thinking riding to and from work," says Conroy. "I think about my job, life, family–it's time that I have to myself. Adults who ride to work more productive. It's just superior in every respect."