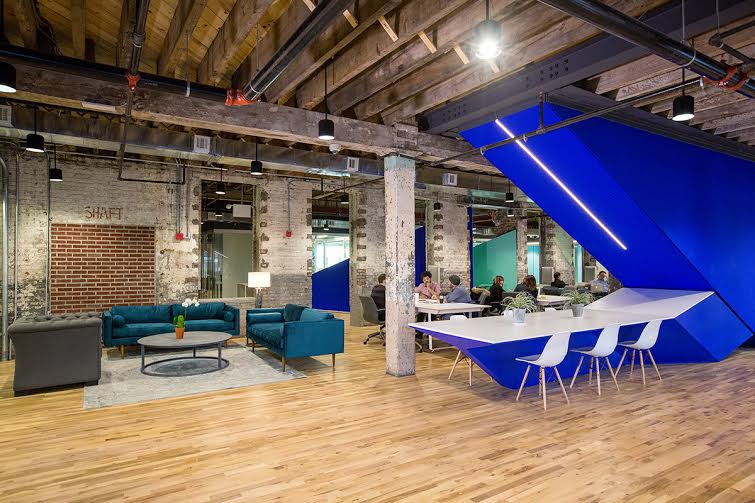 [sponsored_by action_blurb="Sponsored By" name="Coworkrs" url="http://cowork.rs/" logo="http://cdn.brownstoner.com/wp-content/uploads/2015/09/gowanus-cowork-rs-working-spaces.png" byline="Coworkrs offers coworking memberships, desks, and private office suites in Gowanus, FiDi and Flatiron NYC. Be 'At Home at Work'" attribution_action_blurb="Created By" attribution_name="BlankSlate" attribution_url="http://www.blankslate.com/"][/sponsored_by]
In some parts of the world, maybe, the word "work" conjures up images of business suits in a dreary commute to do 9 to 5 at cookie cutter cubicles in a drab office.
This, however, is Brooklyn, where we work at creative and innovative jobs, and demand office spaces to match.
The new Coworkrs Gowanus space is a great example. As with other successful Coworkrs spaces in Flatiron and the Financial District, the Gowanus location offers freelancers and small businesses a light-filled, airy coworking space, with open common areas, conference rooms, and kitchens that put most office break rooms to shame.
But what really makes this space special is its carefully thought-out design. We talked to some of the architects and artists that worked together to give this converted warehouse its unique look, and make Coworkrs Gowanus an ideal HQ for creatives and entrepreneurs of all stripes.
The decor in the common spaces is warm, quirky, and cozy. The open ceilings, original beams and walls speak to the building's industrial past, while carefully curated furniture divides the space into different zones for various uses. The three kitchens serve Brooklyn Roasters Coffee and beer on tap. Hallways are wrapped in Mike D-designed Brooklyn Toile wallpaper from Flavor Paper.
Day passes are available, or you can pay a membership to get 24/7 access to dedicated desks and coworking areas. Small businesses — such as the farm-to-neighborhood startup Farmigo — also have the option of renting a custom private office suit anywhere from one month to up to two years.
Media companies abound in the small to midsize offices, such as Soundfly and the successful podcast Limetown. Brooklyn Boulders is installing a mini climbing wall in one of the shared conference rooms. A whisper room for podcasts and production is in the works, and if you sign up, you can get a lesson with a 3D printing machine. And don't be surprised if you get a visit from a furry friend in the common area — dogs are welcome here.
The building itself was originally a tile factory, and the goal in getting it ready was twofold: to avoid any rustic Brooklyn factory cliches, and "to create a space that really fosters a sense of community and culture," adds CEO Shlomo Silber.
To accomplish these goals, the Coworkrs team brought together a diverse group of artists to transform the space. We headed out to Gowanus to meet with some of them.
Thomas Leeser
Internationally renowned and celebrated architect Thomas Leeser was key in transforming the existing industrial space occupied by Coworkrs Gowanus, and we asked him about his inspirations.
"Coworkrs itself was really the inspiration, because the future of Brooklyn is really in the hands of places like this that are reinvigorating the area, not romanticizing the past," he said, "That and their logo, which is full of colors. The Yves Klein blue paint was also a big inspiration. It's such a vibrant color."
Leeser has designed buildings around the world (in Abu Dhabi, Frankfurt, Seoul, and right here in Brooklyn, just to name a few). We asked if there were any particular challenges working with an industrial building, since the idea of rustic warehouses and factories in Brooklyn can become a bit of a caricature.
"To avoid any sense of cliche, while still keeping some of the raw industrial feel, we used strong, modern geometric forms and colors to counterpoint the Brooklyn of the past."
Not only does the space look beautiful, it has an immediately noticeable sense of flow from one area to the next.
"There is a real blend of practicality and functionality in the design," he says. "We wanted to emphasize the dense communal spaces, and really focused on the vertical staircase as the centerpiece. It keeps the floors connected, and with its turns and bends becomes more of a journey. It's more than just a functional staircase, it's a little bit like climbing a mountain."
It's just another perk of Coworkrs Gowanus, getting your work done in the only building in the world that has a blue mountain to climb.
Keziban Barry
Coworkrs is a family affair for photographer Keziban Barry. She has known Director of Sales and Operations Theodora Livadiotis and interior designer Elide Rita for years, and the Community Developer, Devin Ross Herd, is her husband. She also took the publicity photographs of the space, and we asked her what she most wanted to express through them.
"With my photographs I wanted to capture the versatile, expansive space, and all of the components and creativity. There's such a sense of community; privacy to a degree, but there's kind of a Venn diagram with the offices and the open space, given the glass walls."
Barry is a globe-trotting New York City resident whose editorial work and portraits have been featured in Aesthetica, Architectural Digest, Art+Auction, Modern Painters, O Magazine, and Musee, among other publications. Along with her photography, she makes short films, so she is uniquely positioned to understand the benefits of a shared workspace.
"As a photographer, things can get a little lonely and you just need someone to talk to," says Barry. "The day I was photographing the space, people would walk up and mention that they needed a photographer for their business. The space fosters such an organic sense of networking. Even though someone you meet might not be working in your exact field, you can get a lot of informal feedback, and insights you might not have come up with on your own. I'm excited to work in the space myself. It's a place where you can share your vision with other people, and it's great to have the option between privacy and communality. It's like a big dormitory, but way cooler."
WhIsBe
NYC-based graffiti artist WhIsBe has never worked in an office. But his contributions can be seen throughout the space, from the Wizard of Oz/Manhattan skyline mashup in a phone booth to a zebra mural galloping along the length of a brick wall.
At the beginning of each project, the first thing he asks himself is, "What can I bring to elevate this space and make it better?" At its heart, this involves taking something simple and adding a twist, as he did at the Dream Hotel, featuring walls of his signature gummy bears in line-up photos.
His purpose is to create an engaging, interactive environment. On the street, he will have frequent interactions with the people passing by as he works, and this is a theme that runs through Coworkrs.
Let's say you're a small start-up working in a two-person office, and you need a graphic designer for your business cards: odds are there is one down the hall.
You might not think that the indoors would be the most natural setting for graffiti, but WhIsBe said that "the space is perfect for a street artist, as it's partially raw and industrial, and once I find an inspiring spot, that generally sparks the idea."
WhIsbe is currently expanding into different mediums, like silkscreening and photography. Last year, he was one of the few photographers selected to document a Rolling Stones tour. As for Coworkrs, there are a few more blank walls waiting for the next WhIsBe project.
Justin Horowitz
"Fresco" might not be a trending term in the contemporary art world, but if Justin Horowitz had his way, that would change.
"It's been a dream of mine to do fresco, but to bring a contemporary twist to it," he said. "So when I met Theodora — who I went to high school with — on the street and she mentioned this project, with the brick, I was very excited by this idea of taking such a classical technique and going over the existing paint."
So far for Coworkrs he has contributed some wood pieces for office walls, and is in the process of painting two murals throughout the space, one that will wrap around a conference room.
Horowitz is another multimedia artist, who has been working with canvas, wood, silkscreening, and textile printing, and is currently focusing on working as a decorative artist. Recently he's done work for companies like Artgroove NYC, but his training is in art restoration. Studying in Italy while at the University of Wisconsin, he worked on the restoration of terra cotta and marble, and learned the art of fresco in the Byzantine, medieval, and Renaissance styles.
The twist in his frescoes is that whereas a fresco in an Italian church would feature something representational, an angel or Biblical scene, Horowitz is instead working with abstract, geometric, and contemporary compositions, a melding of the past and present.
"It's a lost art," he said rather wistfully, "but one of the most durable in the world. Takes a long time, but…I wish more people were working in it."
Elide Rita
Bringing all of these inspirations together is interior designer Elide Rita. She was educated at Sotheby's Institute of Fine Art and the Institute of Culinary Education. Travel is a huge inspiration on her work, which includes event planning, fashion and jewelry design, and work as a personal chef. At Coworkrs she is tasked with bringing the elements of old and new together, along with the numerous contributing artists.
She's the one who knows every detail, pointing out as we walk down the stairs that they will soon "have rubber tread on the stairs to absorb sound, but to also give the feeling that you're wrapped up in this color as it will match the walls."
Her hand is especially evident in the lounge areas which provide more low-key work spaces. Elegant sofas set against minimalist silver lamps and metal coffee tables ensure the promotion of both collaboration and comfort. Below the aforementioned Yves Klein blue staircase is a sprawling sofa juxtaposed nicely against the graffiti that adorned the building's walls when Coworkrs moved in. When we were there, a couple of people on laptops were making good use of its laid-back comfort.
We asked if she had a strict hand with the artists they've recruited, but she prefers to hold the reins loosely, saying "We're still kind of figuring out the exact compositions and colors, but I think it's one of those things where we work in layers, and it will be a new beast."
Ready to be inspired by an office that's as creative as you are? Get in touch with Coworkrs to schedule a tour.