At its worst, Valentine's Day is a sheerly commercial holiday designed to mine your insecurities so that you'll buy overpriced prix fixe dinners and mediocre Champagne. At its best though, it's an excuse to eat more chocolate, in bar, truffle and baked good forms, than usual. Here are three Brooklyn-made sweets that also happen to be vegan and gluten-free, though you wouldn't guess that by tasting them. Yes, that's a compliment.
---
The deepest darkest chocolate in Bushwick
Let's just say it–there's more than one chocolate company in Brooklyn. Fine & Raw Chocolate in Bushwick doesn't get nearly enough love, in my estimation. Their bars and truffles are ridiculously delicious and they are a cheerful bunch of people who throw weird, cool events in their 2,500-square-foot factory on Siegel Street from time to time. Their chocolate happens to be vegan, but you would never taste it and say, "This is definitely vegan chocolate." Fine & Raw truffles are so densely chocolate-y that even the most dedicated cacao devotee will not be able to make it through a four-piece gift box ($17) alone, plus, it's a random assortment of their many flavors, which range from lavender to mint to hazelnut, invoking all the best things about a Whitman's sampler with none of the downsides, like terrible jelly fillings. For my money though, get the Scotch chunky bar ($7). Boozy chocolate can go so, so wrong. This though, is like taking a sip of smoky Scotch, then a bite of super dark, luxurious chocolate a few minutes later. It's real marriage made in heaven.
---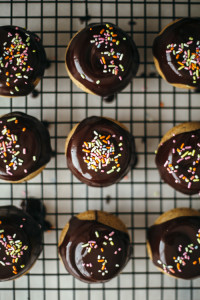 If you want to bake for your baby
Sometimes a special occasion calls for something you've made yourself. If you're not super confident with cakes and other baked goods, or if you're trying to whip up a gluten-free treat, which can go really, really wrong without a good recipe, look no further than Cake in a Crate for non-dairy, wheat-free deliciousness. I was so dubious about this service, not being all that interested in either vegan or gluten-free baked goods, but I was impressed. They deliver all the ingredients and step-by-step instructions to your house in a cute little box and everything is carefully sourced, there's no refined sugar (you get these tiny glass containers of maple syrup for sweetening) and seriously, they're good. Really good. I made the hazelnut mini-cakes ($38) and while the texture was different than a cake made with regular flour, the nutty flavor and super moist consistency made it seem like it was meant to be that way–not like a second-rate copy of something, which is how many gluten-free desserts come across. If you're going for homemade and you need a little help, this is your secret, dairy-free weapon.
---

For all those goddess types out there
Finally, if you want something a little earthy and kind of Portland-sexy, try a bar from Haute Chocolate. The rosemary ($8) and the chipotle cinnamon both have a really interesting blend of savory and sweet flavors, backed by organic, ethically-sourced dark chocolate from Peru. All the bars are vegan, and they promise "virtuous hedonism." A sampler of bite-sized pieces ($30), all beautifully wrapped in their provocative packaging, also includes the espresso, almond and semi-sweet flavors. Better yet, head to Dusty Rose Vintage on Saturday, Feb. 13, and sample all five flavors, accompanied by sparkling wine and 25% off all vintage shopping. Treat yourself, even if someone else is also going to treat you on Sunday.
---