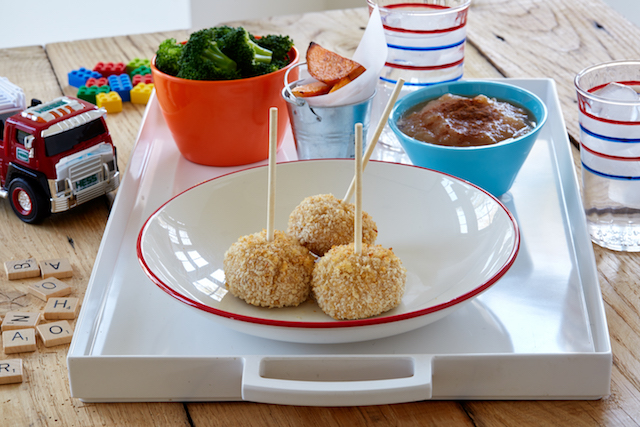 It seems like every other story we read these days is about how very hard it is to get dinner on the table every night (along with why it's so very important to eat together around said table). A flurry of meal delivery services and apps designed to make cooking for and with kids easier have popped up in response to this nightly crunch. Here are three we've recently tried and liked.

PANDA PLATES
With all the cooking subscription boxes, it's refreshing to try out a service that actually does all the cooking for you. With Panda Plates, a new weekly delivery service that focuses on healthy kids' dinners, all parents need to do is preheat the oven or microwave. This is the ultimate convenience (no cooking, no clean up), but with all the health benefits of a home-cooked meal. Joanna Parker, the founder of the company, is a working mom and knows first-hand how challenging dinnertime can be for families. "We all want to put healthy food in front of our kids day in and day out, but it takes a lot of work to come up with new healthy recipes, shop for all the ingredients, and cook and clean up all the pan," she laments. " Bottom line: kids dinner is no joke–it's a lot of pressure and a huge time suck. Instead of just complaining for the 1,000th time, I decided to make a change!" And, thus, Panda Plates was born. The price is about $30/ week for three meals (or less if you order more meals) and they deliver throughout Manhattan and Brooklyn.
The week that I tried out the service, I was apprehensive as to how much time this would actually save and how much of it my son would actually even eat. But pretty quickly I got used to getting dinner on the table (main course and sides) in less than ten minutes, and could see how much time dinner prep usually demands! I watched my son devour chicken skewers, with sides of broccoli in soy sauce and edamame in rice. ("Has he ever eaten broccoli before?" my husband asked me dubiously.) The next night the Miso Glazed Cod went down quickly, along with sweet potatoes and steamed sugar snap peas. My son asked me if, going forward, I could put this miso sauce on everything that he eats. And then, the steak fajitas with corn salad were gone in the blink of an eye. The only miss was the potato casserole dish which my son deemed "too cheesy", although he still ate most of it, although he consistently hates cheese. Kids are notoriously picky eaters, and although the food was definitely kid-friendly, most parents have a list of textures and things their kids won't eat. Luckily, Panda Plates is fully customizeable. Going forward, I could ask them to not include anything "cheesy" for my son. "Customizing with kids is super important – some moms request "no mushy food," "no broccoli unless he can't see it."  Parker says, "I think my favorite was "my child likes to eat things on sticks so please when possible can the food be stick-friendly." Yet, expanding kids' taste buds is also important and adding new flavors and textures to their tried and true repertoire helps them become better eaters (and simultaneously can allow you to relax with a glass of wine at dinner time!)
Additionally, this service is the ultimate second-time baby gift. Panda Plates offers gift cards, including one called "New Baby" which gives the gift of dinner time freedom to a family of multiple kids. It's the one gift they will actually use!–M.C.
Panda Plates: Weekly delivery service is approximately $10 per dish depending how many meals you order. Need more incentive to give it a try? Brooklyn Based readers can use the promo code BB30 for 30% off their FIRST TWO weeks.

SIXy KIDS
Even with all the Pinterest pages and cooking blogs, parents still find themselves in a cooking rut. Searching for a fun recipe can be time-consuming, and with picky eaters in your household, unusual ingredients may be a risky endeavor. Enter SIXy Kids, a website dedicated to spreading a kid-friendly, health conscious food recipes that also give back to the planet. Karen Stern, the founder of the site, calls herself "a plant-based food expert in the kids' department." Through her site parents can purchase recipes ($2) for breakfasts, lunches, dinners or snacks ranging from Lentil Banana Oat Muffins to Kale Yes Soup to Green Smoothies, and the money collected will go to a charity of the purchaser's choosing. All of the meals use the six optimal food categories for health (veggies, fruits, nuts, seeds, legumes and whole grains) which is why the name of the site is SIXy (Ed. Note: Am I the only one who thinks this sounds awfully close to sexy?)
My son and I were intrigued with the Spinach Lentil Brownie recipe and thought it would be fun to try for our SuperBowl party. I'm not usually a fan of hiding the veggies, but I thought it would be fun to have a sweet treat that packed a healthy punch. Stern says, "I sneak crazy ingredients in the recipes to make them as nutrient dense as possible." The vegan, dairy free, sugar-free, gluten free recipe included cooked red lentils, dates, and coconut butter. My son thought it was hilarious that we blended up the spinach with the lentils and cocoa, and spread it out in a brownie pan to cook. But no one was laughing when we tried the results: these were delicious. Although they didn't taste exactly like brownies, they were gooey and rich, and you only needed to eat one. Instead of spending money at the store for a treat, we could feel good that our brownie money was going directly to the charity Farm Sanctuary in order to help rescue and care for farm animals. (All orders can go to one of three charities listed on the site.) Now that's a guilt-free indulgence!--M.C.
SIXy Kids: Each recipe is $2. 100% of the money collected through this site will be paid to the user's charity of choice minus credit card processing fees charged by third parties and site maintenance fees.

FOODKICK
On a recent Tuesday afternoon, I realized at about 5pm that there was nothing planned for dinner for my husband and me, I had no idea what I was going to bring to work for lunch the next day, we were low on many of our one-year-old's must-haves, and that we desperately needed a few household staples. Sometimes the weekend gets away from you and your grocery shopping plan ends up more like fridge triage than a full restock.
I didn't panic though. I fired up FoodKick, a new same-day delivery app from FreshDirect. I ordered salads for lunch for the next two days, a chicken taco kit ($14.99) for dinner, and a stir fry kit ($13.49) for the following night. I also ordered eggs, tangerines, sour cream and a steak for bibimbop later in the week. I placed the order at 5:30pm, while my son gobbled down his dinner, and it arrived via bike messenger around 7:30pm in time to make tacos and relax post-bedtime.
How is FoodKick different than FreshDirect? There's a limited selection of items available at any one time, and delivery slots are open in hour windows from 6:30am until midnight. It's possible to have your groceries delivered in the time it would take a pizza to arrive. FoodKick is also more meal oriented–many of the offerings on the app, the only way to order, are kits, like the taco and stir fry ones I ordered, or ingredients presented together, like a steak, potatoes, red wine and ready-to-heat creamed spinach. There are also fun brunch suggestions, fresh bagels with cream cheese, lox and bloody marys, on the weekends, and some cocktail kits. Yes, they deliver booze.
The layout can be a little confusing so spend some time looking through the app before your first order. And, beware–the meal kits, which are all designed to feed two people, according to their description, can be meager. Our impromptu taco night was only saved by the fact that we had a little leftover chicken in the fridge to add to what we got, plus cheese and the sour cream I ordered. We also added our own tortillas to the six tiny ones in the package. I looked at the nutrition information after we finished and it said that half the kit was 370 calories. That might be dinner for two kids or a little kid and a planning-on-snacking-later babysitter, but not for two adults. The stir-fry kit felt more substantial, but did not include rice, which I found odd. In the age of Blue Apron, it seems silly not to add 35 cents worth of rice to make the meal complete and way more substantial. All the kits come in microwavable bowls and bags for easy heating, so these might be a good option to leave with that babysitter (plus a bag of Doritos, of course).
A mom friend who has ordered extensively from FoodKick for herself and her discerning 13-year-old told me that the larger meals, which are priced at $25 and include a taco dinner that is different and better than the one I tried, a pulled pork slider meal, and several varieties of chicken-and-sides combinations, are tastier and way more ample than the kits. We also compared notes about how good the packaged salads are, and, at around $7, how much cheaper they are than your average trip to the deli. All told, if you like to cook, FoodKick is not going to replace your weekly routine, but it is way cheaper and way healthier than takeout when you find yourself in one of those occasionally unavoidable time crunches.–A.G.