I'm not saying you'll need these things, but I'm not saying you won't.

You don't have to be a total paranoid survivalist to see the upside of preparation. Your Everyday Carry–it's enough of a thing that The New York Times is on it, and take a look at #EDC on Instagram if you want to see a wild variety of pocket contents–is just what it sounds like, the gear you carry from day to day to be ready for whatever the world throws at you. It's not about being a hero (or even a dude), it's about being a person who is well equipped. For most New Yorkers who haven't given survival knives, water purification or tactical skills much thought, standard #EDC includes sunglasses, wallet, keys, Metrocard and phone. If you've got room, here are 10 more ideas that will up your preparedness for nearly every kind of situation. I'm not saying you'll need these things, but I'm not saying you won't.

---
1. Deluxe Carabiner, $25 The locking carabiner has historically been used for mountain climbing, but can also be imperative for caving, sailing, hot air ballooning, and other rope intensive situations in which you might find yourself. This one is complete with a 3" pocket knife, saw and LED flashlight. There's not much you won't be able to do with this thing, and at this price, it's worth the investment.
Available at LAB Brooklyn, 144 Driggs Ave., Greenpoint
---
2. Mother of Pearl Mini Pocket Knife Pendant & Chain, $35 If you go down the #EDC rabbithole you'll discover that true devotees are absolutely obsessed with knives. Obsessed. What are they cutting? I had no idea you could spend $700 on a pocket knife. In NYC, certain types of knives are illegal to carry, and it just seems more practical to pick a classic Swiss Army Knife or a Leatherman, anyway. But if carrying a tool in your pocket feels too bulky, here's another option. Iron & Glory's pocketknife pendant is totally discreet at only 1" when closed, but it's there when you need it. Don't be fooled by the delicate silver chain, or the beauty of the exterior. This heirloom will be something you pass down through the apocalypse.
Available at LAB Brooklyn, 144 Driggs Ave., Greenpoint
---
3. TGT Wallets, $46 This minimalist wallet eliminates bulk but fits everything you need including cash and cards. The ultra-soft lambskin leather will slide right into the pocket of your tightest jeans, and you can feel good knowing that it was handmade by local craftsmen in the good ol' USA. For an additional $15, you can get your "tight" wallet monogrammed, so you make sure everyone keeps their hands off.
Available online, www.tightstore.com
---
4. E3 Travel Notebooks, $60 These tiny notebooks measure 4×5," so they are small enough to carry in your pocket, but large enough to hold an escape plan diagram. The handcrafted leather case encloses three separate notebooks (two are blank and the third is lined) which can keep you organized. The sizing is also perfect for slipping your passport–or passports, as the case may be–into, which may very well be necessary. 
Available at LAB Brooklyn, 144 Driggs Ave., Greenpoint
---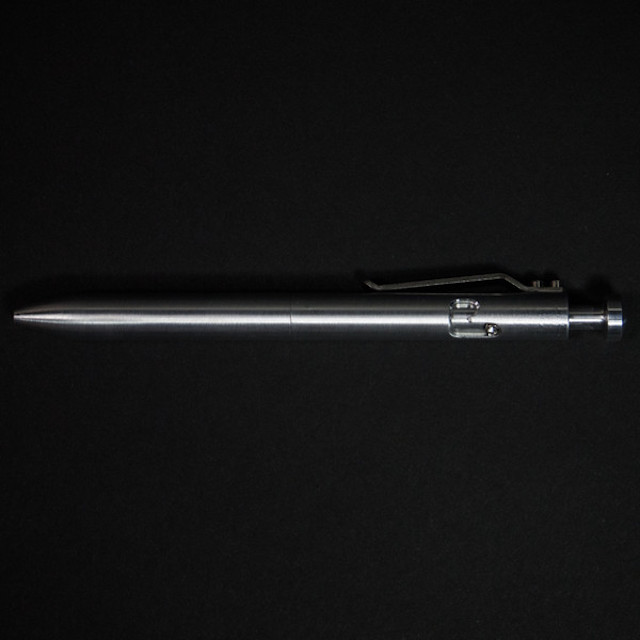 5. Karas Kustoms The Bolt Aluminum Pen, $55 Everyone has a favorite pen, but most are not made out of 6061-T6 Aluminum, a super strong, but lightweight material that weighs about an ounce. You can refill it with any standard ballpoint refill, so you'll be golden even if you move off the grid. The materials are raw so they'll age naturally over time, and a stainless steel clip allows you to attach the pen securely wherever you can most readily access it.
Available at The Lodge East Village, 220 E. 10th St. Manhattan
---
6. Brass Compass & Clip, $38 You don't need a big showy directional, or your iPhone, to find your way. A sophisticated instrument like a compass works best when it fits right in your palm. The handsfree clip makes it easy to attach to just about anywhere–your zipper, your backpack, even your shoe in a pinch. Just don't leave home without it and it will be there for you when you need it, whether you're lost in the woods or escaping the enemy lands.
Available online at www.bestmadeco.com
---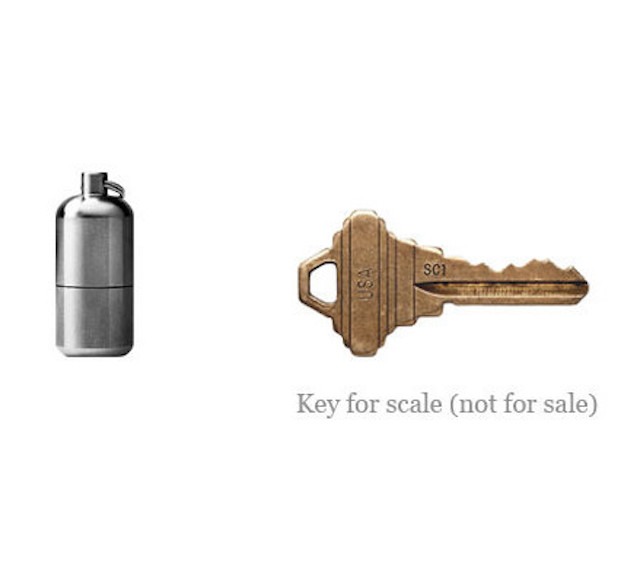 7. EDC Waterproof Lighter, $24 One of the most important survival skills (right after decontaminating water) is building a fire. It's a cinch with a waterproof lighter made out of stainless steel. This sturdy little sucker can go for a swim in your pocket, and still light up immediately afterwards. You won't wait for doomsday to use it either, it's good for sterilizing, lighting candles or showing your love at a concert.
Available online at Kaufmann Mercantile
---
8. Tinsel Headphones Necklace, $175 Everyday Carry is about utility and jewelry is pure adornment. You have no time for that. But Tinsel has come up with a way to merge the appeal of a trendy necklace with the function of headphones. This "audio necklace" isn't just a novelty–switch from headphones to necklace in seconds. You won't be untangling wires from your bag, so you'll have the earbuds when you need them for listening to tunes or taking that emergency phone call. Very Euro spy chic.  
Available online at Tinsel
---
9. Matcha and Citrus Hydrating Butter Balm, $12 What you need is one product that will help solve all your surface hydration issues. Little Barn Apothecary has you covered with a product that can be used on lips, cuticles, faces, elbows, knees, heels, feet and anywhere else that needs some softening. It's made with matcha (a powerful antioxidant), sweet almond oil and vitamin E. It's all natural and crafted from organic and wild harvested ingredients. It's a little jar that packs a solid punch.
Available online at Little Barn Apothecary
---
10. EDC Keychain Screwdrivers, $9 These tiny tools are meant to be attached to your keychain, and are so small that you will forget you are carrying them until you are need them. The point is the size of a normal screwdriver but it weighs only an ounce and is the size of your other keys. One is a Phillips head and one is flat, so you'll be solid no matter which you end up needing when you need to take a door off of its hinges.
Available online at Kaufmann Mercantile
---