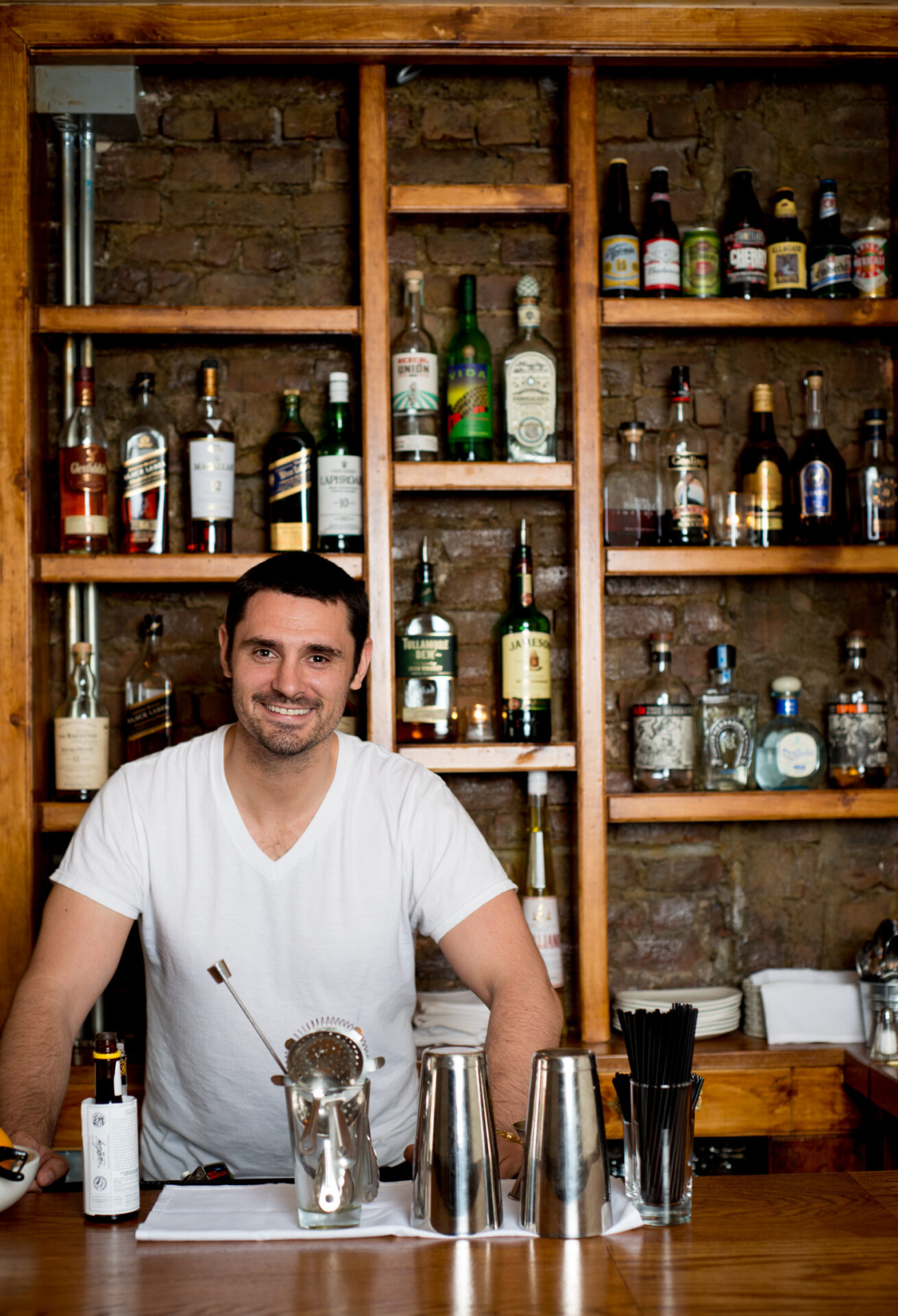 Americanized Irish pubs in New York all have the same basic blueprint: giant spaces with loud TVs, greasy fish 'n' chips, and an array of faux-vintage "Lovely Day for a Guinness" signs hung on dusty exposed brick walls. When Mike O'Sullivan and Jim Dunn, who worked together at Sláinte in downtown Manhattan for several years, along with Dan Grace, a rugby teammate of O'Sullivan's from back home in Ireland, opted to open their own pub in Brooklyn, they set out to do something decidedly different.
"The three of us got together and decided we wanted to do something like a shebeen," says O'Sullivan, using the word for a traditional, cozy little nook of a bar found in any Irish town. "We tried to cut out some of the misconceptions of Irish hospitality–car bombs and all that nonsense."
Instead, for inspiration they browsed through pictures from longstanding traditional Irish bars back home, and pieced together Hartley's, which opened in Clinton Hill in December. In a borough now home to a reclaimed-driftwood-lined, white-subway-tile-backed bar on every corner, this pint-sized Putnum Avenue space, formerly home to Luv Tea, then Sip Bar, stands out for being well, just a bar. Low beamed ceilings, textured white walls and dim lighting contribute to a hobbit-hole ambiance, untarnished by the blue glow of TVs. Dunn lives just a few blocks away, and the trio set out to craft a simple watering hole that would appeal to a broad swath of this diverse neighborhood. Nothing too fancy, just a place to pop in for a pint, which is very nice to see in a neighborhood in which a tsunami of gentrification has apparently now made much of the area too expensive even for hipster bars and specialty cheese shops.
Not that Hartley's doesn't make any nods to New Brooklyn–the draft beers are accompanied by a short list of craft cocktails both Irish-ish (Tullamore Dew whiskey with amaro and orange bitters) and decidedly not (tequila with cactus puree, Thai chili simple syrup and lime). O'Sullivan calls the food menu "a bit of an American take on Irish comfort food," with everything made in-house, from warm, freshly baked brown soda bread "like our mothers used to make," to house-cured meats. Bar food ranges from cheddar-spiced popcorn to local radishes wrapped in Irish butter and sea salt. That's not drizzled with butter, but actually wrapped in it–each little sliver of radish is encased in a thick layer of Kerrygold. The hearty brown bread also serves as the base for cheddar toasties–essentially open-faced grilled cheese sandwiches topped with your choice of bacon or salmon. My favorite bite though, was the spiced beef sandwich –juicy pastrami-esque slivers of beef topped with melty cheddar and onions, on that same brown soda bread. If you're still not feeling cozy enough, there are warm chocolate chip cookies baked to order and served with a side of milk.
The service at Hartley's is friendly and attentive; the amiable owners are always quick with another round or a chat. The prices are fair ($6-$8 for beers, $4-$6 for snacks, and $12-$14 for full plates). In short, it succeeds at being exactly what the lads were looking for: a friendly, not-too-fancy neighborhood bar.
Hartley's will up the hospitality ante for St. Patrick's Day week, featuring live music on both Monday, March 14 and Wednesday, March 15, with a mix of Irish folk and traditional bands, modern Irish rock, poetry, literature and more spread over the two nights. If you're looking for a solid Guinness and a bit of cheer on St. Patrick's Day (Thursday, March 17) or any other day, Hartley's will be a welcome alternative to all those overcrowded Irish bars across the river. Just don't ask for a green beer.
Hartley's
14 Putnam Avenue (near Grand)
347-799-2877