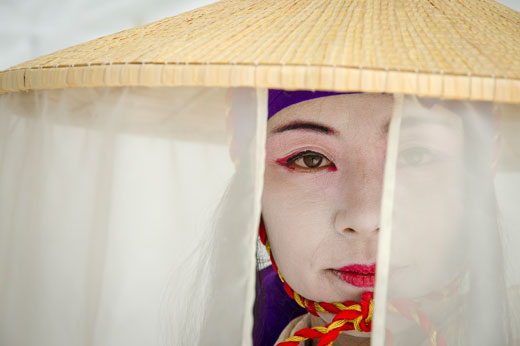 Is it already Wednesday again? Seems to me that the past week has completely FLOWN by, maybe because Prince has been the soundtrack. Have you listened to Lemonade yet? Or watched the GoT season premiere? Do we think there is going to be an uprising against this Kasich/Cruz collusion deal to block Trump? Is de Blasio going to weather this latest storm? Lots of questions swirling around as we head into May, but one thing you don't have to wonder is what you are going to do with your free time for the next seven days–there is so much going on in Brooklyn this week that it's going to be hard to jam it all in.
Just this weekend alone brings the Sakura Matsuri cherry blossom festival to the Brooklyn Botanic Garden for its 35th year, which means thousands of pink and white blooms, a full schedule of events celebrating Japanese culture, and (it must be said) massive crowds. On Saturday, head to Red Hook to catch this year's Red Hook Crit, the annual unsanctioned and after-hours bike race that draws cyclists from all over the globe. As the race has gained popularity, it has added new components like a 5K run and food and beer trucks to cater to the growing ranks of spectators. And on Sunday and Monday, the Food Book Fair, which has been dubbed "the Coachella of writing about eating" returns to the Wythe Hotel for a fifth year of panel discussions, films, dinners, and presentations from an impressive roster of food luminaries.
But that, my friends, is just scratching the surface of what is in store for you in Your Ideal Week ahead. Check out our day-by-day list of potential activities to get yourself into between now and next Wednesday below and, whatever you end up doing, enjoy it and have a great week!
We've been totally digging Ophira Eisenberg's NPR quiz show, Ask Me Another!, for a few years now (and are especially jazzed that it tapes in front of a live audience at The Bell House), so the news that she is hosting an unrelated comedy and storytelling evening at C'mon Everybody on Thursday night got us all excited. She'll be joined by Broad City's Naomi Ekperigin, comedian/musician Adira Amram, and magician and mind reader Patrick Terry. Alternatively, you can geek out and ponder whether we can communicate with life on other planets at the latest installment of The Way Station's Astronomy On Tap series, which features astronomy experts and, of course, beer!
Thursday, April 28
CLINTON HILL Ophira Eisenberg at C'mon Everybody, 8pm, tickets $15↠ • PROSPECT HEIGHTS Astronomy On Tap, 7pm, free↠
Friday, April 29
PROSPECT PARK Lola Star's Roller Disco at Lakeside in Prospect Park, 7:30pm, tickets↠ • WILLIAMSBURG Taiwanese Supper Club, 6:30pm, tickets $35↠
Saturday, April 30
PROSPECT HEIGHTS Sakura Matsuri cherry blossom festival, 10am, tickets $25↠ • RED HOOK Red Hook Crit, 6:30pm, free↠ • BOROUGHWIDE Independent Bookstore Day and Bookstore Crawl, 10am, free↠
Sunday, May 1
PROSPECT HEIGHTS Sakura Matsuri cherry blossom festival, 10am, tickets $25↠ • WILLIAMSBURG Food Book Fair, times and ticket prices vary by event↠ • WILLIAMSBURG Hawks' Nite Out: The Wicker Men, 5pm, tickets $20↠
Monday, May 2
WINDSOR TERRACE Take yourself out to dinner↠ • WILLIAMSBURG Food Book Fair, times and ticket prices vary by event↠
Tuesday, May 3
DUMBO 50th Anniversary Edition Book Launch, The Master and Margarita, 7pm, free, RSVP encouraged↠
Wednesday, May 4
WILLIAMSBURG Half-off bottle night at Brooklyn Winery↠
What could be a better way to memorialize Prince than on roller skates and in costume? On Friday Lola Star's Roller Disco at Lakeside in Prospect Park will do just that. Individual tickets are sold out, but you can get a VIP picnic table for 10 for $350, which comes with food, drinks, bag check and skate rental. For a less purple-hued evening, try the Taiwanese Supper Club at soon-to-open Win Son, with Trigg Brown and Yumpling's Jeffrey Fann, as well as Cathy Erway, author of The Food of Taiwan.
One of the best things about living in Brooklyn is the sheer number of independent bookstores that thrive here. Support them on Saturday, which is Independent Bookstore Day, with the first Bookstore Crawl, which is sort of like a book-themed scavenger hunt.
Get in touch with your pagan side and celebrate May Day on Sunday with what has got to be one of the weirdest events ever conceived. Nitehawk Cinema will simultaneously screen, in two different rooms at Villain, the 1973 cult classic Wicker Man and the puzzling Nic Cage remake from 2006. There will be gin cocktails and masks and all manner of strange doings afoot.
Forget the crush of weekend crowds. On Monday night take yourself out to dinner at one of the new restaurants south of Prospect Park that we profiled this week. Remember The Master and Margarita from that world lit survey course you took sophomore year? Or from under your bed where all the books you mean to read but never seem to get to end up? There's brand new edition that has been released for the 50th anniversary of the Russian novel, and PowerHouse Arena is celebrating on Tuesday night.
Get a friend and get to Brooklyn Winery on Wednesday to contemplate existence, figure out a five-year plan–or just complain about your boss–on half-price bottle night. All bottles of Brooklyn Winery wines are half-off when you order two food items, like crispy brussels sprouts ($9) or duck pate ($9).
Enjoy the week!