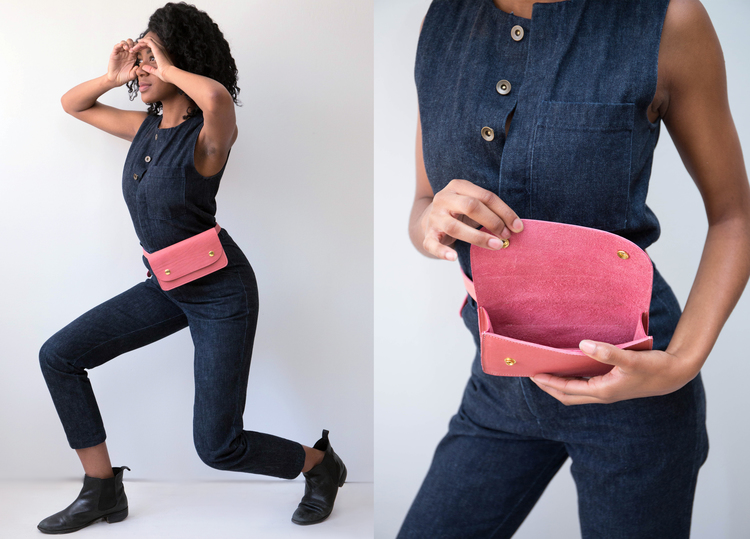 Trends come and go, and then come back around. We may not have thought that the 90s dork capsule, the fanny pack, would be returning anytime soon. But it's definitely here, utilitarian and without irony, and with a brand-spanking new name: The Belt Bag. Or the Bum Pack. Or the Festival Pack. Take your pick, we're going to stick with fanny pack.
This shouldn't take you too much by surprise, since other 90s styles like mom jeans and baby doll dresses hang in every store window. In true Devil Wears Prada fashion, you can trace the resurgence of the fanny pack back to the runways. Chanel showed the accessory in the spring/ summer 2014 show in Paris, while Alexander Wang premiered it in New York for fall 2014.
Ultimately, as mused upon in The New York Times recently, the fanny pack is not just fashion, but also puts the "funk" back into function; it allows a sense of freedom, allowing the wearer to unstrap from a tote or a backpack. It promotes the courage to leave home with minimal gear and the confidence that you have everything you need around your waist, leaving your shoulders free to do other things. Use your arms for hugging loved ones, holding a picket sign, doing the wave at a sporting event or dancing your heart out at a festival. Step out in the world and leave (most of) your baggage at home.
HIPSTER HIP BAGS Being an early adopter means rocking a trendy piece effortlessly. These well made versions will feel like an integral part of your wardrobe, classics even, in no time.
Marlow Taffee Bum Pack ($253) This handcrafted, buttery leather bag for your bum comes in an array in colors, and is minimalist and utilitarian. It's cool without trying.
Hipster for Sisters Black Flat Belt Bag ($145) This LA brand keeps things ethical and sustainable with well crafted vegan belt bags that are handmade in ultrasuede with high-end embellishments.
Elizabeth & James Cynnie Belt Bag ($245) Sleek look, soft leather and minimalist hardware makes this a good choice for everyday wear. There's a flap for easy access and an adjustable belt for ease of use.
FESTIVAL FRIENDLY Never has there been a bag as perfect for outside festival season. You'll never see a concert again without them.
Tilly's Speaker Fanny Pack ($49.99) This is a twofer. This high-tech piece of equipment is literally made for festivals. It's a fanny pack with a two built-in speakers. Insert batteries, attach your USB cord and you will be the life of the party.
Nordstrom Fringe Fanny Pack ($24) This affordable fringe bag comes in two neutral colors that will go with all your favorite festival outfits. The fringe will look great when you're spin dancing, and the faux leather allows you to wipe off any and all beer spills.
Galaxy Cat Fanny Pack ($15.95) If you always wanted a traditional fanny pack, but you thought "oh, that would look better with cats…flying in space," then this one is perfect for you–all the while advertising your friendly attitude toward hallucinogens.
SUMMER RETREATS Summer can mean a day at the beach, a picnic on Governor's Island, or an invite for a pick up volleyball game. You'll never again worry about what you're carrying or where to put it while you frolic in the sunshine.
Watermelon Bum Bag ($37.04) This British bum bag is hand sewn in Brighton. It's available in the shape of a watermelon, a kiwi or a pineapple, which are all juicy enough for your summer plans.
American Apparel Denim Fanny Pack ($24) Faded blue stripes are perfect for a lazy summer day and will definitely replace your tired tote while keeping your hands free for a game of Ultimate Frisbee.
Clare V Fanny Pack ($245) A woven madras print makes this bum bag perfect for every summer picnic. You'll be the belle of the barbecue when you rock this on the 4th of July.