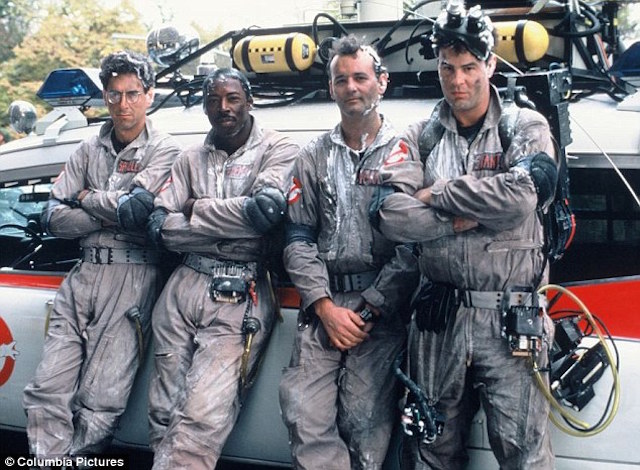 It's a pretty auspicious beginning to this particular Ideal Week. Just last night, in the very borough we call home, the first female presidential candidate who actually has a decent chance of winning announced that she had clinched the Democratic nomination. This during a time where our political machinery is actually clogged with a debate about whether women should receive equal pay for doing the same work as men, where there is somehow support for this Brock Turner guy and his dad and the judge who excused him for the rape he committed, and where, oh yeah, the other presidential candidate once said, among a bajillion other hateful, sexist musings on record, "I think that putting a wife to work is a very dangerous thing." So Hillary's triumph is a BFD, and let's just hope that the positivity surrounding today provides enough fuel to get us through what is surely going to be one of the ugliest lead-ups to a presidential election in history.
In the meantime, is everyone going to see Sharon Jones and the Dap-Kings kick off another amazing season of Celebrate Brooklyn tonight? I can't wait! While you are in planning outdoor evening activities mode, you should enter to win tickets to this Summer Solstice Celebration that Edible Brooklyn is sponsoring at Storm King Art Center next Saturday–it sounds great. And be sure to take a gander at the schedule for this weekend's Northside Festival, the musical line-up for which we previewed here, because it features over 400 acts, including Brian Wilson performing Pet Sounds, Conor Oberst, Kacey Musgraves, Wolf Parade, Grandmaster Flash, and a series of talks with innovators and media makers.
For the third year in a row, both the Williamsburg and Prospect Park locations of Smorgasburg are partnering with (RED), the nonprofit organization started by Bono, to help raise money to continue the worldwide battle against AIDS. Make a trip to Smorgasburg during the month of June, and be sure to buy one of the special (RED) menu items from over 25 participating vendors or a handy (RED) tote bag–the proceeds will help us one day achieve the goal of an AIDS-free generation.
That's just the very tippy-top of the iceberg in terms of what's in store this week though–please keep reading so we can share all of our tips for how to keep yourself thoroughly occupied and entertained between now and next Wednesday. Until then, we here at Brooklyn Based wish you an Ideal Week!
Thursday, June 9 WILLIAMSBURG Original Ghostbusters screening and party, 7pm, tickets, $42-$72 ↠
Friday, June 10 GOWANUS Summer of '86 Party, 11pm, tickets, $5 ↠
Saturday, June 11 PARK SLOPE Brooklyn Pride, all day, free ↠ • GOVERNORS ISLAND, Jazz Age Lawn Party, 11am-5pm, tickets start at $55 ↠ • RED HOOK Red Hook Fest, noon-7pm, free ↠ • ASTORIA Welling Court Mural Fest, noon-8pm, free ↠ • MANHATTAN Food Loves Tech Expo, noon, tickets, $50 ↠
Sunday, June 12 GOWANUS Brooklyn Jewish Food Takedown, noon, tickets, $20 ↠
Monday, June 13 WILLIAMSBURG A Life Behind Bars, 8pm  tickets, $20 ↠
Tuesday, June 14 DOWNTOWN BROOKLYN, Pride 20/20: LGBTQ Civil Rights, 7pm, free RSVP ↠
Wednesday, June 15 GOWANUS Taller tasting menu at The Pines, 7pm, tickets, $85 ↠
Thursday, June 9 I have to admit that I have been sort of avoiding coverage of the Ghostbusters reboot because I have found the misogynist backlash against the idea of very funny comedians who happen to be ladies participating in it to be almost too depressing to deal with while we are simultaneously dealing with a misogynist backlash against the notion of a woman in the White House. (Hey, entitled jerks who use the internet to make women feel like they don't have a seat at the table, could you be dears and just turn your focus on ONE table you want to exclude us from because it's really hard to keep up with all the things we aren't allowed to be a part of, kthx!) In fact, I didn't even realize that it is finally being released on July 15, which will be here before we know it, and that this means that Williamsburg's Villain is ramping up to it with a tribute to the original 1984 version of the movie that will put all other Ghostbusters-themed parties to shame. From Wednesday through Saturday, the space is collaborating with BBQ Films to transform itself into the firehouse headquarters you know and love, complete with live character appearances, themed rooms, real ghosts, a screening of the OG Murray/Akroyd/Ramis/Hudson/Slimer vehicle, and a limited edition, commemorative poster. Thursday's show starts at 7pm and tickets are available here.  
Friday, June 10 In keeping with the theme of great 80s movie, did you guys realize how many classic flicks were released during the summer of 1986?  And in keeping with the theme that I am a basically a contemporary of Yoda's at this point, did you also realize that 1986 was three decades ago?! On Friday, Littlefield is celebrating the 30th anniversary that one crazy summer that brought us Top Gun, Ferris Bueller's Day Off, Stand By Me, Aliens, Labyrinth, The Fly, Short Circuit, Ruthless People, Back to School, Big Trouble in Little China and, you guessed it, One Crazy Summer, with a totally rad dance party featuring awesome 80s music videos and on point movie trailers screening into the wee hours of the night.  If you come dressed as one of your favorite characters from a 1986 movie (yes! finally a semi-legit excuse to buy Sloane Peterson's fringed white leather jacket!), you can compete in a movie character lip sync competition. Tickets are $5 if you purchase in advance and $8 at the door, and the show starts at 11.
Saturday, June 11 Get ready for a veritable bonanza of activity going on all over the city this Saturday–there is so much to do it's a bit overwhelming. It is the 2oth anniversary of Brooklyn Pride, which means that the parade will be marching down Fifth Avenue [in Brooklyn, of course]. The Jazz Age Lawn Party, which involves three of my favorite things: Live music, people in awesome costumes, and St. Germain cocktails, is back at Governors Island on both Saturday and Sunday. The 23rd annual Red Hook Festival brings music and dance performances to Valentino Pier from noon-7pm. The Welling Court Mural Fest is hosting its 6th annual walking tour of incredible street art in Astoria. And, finally, you can learn all there is to know about the intersection of science, design, technology and the food we eat at the Food Loves Tech expo in Manhattan. There is actually something for everyone available today, so whether you're dying to wear a flapper dress and fascinator, check out a home-grown edible cricket farm, or check out some killer murals in Queens, get out there and enjoy it!
Sunday, June 12 On Sunday, the perennially popular Brooklyn Takedown, which allows local home cooks to compete for prizes and the glory associated with making food that everyone freaks out over, returns to the Royal Palms with a focus on Jewish cuisine. Personally, I feel that any event where I can pay $20 for access to all the rugelach, kugel, latkes, brisket and matzoh ball soup I can eat is a can't-miss affair. The Brooklyn Jewish Food Takedown starts at noon, which gives you the rest of the day to squeeze in a round or two of shuffleboard.
Monday, June 13 If there's one thing I learned from what probably amounts to multiple solid years spent watching various permutations of the Law & Order franchise, it's that if you want to dig up truth, you should always start by talking to bartenders. Dan Ruth, a New York actor-turned-bartender who has been pouring drinks in Manhattan and Brooklyn for over two decades, has quite literally seen it all, and he's written a well-reviewed, darkly comic monologue about his experiences with living as a vampire, gentrification, Yelp reviews, rigged health inspections, and the advent of selfie sticks. A Life Behind Bars has had a sold-out run at The Gutter, which has just been extended to include two more performances this Monday and next. Tickets are just $20 if you buy them online, and $25 at the door.
Tuesday, June 14 Fresh on the heels of the 20th annual Brooklyn Pride Day, BRIC is partnering with Housing Works this Tuesday night to present Pride 20/20: LGBTQ Civil Rights, a town hall-style discussion that will be broadcast live on BRIC TV. A distinguished panel of journalists, activists, and elected officials will gather at 7pm to talk about the progress that the LGBTQ community has made in recent years and the work that still needs to be done to address issues like job and housing discrimination, racial disparities, and health concerns. It's free to attend, but you should RSVP here.
Wednesday, June 15 Somewhere tucked away in my many daydreams about what I'd do if I suddenly acquired a bunch of excess cash and time to spare lies a trip to Denmark that would involve an inordinate amount of innovative and ridiculously photogenic restaurant meals. If you're privy to the Instagram feed of anyone who has been to Noma or Taller or Geranium or any other storied Copenhagen establishment that serves things like smoking quail eggs on a bed of nasturtium blossoms with cockles or whatever, you might share my urge to get there and live it in person. The amazing news is that the journey to experience some of the best off-the-wall, downright artistic Copenhagen cuisine will suddenly be a lot shorter next Wednesday night–we're literally talking the R train to Union Street. That's because The Pines is hosting a one-night only, nine-course tasting menu brought to you by chef Karlos Ponte of Taller and featuring dishes like oyster tartar with mango, ham, chili oil, pickled onion, epazote, and yuzu granite angostura butter (no, I have no idea either) on Wednesday night. Tickets are $85, but there's no international air travel required and you should probably just do this, right?