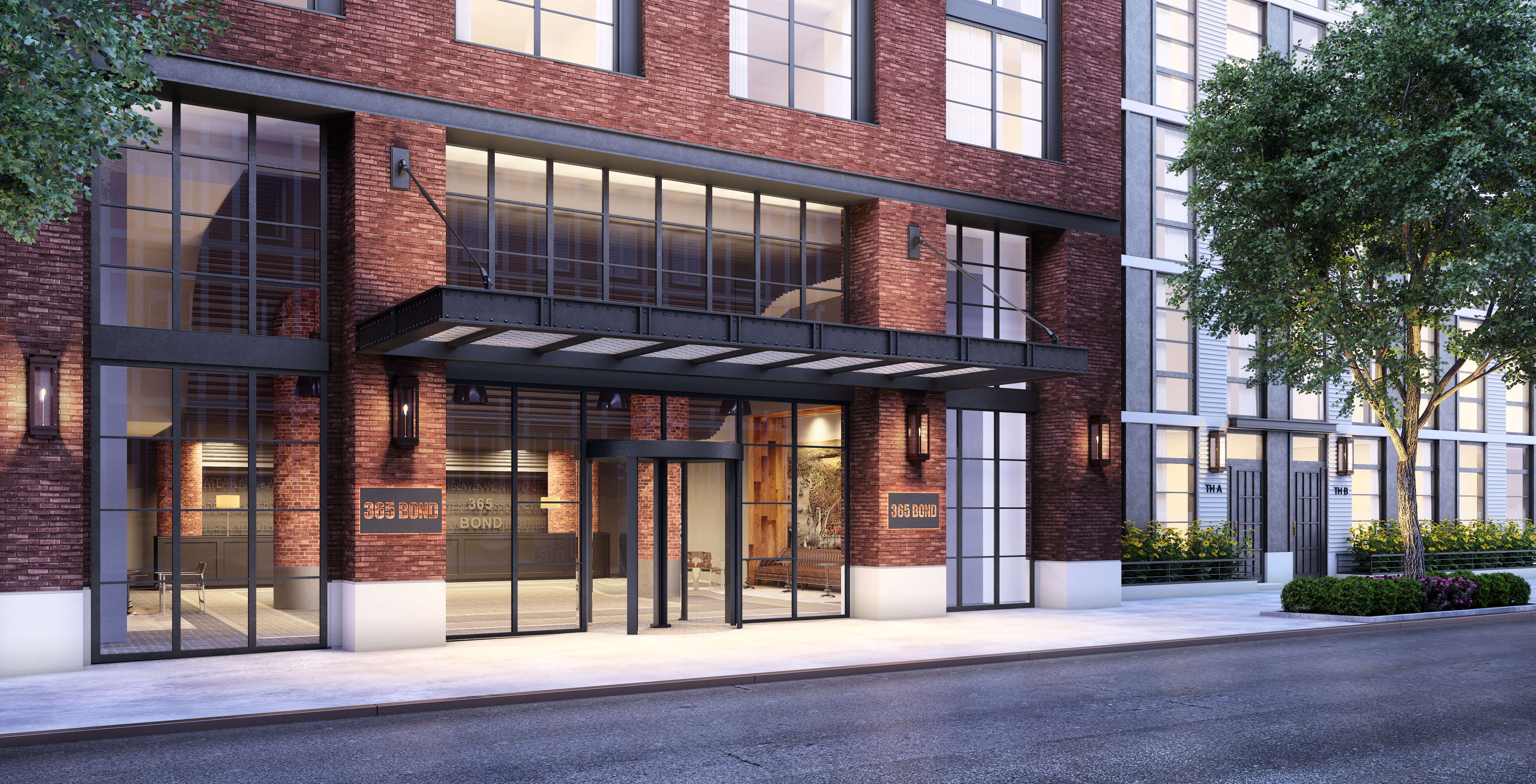 [sponsored_by action_blurb="Sponsored By" name="365 Bond" url="http://365bond.com/?utm_source=brooklyn-based&utm_medium=sponsored-content&utm_campaign=june-2016″ logo="http://www.brownstoner.com/wp-content/uploads/2016/04/365-bond-logo.png" byline="Located on the new waterfront esplanade park along the Gowanus Canal, 365 Bond redefines luxury apartment living." attribution_action_blurb="Created By" attribution_name="BlankSlate" attribution_url="http://www.blankslate.com/publisher-network/"][/sponsored_by]
It's rare to hit the trifecta, but living in Gowanus is a close approximation. Located at the intersection of three of the most desirable residential neighborhoods in New York City — Carroll Gardens, Boerum Hill and Park Slope — Gowanus is now a place where art and creativity meet to create a distinctive and vibrant architectural and cultural landscape. And 365 Bond is right there — the first luxury residential development at the epicenter of the hottest neighborhood in New York. Even Curbed voted Gowanus as neighborhood of the year in 2015.
Now let's consider the rest of the evidence. The culinary world has certainly noticed, with nearby restaurants as diverse as farm-to-table Italian cuisine at Rucola, New York Magazine's "best neighborhood burger" maker Building on Bond, and French comfort-food bistro Bacchus and its cousin French Louie on Atlantic. Across the canal, Littleneck on 3rd Avenue offers one of Brooklyn's tastiest raw bars.
In fact, there's almost no end to the dining choices in Gowanus, especially with neighborhood favorites like Dinosaur BBQ and Table 87's coal-oven pizza, and Ample Hills Creamery is just around the corner for an après-brisket ice cream.
After-dinner treats in Gowanus don't stop at ice cream. And why should they? The area has become a magnet for bars to suit every taste in nightlife. The Bell House has a relaxed lounge area, as well as a performance space that welcomes acclaimed local and national music and comedy acts, as does Union Hall in nearby Park Slope. Just a few blocks west of the canal, Abilene on Court Street in Carroll Gardens is the place to go for al fresco drinks on a spring evening.
Those who prefer their libations with exercise (and food truck selections) frequent the Royal Palms Shuffleboard Club at Union and Nevin streets. It's an ideal spot for a beer and a game of shuffleboard while on a date or out with friends.
Of course, there are more rigorous sports to pursue in Gowanus. Locals who like vertical challenges have found a home away from the mountains at Brooklyn Boulders. Epee enthusiasts sharpen their skills at Brooklyn Fencing. 365 Bond itself offers plenty of space to get in shape for the summer — there is a fully equipped fitness center, spin room, and yoga studio in the building with regularly scheduled programmed classes to fit everyone's taste and schedule. For those who want to take their workout up a notch, there are numerous CrossFit and martial arts studios.
The Gowanus Dredgers Canoe Club has located its boathouse within 365 Bond and the development has created a brand-new public waterfront esplanade park with a boat dock to allow the kayakers and canoers to better access the canal. This new waterfront park allows for both relaxing and recreation for the entire neighborhood.
Convenience is a big deal in Gowanus. Brooklyn's only Whole Foods, a massive grocery store with parking and delivery is at 3rd Avenue and 3rd Street, immediately adjacent to 365 Bond. And 365 Bond itself is situated between the F and G trains at Carroll Street and the R train at Union Street. This puts lower Manhattan a mere 10 minutes away.
Stylish residences, generous amenities, amazing views, and a dynamic community all make 365 Bond the place to live in New York City. For more information and to schedule an appointment, check out their website.