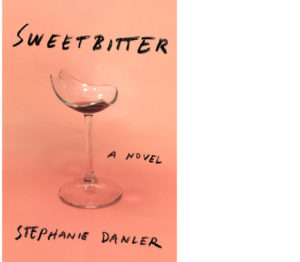 The waitress-protagonist of Stephanie Danler's roman a clef by way of restaurant (a thinly veiled version of the Union Square Cafe), arrives nearly contextless. Her name, Tess, doesn't even appear until halfway through the book when she wins an award at a Christmas party. We know only that her mother left early, that her town was founded on "the twin pillars of football and church," and that she believes she was born not in that unnamed place, but "in late June of 2006, when I came over the George Washington Bridge at seven a.m. with the sun circulating and dawning, the sky full of sharp corners of light." This blankness, which initially felt insubstantial, turned out to be a virtue, as the narrative describes how her job, her co-workers, and New York City itself molds Tess.
Danler has worked front-of-the-house at the Union Square Cafe and Buvette, and her experience in restaurants lends the book fascinating, sharply detailed insider knowledge to Sweetbitter. I never suspected that everything from the process of folding napkins, the carrying of plates where your elbow becomes a tray, and struggling to pronounce the names of French wines, all while balancing various crushes and alliances, could be so emotionally gripping.
Tess is taken under the wing of a longtime server named Simone, who passes on her knowledge of wine, food, and the restaurant, with a mix of tough love and condescension (she frequently calls Tess "little one"). She teaches Tess about wine and cheese, how to read menus and how to read diners. She gives Tess her first oyster, which first "was a cold lozenge to push through," but soon it's all creamy and briny and Tess can't get enough of them. Simone becomes Tess's guide not only to food, but to a certain philosophy of life; when Tess says she's hungry, Simone "Appetite is not a symptom…It cannot be cured. It's a state of being, and like most, has its attendant moral consequences."
Many of these moral consequences involve Jake, Simone's lifelong friend and Tess's love interest, a bartender covered in tattoos, and to Tess's mind, filled with sexy secrets, but to ours, perhaps too much anger and too much pretension. This is a lethal combination for Tess (and really for anyone), hungry for experiences, believing, as Simone mocks her for, that in every heartbreak is a reward, in every experience an important lesson.
Since this book is about appetites of all kinds, there's a fair amount of sex and drugs, including copious cocktails, cocaine, and the attendant mornings after. You'd think there was nothing else to say about hangovers but Danler has a descriptive flair for them. Tess's hangovers are not read but felt, like one morning when "From my tailbone the shame started and with it came prongs of pain up my spine until it hit the base of my skull." My head throbbed in sympathy. Of the decision to decline more Jagermeister, "I had taken one and thought I might throw up on the floor. Instead I threw myself into a cab and threw up in my own toilet like an adult."
Eventually these appetites take their toll on our battle hardened narrator, but fortunately for the reader, the biggest problem becomes book-induced cravings. How can you not be hungry after reading, of a particularly perfect breakfast, "I saw whole peaceful countries built on perfect omelets and white wine spritzers. Nations at war drinking before noon and then napping."
Sweetbitter pairs well with rosé, cheese, and memories of being 22.