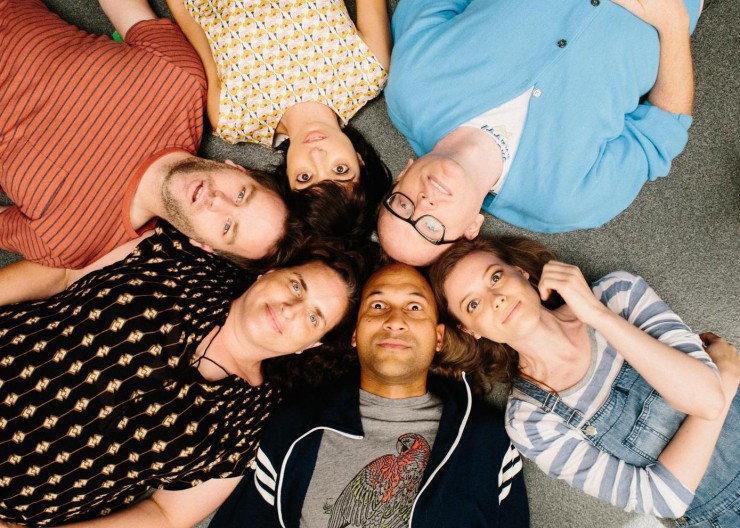 When I sat down for a screening of Don't Think Twice, the new comedy from Mike Birbiglia, I was in a mood. It had been a long day at work, I had just booked it across midtown in a most unfavorable pair of heels, and, frankly, I wasn't all that excited about the film I was about to see. Many indie films are a slow burn, sure, but a feature length film about improv comedy subculture? I didn't have the highest expectations. An hour-and-a-half later, discreetly trying to wipe my tears with my sleeve, I had zero desire to leave the theatre.
Don't Think Twice, actor, writer, and comedian Mike Birbiglia's sophomore feature film, is the story of an improv group known as The Commune working in a dingy New York theatre. The six of them work for small crowds and for even smaller sums, are often on the prowl for a modicum of something that can be deemed as success. They also seem totally blissed out in one other's company, a series of friendships that have clearly withstood the test of time and some awful jokes. They're led by Miles (Birbiglia), a 30-something improv teacher with an affinity for sleeping with his younger students and claiming he's always inches, just inches away from making it big. Then there's spunky but spoiled Lindsay (Tami Sagher), whimsical Allison (Kate Micucci), and slightly pathetic Bill (Chris Gerhard). Gillian Jacobs and Keegan-Michael Key round out The Commune as Jack and Samantha, the romantic couple of the group. Although most of them live together in a crappy loft and pretty much all of the group suffers through a series of mundane day jobs, they're happiest when doing what they're best at: getting on a stage a few nights a week and fearlessly shooting the shit.
This all begins to unravel when Jack lands a coveted spot on Weekend Live (think Saturday Night Live) and the rest of the group struggles to deal with his success, which quickly calls into question the choices they've all made and what kind of lives they want to live. To add insult to injury, the theatre where they perform is being shut down, and it becomes even more of a struggle to keep The Commune alive.
In the first few scenes of Don't Think Twice you almost want to immediately dislike the wacky group you see before you. They're like those exhausting theatre kids you couldn't stand in college–they're never NOT doing impressions and they seem to have an exquisite talent for making the wrong jokes at the wrong times. But Birbiglia has assembled an absolutely perfect cast here, and you quickly find how just easy it is to love every single member of The Commune. All six actors are scene-stealers, but Gillian Jacobs's Sam is the one you can't shake for the rest of the evening–she's quickly growing to become an actress with far more range than anyone's given her credit for. It's super promising to see Keegan-Michael key in a more dramatic role as well.
Another unexpected element here is the truly gorgeous cinematic craftsmanship, which I definitely did not expect based on Birbiglia's first feature, the charming but very indie Sleepwalk with Me. Not only is the pacing of the film immaculate in its breathless naturalism, which is really a rarity, but cinematographer Joe Anderson makes the briefest moments, a stagehand setting up chairs on a dusty stage, fraught with sense of story. It really is a beautiful little movie to watch, one that explores the question of what you do when you're doing what you love, with the people you love, but you're ultimately not going anywhere at all. There's not a much sharper take on what it's like to have dreams and live in New York City right now.
An at times biting narrative that's tenderly observed, regardless what kind of work you do or who your friends are, it is so easy to recognize parts of your own life in the fabric of Don't Think Twice. That's really the beauty of it.
Oh, and if anyone wants to invite me to this see film with them a second time, I won't think twice.