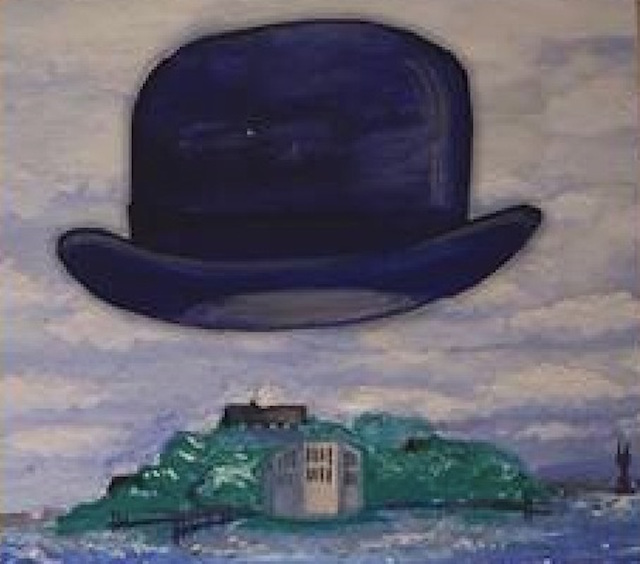 Greetings everyone and welcome to another installment of Your Ideal Week, wherein we present our best tips for exciting, engaging and above all, entertaining ways to occupy your time in and around Brooklyn over the course of the next seven days.
Did you all happen to catch this article in the NYT yesterday about the rezoning happening in Gowanus and councilman Brad Lander's efforts to give residents a real voice in the process? Well, it just so happens that he is hosting the first in a series of community action events at The Bell House on Tuesday night from 5-8pm. Not only is it a great opportunity to get involved in an issue that will actually affect your life, but it also might be an effective balm to soothe your nerves during this time of increasingly deranged politics playing out on the national level.
Other highlights of the week include two outdoor screenings of great flicks with live musical accompaniment at Celebrate Brooklyn in Prospect Park. Thursday's Run Lola Run with live score by The Bays, and next Wednesday's screening of Labyrinth with music by Donny McCaslin Group both start at 7:30pm and are free to attend. And if it's early 90s nostalgia you're after, Fort Greene Park is hosting a special screening of The Sandlot Thursday night to benefit The Brooklyn Hospital Foundation.
Read on, pencil in your plans, and get after it. See you next week!
Thursday, August 4 GOWANUS Hari Kondabolu, 10pm, tickets $15↠

Friday, August 5 BED-STUY Brownstone Jazz and Fish Fry, 8:30pm, tickets $40↠

Saturday, August 6 PROSPECT PARK Adoptapalooza, noon to 5pm, free (plus adoption costs)↠ • PROSPECT PARK The Hubble Cantata, 7:30pm, free↠

Sunday, August 7 GOVERNORS ISLAND The Enchanted Realm of René Magritte, performances at 1pm and 4pm, tickets $15↠

Monday, August 8 BUSHWICK Coming to America at Rooftop Cinema Club, 8:15pm, tickets $19↠

Tuesday, August 9 CLINTON HILL Teju Cole reads from Known and Strange Things, 7:30pm, tickets and copy of the book, $20↠

Wednesday, August 10 GREENPOINT Coloring Club Drink and Draw Extravaganza, 7:30pm, tickets $5-$32↠ 
Thursday, August 4 One thing that has become abundantly clear during this particular election cycle is that if we don't learn to laugh at it we're all pretty much done for. In that sense, we're lucky that one of the funniest political comics in the country, Hari Kondabolu, lives right here in Brooklyn and is doing a quick run of shows this week at The Bell House. You might know Kondabolu from one of his many appearances on various NPR shows, Letterman and Conan, or his regular contributions to FX's Totally Biased with W. Kamau Bell. Fresh off the release of his second stand up album, Mainstream American Comic, he is primed to inject some much-needed humor into the increasingly hair-raising state of present-day politics. Elicia Sanchez, a popular Seattle-based comedian and writer, is opening. The early shows sold out quickly, but you can still catch the 10pm set on Thursday night for the price of a $15 ticket.
Friday, August 5 Unwind after a long week with some smooth beats and delicious eats at Friday's Brownstone Jazz Concert Series and Fish Fry in a restored 1800s Victorian brownstone in Bed-Stuy. When Debbie McClain inherited her grandparents' longtime home, she converted it into a B&B and has since been hosting salon jazz performances by local musicians alongside buffet-style, traditional Southern fish-frys on weekend nights. Tickets are $40 each, and doors open at 8:30pm.
Saturday, August 6 This summer has been awesome so far, but you know what would make it even better? Having an adorable, cuddly canine or feline companion to brighten your days and fill your heart with love. If you're ready to make the commitment to care for a pet, the Mayor's Alliance for NYC's Animals will be bringing more than 150 pups, kitties, and even some bunnies who need a home to Bartel-Pritchard Square in Prospect Park for its annual Adoptapalooza event. From noon to 5pm, you can meet and greet the animals and bring along your current pets for free microchipping and ID tags, plus activities like face painting and a photo booth. Come back to the park at 7:30pm for The Hubble Cantata by Tige, a really intriguing-sounding VR/music performance involving a 20-person ensemble, a 100-person choir, 2 stars of the Metropolitan Opera, a 360-degree sound installation, and cardboard virtual reality headsets for all! Sounds like something worth checking out, right? Oh, and if you still needed convincing, attendance is free.
Sunday, August 7 If you loved Sleep No More or Then She Fell, you'll probably be interested in a new immersive theater experience opening on Governors' Island this weekend. The Exquisite Corpse Company is performing a new work called The Enchanted Realm of René Magritte, which is a play and installation based on the life and work of the surrealist painter set in an eight-room mansion situated in the the cool/slightly-creepy-in-a-Dharma-Initiative-way former residential area of Governors Island. Tickets are $15 a pop for either the 1pm or 4pm show.
Monday, August 8 I've been really wanting to get to one of the screenings at The Rooftop Cinema Club's Bushwick outpost this summer–they have basically taken one of my favorite summer concepts (the outdoor, sundown film screening) and elevated it to include perks like seats, wireless headphones to ensure good audio, legal BYOB, and the ability to order food in from local delivery joints. Now that they are showing one of my all-time, top 10 favorite movies this Monday night, it's a no brainer. Starting at 8:15pm, you can catch Eddie Murphy, Arsenio Hall, Samuel L. Jackson, and a very young and unknown Cuba Gooding Jr. take the Queens of the 1980s by storm in Coming to America. Tickets are $19 and are available here.
Tuesday, August 9 Teju Cole, renowned author of Open City and Every Day is for the Thief, will appear at Clinton Hill's St. Joseph's College on Tuesday evening to discuss his first book of essays, Known and Strange Things. In it, Cole explores politics, history, literature, and art through the prism of his unique perspective as a Nigerian-born American artist who has lives in Brooklyn, Brazil, and Europe. Writer Amitava Kumar will appear in conversation with Cole before a book signing session. Tickets are $20 and include event admission and a paperback copy, the discussion will begin at 7:30pm.
Wednesday, August 10 The Adult Coloring Book craze is here to stay, and a local artist/coloring book creator has a fun way to get those of us who can drink legally on board with crayons again–she provides drinks! Head over to Greenpoint's New York Distillery at 7:30pm on Wednesday for the August meetup of the Coloring Club Drink and Draw Extravaganza, and get to coloring with some new friends.  Your $32 ticket covers admission, a coloring book, access to crayons, markers, and colored pencils, a cocktail, and gratuity. There are also $5 tickets without the extras.