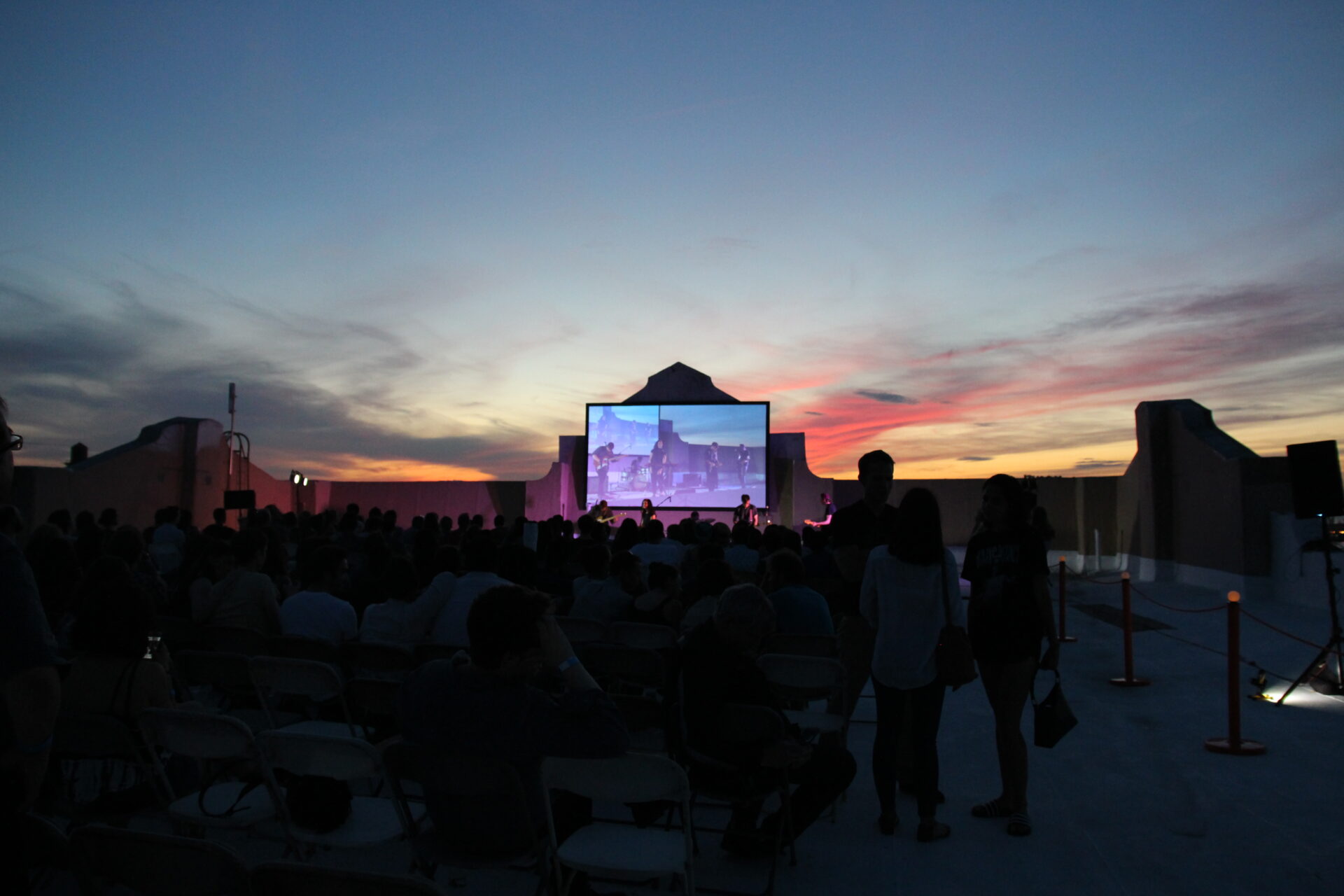 It all started with a few flyers, a bed sheet and a rooftop.
In the summer of 1997, Mark Elijah Rosenberg founded Rooftop Films on the top of his East Village apartment building. He and a few friends, he said, "used a 16mm projector, tied a sheet to the wall, opened the door to the roof, and we had a film festival." The turnout to see the collection of short films that Rosenberg had selected for the evening, driven mostly by word of mouth, was much larger than expected–so many people showed up that Rosenberg's landlord promptly evicted him.
Even without a rooftop of his own, the film-obsessed recent Vassar grad and native New Yorker realized that he was hooked on curating screenings. It was, he recalled in a phone interview, "a real pleasure to watch strangers come and appreciate the night."
Fortunately Rosenberg had friends to turn to. Joshua Breitbart and Dan Nuxoll, current Rooftop Films program director, were working to convert an old warehouse space on McKibben Street on the border of Bushwick and East Williamsburg into lofts. They allowed Rosenberg and Breitbart to build a screen and show films on their roof.
"There were no hipster restaurants let alone Michelin restaurants," Rosenberg said wryly. "It was derelict buildings and car fires…for better or worse we were part of the change in that neighborhood."
Now celebrating their twentieth season, Rooftop Films still supports films that are too small, too weird, or too personal for more commercial venues, creating a vital resource for new and exciting cinematic talents and expanding their audience every year.
Their growth also mirrors gentrification in New York City.
If you plotted the screening locations for Rooftop Films over the past two decades, from the East Village to Williamsburg to Bushwick to Gowanus (where they are headquartered at the Old American Can Factory) to Industry City in Sunset Park (where they began showing films in 2015), you'd have a workable map tracing the social and economic changes that have swept through New York City during the same time period.
"Reputationally, people, when they talk about our audience say 'oh a young hipster audience,'" said Nuxoll.
Nuxoll points out that since the festival became a non-profit in 2004 and started working with a larger base of sponsors and funders, which currently include Vimeo, Lululemon, LOFT, Forest City Ratner, New York State Council on the Arts and NYC Department of Cultural Affairs, they've been able to diversify their locations, including screenings at the Bronx Terminal Market, on the beach at Coney Island and at the House of Vans. More essentially, he said, their content defies easy categorization.
"I've never considered us to be a hipsterfest," he said. "It's never been about trends."
Trendy or not, Rooftop Films has made a habit of introducing New York City to cinematic game changers. Gasland, which chronicles the perils of fracking and has a sequel that is currently airing on HBO; Tiny Furniture, which introduced us to Lena Dunham; 2012's Oscar-nominated Beasts of the Southern Wild; and 2015's Tangerine, shot entirely on an iPhone 5, were all screened at Rooftop, as either New York City or world premieres.
Earlier this summer, the festival featured Danny Brown: Live at the Majestic, which director Andrew Cohn said was, "a class-act premiere, with everything you want as a filmmaker…people left the screening feeling great." The Rooftop team creates a complete experience for each movie, matching films to venues, and bringing in musicians and other artists to perform prior to showtime, and inviting creators, actors, and documentary subjects to speak. In this case Danny Brown himself performed following the screening at The House of Vans.
Filmmaker Anna Rose Holmer, who has screened multiple films at Rooftop, including this summer's feature The Fits, about the transformative power of one girl's participation in an after school drill team, also praised the festival. "Ultimately, what sets them apart is their ability to create singular, communal experiences around films," she said. Matt Conboy, who directed the documentary, Goodnight Brooklyn–The Story of Death By Audio, called showing his film at Rooftop, "like a homecoming" in an email.
The curation process is not an exact science, but even when the films cover weighty subjects, it's usually done through the lens of a personal story or approach. "We do try to keep it eclectic, but we tend to lean toward personal films, films that are more intimate in scale," Rosenberg explained.
And it's not all about The Wolfpacks–a breakout documentary from 2015–and the Tiny Furnitures. Rosenberg points to What is Paper Mâche, a documentary about a struggling artist in his late 20s who randomly gets asked to a high school prom, as one of his favorite gems. It's "a special and unique small, intimate film and wonderful, but pretty much only ever screened at Rooftop," he said.
"I wouldn't say there is a category of films we'd never show," said Nuxoll. "We do have certain tendencies…we don't show a lot of genre films [but] we might show a horror of crime…pure genre will get attention in the marketplace with or without our help. The same, Nuxoll said, is true for documentaries: "When we show docs, we don't show a lot of survey films or historical or celebrity documentaries," he explains. "Even if we're showing a social issue doc, we try to show a film that tells a personal story. That's where our curatorial influence takes shape."
The Rooftop Films grant program also exerts an influence on the film world. Any filmmaker who has screened in the festival is eligible to apply for one of eight grants which cover everything from equipment to special effects to marketing and editing. Holmer, director of The Fits, noted, "I think a big reason why filmmakers like myself return with films again and again is knowing that their support of artists goes beyond just a single screening."
Going forward, Nuxoll hopes for a more stability in terms of location. While the organization is committed to seeking out creative spaces for screenings, Nuxoll would like to, "either have a long-term contract, or a venue of our own…a fall-back venue we could go to year after year." Rosenberg also mentioned expanding their programming beyond New York City, and expanding the grant program to support more filmmakers.
It's clear however, that the support is already felt by participating artists. As Cohn, director of Danny Brown, put it, "As filmmakers, we're sometimes dedicating years of our lives to these projects, so to have an organization that's just as passionate and dedicated to your film's success as you are, is a great feeling."