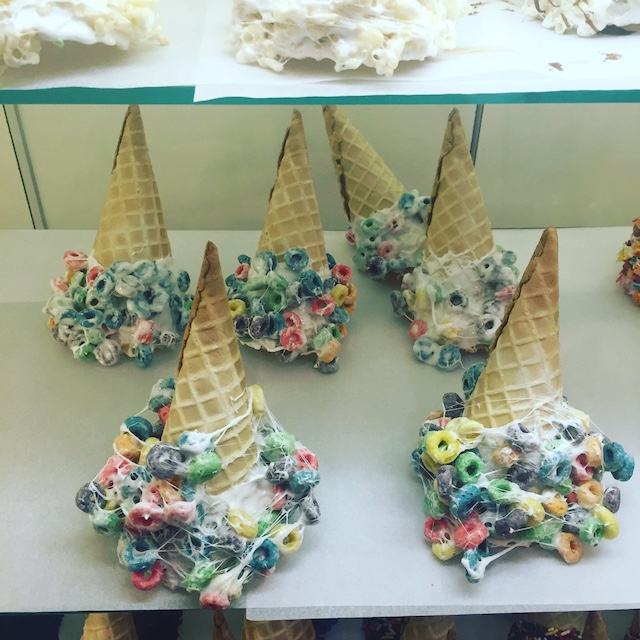 The summer heat is still blistering, but the Labor Day countdown is officially on. There's still time to create a lasting summer memory of going down the longest slide in NYC, retreat from the heat in an air-conditioned mini golf course, and get an insane sugar high from a Fruit Loops-covered ice cream cone.
Here are 9 kid-approved activities to squeeze in before school starts:
Go: Miniature golfing.

Finding reprieve from the heat and bizarre summer storms can be challenging. (There are only so many times you can sit through "

The Secret Life of Pets

.") Instead, check out a theatrical mini-golf experience that will engage even the youngest tee toddlers.

Shipwrecked Miniature Golf

is not anything like the suburban golf greens from your youth. Instead, this enormous indoor adventure starts when a hologram pirate explains the rules, and continues through 18 holes complete with special effects and buried treasure. 621 Court St., 2nd Floor, Red Hook. Admission 13+: $14, Senior/ Military: $12, Child (3-12): $12, Child (under 2): free.
Eat: Fruit Loop Cones. It's hard to challenge ice cream as summer's essential food group. Rock n' Roll ice cream connoisseurs, Emack & Bolio's, started their business in Massachusetts and claim to have invented the Cookies n' Cream flavor. Since then, they have taken frozen dessert to a new level with their truly outrageous, Instagram-worthy cones. Try a scoop of "Space Cake" covered with rainbow sprinkles tucked neatly inside a waffle cone covered with marshmallow and Fruit Loops. It's a trippy treat (and insane sugar high) that will definitely surprise and endear your children. Emack & Bolio's, 115 Montague St. Brooklyn Heights.
Watch: The Little Prince. Labor Day means one last family trip: sand and surf, lobster rolls…and sitting in endless traffic. Plan ahead to entertain the kids and get the unusual and heart-warming film, The Little Prince, queued up on the iPad. This stop animation/ computer animated combo is made modern with the story of a girl and her type-A mother. The poetic language of

Antoine de Saint-Exupéry's 1943

book remains, and the voices of Rachel McAdams, Ricky Gervais, James Franco and Jeff Bridges won't drive you crazy at the steering wheel. Among the exhaust fumes of the packed highways, this charming film will keep the whole family dreaming of roses no matter how far the driving distance. (Although this is mostly a sweet film, there are some moments touching on death and illness that some kids may find scary. Recommend for 8+.)

Available streaming on Netflix

.
4. Go: Two Illustration exhibits. Museums are a great way to stay cool and enjoy what the city has to offer. If you haven't yet brought the kids to the Mo Willems exhibit (which I reviewed here on opening weekend) at the New York Historical Society, this is your last chance as it closes at the end of September. Or, if your kids have aged out of picture books, but still enjoy illustrations, visit the Museum of the City of NY to see the work of The New Yorker cartoonist Roz Chast. Roz Chast: Cartoon Memoirs showcases hilarious portraits of anxiety-ridden New Yorkers, pages from her many children's books, and excerpts from the award-winning memoir, Can We Talk About Something More Pleasant? You (and your kids) will definitely have a chuckle. Museum of the City of New York, 1220 Fifth Avenue, 3rd Floor. Admission: Adults, $14, Student, $10, Children (under 20), free. Through October 16, 2016.
Read: Harry Potter Mania. If you have a Hogwarts fan at home, then chances are you already purchased

Harry Potter and The Cursed Child

, the eighth and final story in the series. After finishing the script, don't just let your kids mourn the end of their beloved characters. Help them share the magic with others.

One Book At A Time

is an organization that lets you sponsor a child living in poverty by sending one book a month, and an accompanying letter, for a year. Your child can help pick out a book every month, write a letter explaining why they enjoyed the story, and share their enthusiasm for reading (and wizardry) with another.

To join One Book At A Time, email

books@family-to-family.org

with your name, address and phone number. If there is a

particular age of child

you and your family would like to help, please tell them that as well, and they'll try to accommodate.
Go

:

An International Festival.

Summer is almost over, and you haven't taken the kids on any trips! Pack a bag and head to the Japanese Festival at

Children's Museum of Art

on Sunday, August 14th from 11 to 4pm for an afternoon of dancing and crafting. The Japanese Folk Dance Institute will teach the Hanagasa Odori (The Flower Hat Dance), and kids will craft their own hats and participate in a parade through the museum. They will also learn about origami, Japanese folklore, and zen design. 103 Charlton St., New York, NY (between Hudson & Greenwich) Admission: $12.
Buy: The New Big Boy/ Girl Chair.

Here's a sweeping generalization: most everyone in New York City eats at a kitchen island (or countertop). Once kids graduate from a high chair, there's the dreaded booster seat phase that just doesn't work in the modern kitchen. These crumb traps usually fit awkwardly, are top heavy, and fall over as soon as your kid kicks the table. Start the school year off with a new kind of big seat– one that snaps onto the bottom of your normal dining chair to give just a few more inches. The

Kaboost portable chair booster

($39.99) is engineered to improve chair stability, adjusts to fit on any 4-legged seat, and will grow with your child. Soon they'll be so used to sitting in a dining chair, you'll be able to focus on table manners.
Go

:

The Longest Slide in NYC.

By the end of summer you've been to every playground in the borough. Before your children succumb to the summer doldrums,

visit Governors Island newest section,

The Hills

. Boasting beautiful views of the Statue of Liberty and the New York Harbor, it is most known among families for "Slide Hill," a group of slides built right into the rocks. The Longest Slide in NYC (at 57 feet long and three stories tall!) will undoubtedly reignite your kids' playground love. Afterward,

rent some bikes,

explore an installation by artist Rachel Whiteread, or go back in time with

The 11th Annual Jazz Age Lawn Party

(August 14 & 15). Governors Island is

accessible by ferry

every day of the week during the summer from Battery Park Maritime Building, and on weekends from Pier 6 in Brooklyn.
Download: EmojiMom

Which emoji do you use to show that you're stuck in an office bathroom stall pumping breastmilk? How about when your baby just spit up all over you on your way out the door? EmojiMom has your back with over 250 emojis that cover all the bases from prenatal through postpartum, and all the hiccups in between. Finally, tired parents no longer have to use words to talk. The emoji keyboard is uncensored (nipple cream!) and humorous (pump and dump!), and gives a voice to modern motherhood.

Available on itunes for $1.99