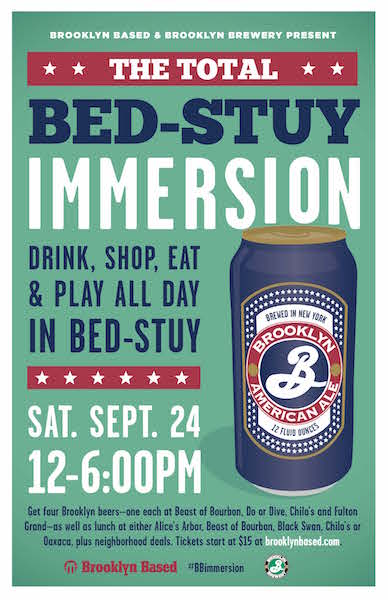 On Saturday, Sept. 24 we'll be heading to Bed-Stuy (and a bit of Clinton Hill) for our last Immersion of the season with Brooklyn Brewery. If you haven't yet been on one of our neighborhood beer and food crawls this is going to be a super fun one. And if you've joined us before, we've lined up some fab new bars for you.
The day starts at noon, and there are two ticket options. You can choose to go "express" and get one free Brooklyn beer at each of these four bars:
If you want to go all in, you can also add food to four beers with one of these lunches:
Tickets are $15 for the four beers "express" option, $25 if you want to add lunch to the package–a killer deal for a full day of drinking, eating and exploring. Purchase one online, and then check in at either Beast of Bourbon (if that's where you'll be dining) or Chilo's between noon and 1pm the day of the Immersion to get your envelope of "walking around money," filled with all the coupons you'll need for your adventure.Trust us, you'll want to start early to redeem all your beers and deals before they end at 6pm.
About those deals…Both tickets include discounts like a $1 Brooklyn beer when you purchase a Porchetta, Italian or Veggie sandwich at Mekelburg's, 10% off brunch and $4 Brooklyn Defenders at Alice's Arbor , a $4 Brooklyn Lager tallboy at the newish bar and Filipino taqueria Swell Dive, a buy one ice cream sandwich, get one free at The Good Batch, and a free homemade popsicle from the Isreali cafe Dinghy with the purchase of a sandwich and drink, and a beer special at The Fulton Grand, a great, laid-back bar with the perfect sidewalk seating.
We'll announce more deals on Facebook, too. See you in Bed-Stuy!