[sponsored_by action_blurb="Sponsored By" name="Pierhouse at Brooklyn Bridge Park" url="http://www.pierhouseny.com/" logo="http://cdn.brownstoner.com/wp-content/uploads/2016/01/pierhouse-90-furman-street-dumbo.jpg" byline="Pierhouse offers expansive one- to five-bedroom, townhome-style condominiums in world-class Brooklyn Bridge Park." attribution_action_blurb="Created By" attribution_name="BlankSlate" attribution_url="http://www.blankslate.com/publisher-network/"][/sponsored_by]
Sure, you've visited Brooklyn Bridge Park. What if you lived there? Pierhouse, developed by Toll Brothers City Living, provides that opportunity.
There are several factors that distinguish this condo complex, beyond the fact that it sits inside Brooklyn Bridge Park: few residential spaces in New York City boast 18-foot ceilings. Fewer still have a pet spa with dog showers.
The building, designed by Jonathan Marvel of Marvel Architects — who redid the Studio Museum in Harlem and the St. Ann's Warehouse performance space — is best suited for those who seek a home with more amenities than most, and the budget to buy in.
The array of amenities include bicycle storage, 24-hour valet parking and concierge, two fitness centers complete with TRX training equipment, a meditation studio, and residents' lounge.
And with an anticipated LEED Silver certification, rainwater irrigation system, and composting units in every residence, Pierhouse is more than a luxury development, prioritizing sustainability for future generations.
With 75 percent of the building's 106 units sold, 25 units remain – a mix of two- three-, four- and five-bedrooms; most master bedrooms face Brooklyn Bridge Park and the East River waterfront. A variety of rooftop terrace configurations allow for entertaining with a view.
N-1012, pictured below, is a three-bedroom penthouse with a private roof deck listed for $6.09 million.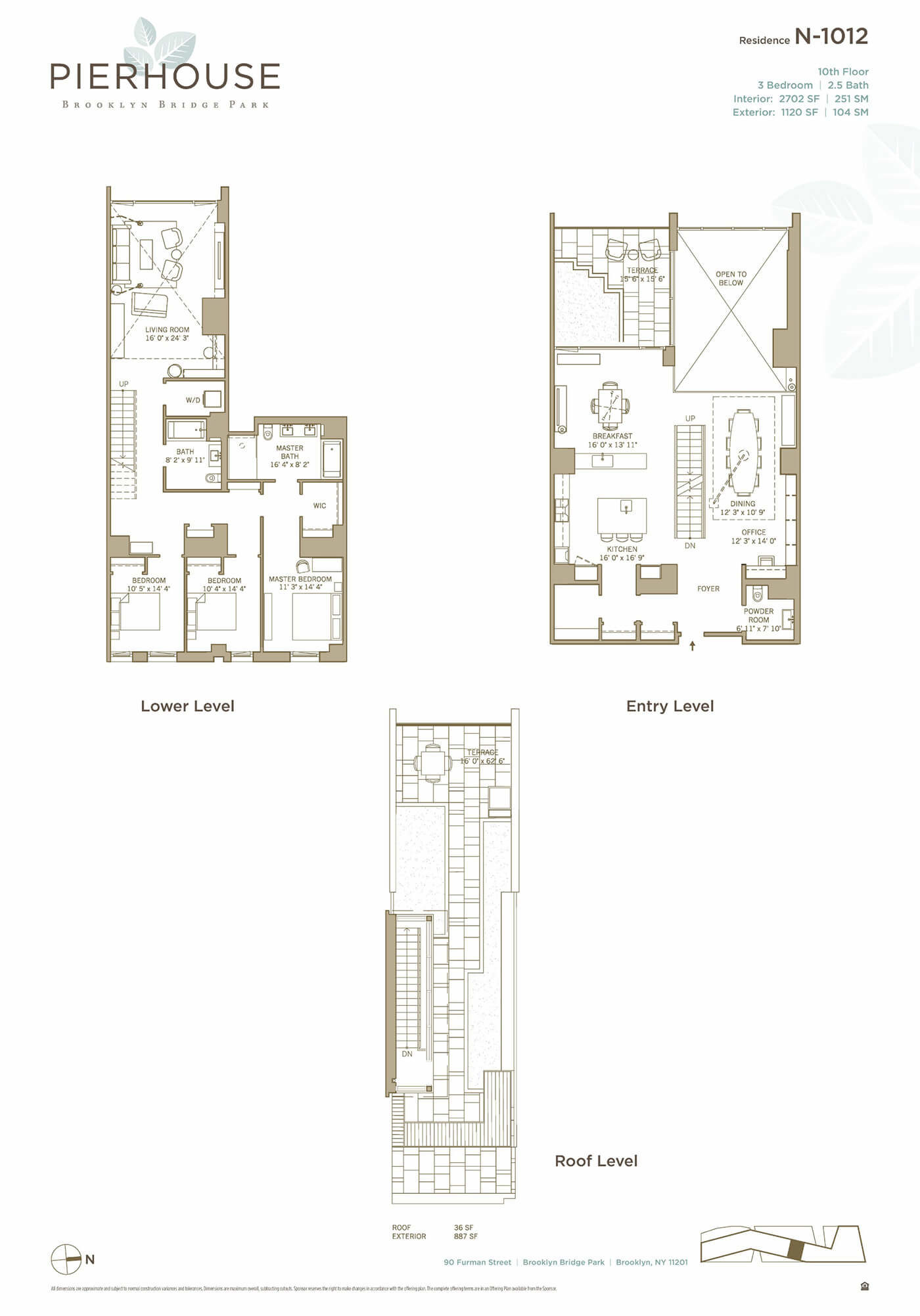 For more information, visit the Pierhouse website, or call (718) 765-3805 for an appointment. The sales gallery is located at 90 Furman Street, Residence N-220 in Brooklyn Heights.