Originally published June 2016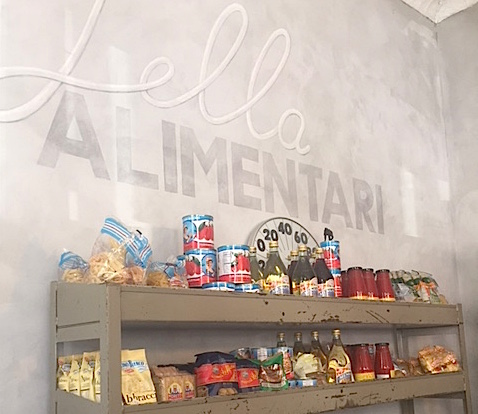 There is no shortage of red sauce Italian cuisine in the Graham Avenue section of Williamsburg. Lella Alimentari though, may be the only Italian spot in the neighborhood that makes you forget you're in Brooklyn. The bustling grocery-café-piadineria is run by the delightfully, aggressively Italian husband-and-wife team of Massimiliano Nanni and Paola Citterio, who treat it as second home.
Italian staples like dried pasta, olive oil and canned tomatoes line the walls, while customers shout their orders over the sound of the espresso machine and a tall counter filled with baked goods and deli staples. Lella Alimentari is busiest in the mornings, when locals come in for strong coffee and maybe a sit-down breakfast of granola with fruit and yogurt or a frittata of the day (a bargain at $5 for a hefty slice). Lella is open all day to serve their specialty–piadine, an Italian flatbread, thin but dense with a doughy center and crisp outer layer.
Nanni and Citteria handmake the bread on-site and serve it both savory and sweet, filled with some combination of cured meats, roasted veggies, cheese or Nutella. We recommend the simple pomodoro, with roasted tomatoes and fresh mozzarella, for $8.50. On Sundays, Lella serves a proper brunch (but for now, no Bloody Marys or mimosas), with simple delights like heirloom tomatoes and burrata, a tuna or porchetta piadina, or poached eggs with cannellini beans, bacon and escarole–all for under $12.
Lella Alimentari is named for Nani's mother Lella, who is reportedly something of a street food legend in their native Rimini, in Northern Italy. "She's famous there," Citterio said, while adding that most of the items sold in the grocery are those she has in her own home. Citterio credits the takeaway window for attracting locals on-the-go with dogs and strollers; they keep it open even in the winter months. The owners and staff have an easy, casual rapport with their loyal customers; and Nanni's personality can barely fit in the cozy space. When a regular came in without her partner, Nanni joked that she had "finally" locked him in the basement. (He was on a business trip.)
The bright and extremely cozy space is has obviously been carefully curated, but there's nothing intimidating about it. A vintage bubble-gum machine welcomes you at the front door. just beyond that, eye-catching snacks and sweets are displayed at just about the height of a child's elbow. Art magazines are scattered across the long wooden community table. For a quieter meal or conversation over coffee, there are tall-backed booths with a view of the street, where no one will turn up their nose if you open a laptop.
Nanni has been in the New York City restaurant business for over two decades, having opened the lovely, rustic Piadina in the West Village 21 years ago. He is also an owner Saraghina in Bed-Stuy (one of our favorite pizza spots in the city), where he and Paola live with their two children, and is a partner in Bushwick's Union Pizza Works. Citterio explained that the location for Lella Alimentari was chosen not for the neighborhood's Italian presence but the proximity to their children's school, P.S. 132, right across the street. In late afternoons, she said, the children will often join their parents at the store, entertaining the neighborhood creatives who avail themselves of the fast wi-fi and casual, easy vibe. Though the small space doesn't offer much seating, no one is ever rushed or made to feel unwelcome.
Soon, Cittero said, Lella Alimentari will be extending its hours into the evening, once they have a license to serve wine and beer. It sounds like Williamsburg's best-kept secret won't be a secret for much longer.
Lella Alimentari
325 Manhattan Avenue
718-599-1986
Monday-Saturday 8am to 7 pm
Sunday 9:30am to 6pm