Friday, September 23
WILLIAMSBURG LoftOpera presents Cosi fan Tutte 7pm, tickets $30↠

Saturday, September 24 BED-STUY The Total Bed-Stuy Immersion, noon, tickets $15-$25↠ • WILLIAMSBURG The Grat Big Bacon Picnic, events all day, tickets start at $79↠

Sunday, September 25 WILLIAMSBURG The Great Big Bacon Picnic, events all day, tickets start at $79↠

Monday, September 26 GOWANUS debate party at The Bell House, 8pm, free ↠ • BUSHWICK debate party at Pine Box Rock Shop, 8pm, free ↠

Tuesday, September 27 COBBLE HILL The BackFatlorette, 8pm, free↠

Wednesday, September 28 PROSPECT HEIGHTS From Field to Table: A celebration of local grains, 7pm, tickets $125↠

The end of summer always feels a little bit like an alarm clock rudely interrupting a listless, kinda sweaty dream. HEY, YOU, time to go back to school, time to buckle down for the end of Q3, time to find your missing socks and buy some absurdly priced "it" boots because those flip-flop days are waning, time to remember deadlines because your editor/boss/client is back from the Hamptons for real now, time to do that cleanse you've been saying you'll start, time to weigh in on the fall TV lineup! Do you think that Halloween costume is going to make itself? Oh and, by the way, what are your plans for Thanksgiving?

Ahhhhh! What happened? It feels like five minutes ago you were barefoot in the park with nothing going on all weekend and a crappy beach read in hand and now there's so much to plan and organize and obsess about that your subway commute feels like a fugue state. Add to this the anxiety produced after an act of terror earlier this week, the increasingly disturbing level of violence in routine traffic stops, and the fear that we might NOT be able to escape disaster come November, and it's enough stress to make you want to cash in your chips and check out.

Here's where it's important to keep in mind all the fun that fall in NYC promises. Take this weekend alone: We've got the Brooklyn Flea Record Fair, the Great Big Bacon Picnic, the Brooklyn Americana Music Festival, the Red Hook Regatta, the Brooklyn Pour Craft Beer Festival, the 42nd annual Atlantic Antic, and our very own Brooklyn Based Bed-Stuy Immersion going on, and that's just an overview of Saturday and Sunday's events. Read on for other ways to fill up your Ideal Week planner, because we all need a break from the grind right now.

Thursday, September 22

This summer may be a not-too-distant memory (Thursday is the first day of fall, after all), but that doesn't mean you have to wait a whole year for another chance to park your beach chair and settle in for a free outdoor screening of a classic movie. On Thursday night, Citi Bike is celebrating its recent Brooklyn expansion with a free Bike-In Screening of everyone's favorite '80s adventure flick involving a ghost pirate ship, The Goonies, in the Prospect Park bandshell. Are the Stranger Things comparisons warranted? Decide for yourself, and take advantage of free snacks, valet bike parking, and bike repair, as well as reduced prices on Citi Bike memberships, while you're at it. RSVP here and plan to show up around 6pm to ensure a front-and-center seat for the Truffle Shuffle.

---
Friday, September 23
Looking to class up your Friday night? The opera awaits, and you don't have to forgo paying rent next month to partake. LoftOpera continues to bring its art form of choice, set in unconventional spaces, to the masses with a production of Mozart's Cosi fan Tutte, which runs through this weekend starting at 8pm every night. Tickets are just $30, and the production, which is being performed in a warehouse in East Williamsburg, just got a great review in The New York Times. Beer and wine are available for purchase and no gloves, tails, or furs are necessary.
---
Saturday, September 24
This Saturday is our last Immersion of the season with Brooklyn Brewery, and our neighborhood bar and food crawl will be taking us to a lot of great, new(ish) bars in Bed-Stuy. For $15, you can get a Brooklyn beer each at the new Do or Dive, in the old Do or Dive space, tricked out in full, retro kitchiness; Beast of Bourbon, whose BBQ is to die for; Black Swan, one of our favorite Brooklyn pubs; and Chilo's, another great local bar that serves stellar tacos from its food truck parked out back.  You can also add lunch to the deal for a total of $25, and whichever package you choose—the express or lunch option—you'll get a wad of walking around money to cash in on neighborhood deals like a $4 Brooklyn lager tallboy from Swell Dive, another great new bar along Bedford with surfer vibes and Filipino / Tex-Mex fare. Saturday is going to be a blissful 74 degrees—perfect Oktoberfest drinking weather—so get a ticket here and join us!
---
Sunday, September 25
A wise man once said, bacon makes everything better. This is more or less the gist of the Great Big Bacon Picnic, an epic weekend-long, unlimited bacon and booze event at the Pfizer Building in Williamsburg that will feature over 100 chefs, restaurants, food trucks, brew masters and more who will be serving up signature dishes made with America's favorite cured meat. Tickets start at $79 and there are many options to choose from. Plus, on Friday, September 23rd they will be giving away 500 lbs of free bacon from 8am-10am to promote Picnic and Nueske's Applewood Smoked Bacon on the corner of Bedford and N. 7th. Dig in!
---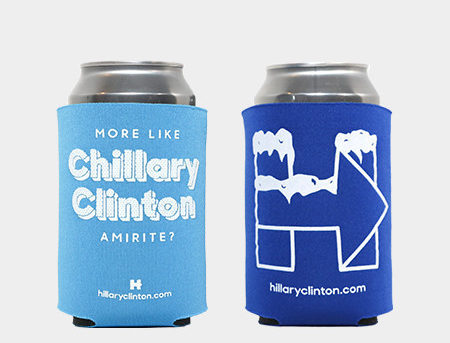 Monday, September 26
Can you stomach the first official presidential debate on Monday? If so, the last thing you want to do is scream at the TV and work yourself up into a frenzy alone in your apartment. I mean, if we are really going to have to face the terrifying threat of a Trump presidency head on, I know that I'm going to need support from like-minded people (and copious amounts of alcohol). You'll find both at the debate watch parties happening on Monday night at The Bell House in Gowanus and Pine Box Rock Shop in Bushwick. Both parties are free and promise the debate on the big screen and drink specials all night long. Who knows? Maybe you'll meet that special someone with a dual citizenship that will help you expatriate if things go south on Nov. 8. If you're hosting at your place, or headed to a friend's consider a Clinton campaign debate party pack which comes with "Chillary" beer coozies. Check out our guide to supporting your favorite candidate or cause. 
---
Tuesday, September 27
Backfat, the monthly comedy show hosted by John Payne, Larry Mancini, and Emily Winter, is shaking things up a bit this time around with a reality show inspired new format: The BackFatlorette. Join in the fun on Tuesday night at 61 Local, when four comedian-bachelors will compete for a date at Royal Palms with Katelyn, a comedy-loving Brooklyn grad student. Instead of cheesy rose ceremonies though, this crop of contestants will undertake a series of comedic challenges and rack up points for laughs. The BackFatlorette is free and starts at 8pm.
---
Wednesday, September 28
If you are still unabashedly consuming gluten (and loving every minute of it), you might want to treat yourself to the first Cellar Dinner of the fall happening at Franny's this Wednesday night, From Field to Table: A celebration of local grains. It is a bit of a splurge at $125 a pop, but that includes five courses showcasing hand-harvested, stone-ground wheat and expertly prepared by chef Patrick Shaw-Kitch, along with beverage pairings, tax and tip. If you have the extra cash to burn, we think there are far worse ways to spend it than on dishes like farro arancini, rye tagliatelle with wild mushroom ragout, hay-roasted guinea hen, and toasted bread gelato with caramelized grains and lakemont grapes. Tickets are available here and the seating is at 7pm.
---