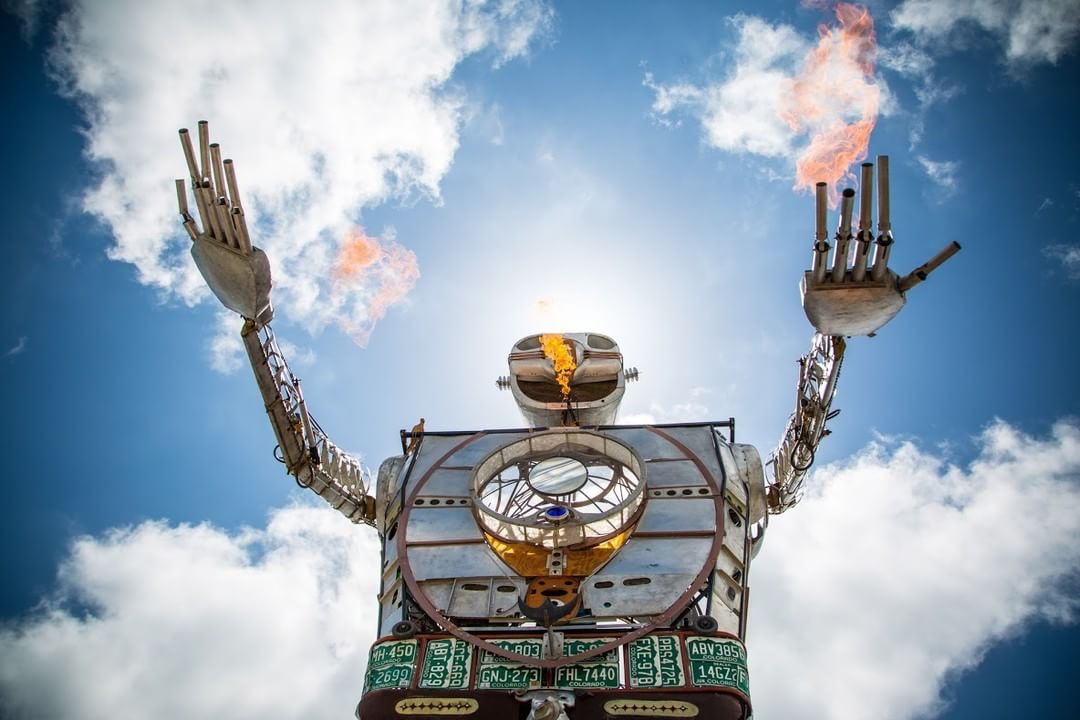 Halloween takes center stage this month, but there's more to do than just eat candy and get cavities. Here are 12 (dentist approved) kids events to fill your October with autumnal fun.
Go:

The Maker Faire at New York Hall of Science

is a must for many Brooklyn families. This year's schedule is chock full of Minecraft, drone racing, BUST Craftacular shopping, and pop-up farms. At the

Faire,

kids and adults can learn to pick locks, try out enormous wheeled bicycles, and experience zero gravity. There really is something for everyone here, from the youngest makers (interested in Puppet Phactory) to the oldest (fascinated with genome editing.) Ticket packages range from whole weekend ($65 adult/ $40 child) to single day ($35 adult/ $25 child).

Saturday, October 1- Sunday, October 2

New York Hall of Science 47-01 111th Street, Queens
Go:

We've

written about The Affordable Art Fair before

as a fantastic place to start your art collection. But the fair is less known for being a great family friendly event. On

Sunday October 2nd at 10:00am, an hour before the fair opens to the public, children of all ages and their parents will be able to explore artwork from more than 500 artists and take part in The Art Treasure Hunt. Expect discoveries and special prizes! Afterward, indulge in lunch and a kids' meal at the onsite cafe. Advance tickets: $18/ At the door: $20. September 28- October 2

Affordable Art Fair,

The Metropolitan Pavilion, 125 W. 18th St., NYC
Learn:

If you don't have childcare plans in place for Rosh Hashanah, Columbus Day, Yom Kippur, Election Day and Veterans Day, sign up for a camp that will enrich your children and feed their extracurricular interests. If you spend most of your week trying to limit your child's addiction to Netflix; today indulge them. Sign up for the Movie Arts camp at

The Automatic Studios

in Dumbo, for kids in 3rd grade and up, who want to experience working on a real movie set. Campers will learn all aspects of filmmaking, from story creation, scriptwriting, shooting and editing, all in a fully equipped studio. $150/ day. (If you're all set for vacation days, there are also after school classes for elementary and middle school movie buffs.)

The Automatic Studios- 30 John St. Dumbo
Party: Sweater season is upon us, and although the weather can be beautiful, it's risky to plan an outdoor party. But indoor locations for birthday parties can be expensive without a guarantee of a good time. If you're going to throw a party, make sure it's a good one. Older kids (8 & up) will sing praises for their own karaoke party!

Insa, a Korean BBQ spot in Gowanus

, has the perfect birthday party package for youth in revolt. A private karaoke den will fit 10-22 people for three hours of jamming out, family-style dining on dumplings and fried chicken, rounds of tiki style mocktails, and soft serve vanilla ice cream. Prices start at $35 per person. 

Insa, 328 Douglass St, Gowanus. 

For the younger and sportier set,

Aviator Sports Arena

throws parties for ages 2-and-up, ranging from basketball to gymnastics to ice skating. Kids get to play for an hour and then retire to their decorated private party room for lunch and birthday cake. Packages start at $450 for 10 kids.

Floyd Bennett Field 3159 Flatbush Ave.
Go:

The New Victory Theater is your go-to for kids' theater. With age appropriate plays for toddlers through teenagers, the shows are usually short, engaging and often interactive. This month the classic book,

Mr. Popper's Penguins

, will come to life with catchy songs and penguin puppets. Make sure to read

the Newbury Honor book

first (and skip the dull Jim Carrey movie) to get the kids in the mood. This show is best suited for ages 4-7 years old, and tickets start at $25 (a fraction of the cost of a Broadway show). The performance runs weekends from

October 14- October 30,

with a few of the performances holding family activities pre or post show.

New Victory Theater, 209 W. 42nd St., Manhattan.
Play:

Finding time to work out is often a challenge on the weekends. Parents want to spend time with their kids, and don't want to pay for a sitter while they hit the gym. Luckily, there are family movement classes which go beyond Mommy & Me. These yoga classes will bring some sweat and zen into your life, giving you time to bond with the kids and stretch your muscles.

Karma Kids

(25 W. 23rd St., Chelsea) has family yoga classes on Saturdays 11:00am (4-7 years old) and 12:00pm (8-14 years old) that use games, stories and music to keep everyone engaged in their downward dogs.

Bend & Bloom Yoga

(708 Sackett St., Park Slope) offers a family yoga class for kids (2.5-6 years old) and their parents on Saturdays at 10:00am that offer partner poses and "imaginative yoga adventures."
Go: Bookworms, rejoice. Stories, a mom and pop children's bookstore (literally owned by a mom and dad!) opened on the cool stretch of Bergen Street in Park Slope. This combo bookshop and storytelling lab is the answer to all your child's literacy needs. Weekly storytimes, drop-in art and story classes, chess club, and afterschool labs abound. Drop in with your 5-8 year olds on Saturday October 15th

for

Master Class: Crafting with Amanda Kingloff

, author of the Project Kid series. She will teach your kids how to make their own "How-To" book, leaving you plenty of time to browse the book selection afterwards.

Stories- 458 Bergen St., Park Slope
Go:

Picky eaters and young foodies will both be interested in our family food fair,

One More Bite

, where kids will be encouraged to try new foods and learn how food is grown and made. There will be food samples to try by local artisans, hands-on activities led by educators, and plant explorations led by farmers. Each kid will get a special "passbook" on arrival which they will fill up with stamps, resulting in a prize at the end. Parents can drop in on talks for mealtime inspiration with Kate Huling from Marlow Goods, Andrea Kapner of Tiny Turnips Kitchen, and a panel of nutritionists. All this for only $5 per adult and free for children.

Sunday, October 23

11:00am- 3:00pm. The Green Building, 452 Union St., Gowanus
Read:

Food obsessed preschoolers will be queuing up early to get Mo Willems' latest picture book,

Nanette's Baguette

, the story of buying a baguette. The illustrations are full scale dioramas of the French village where the story takes place. Expect memorable characters and hilarious antics. Available on

October 25, 2016

. Can't wait? Another book to whet the taste buds is

Can I Eat That?

by food critic, Joshua David Stein. It answers pressing questions like "Can I eat a tornado?" while encouraging healthy eating and engaging in whimsical wordplay.

Sunday, October 23, 11:30am

, author Joshua David Stein and illustrator Julia Rotham will visit Powerhouse on 8th for a story time. Powerhouse, 1111 8th Avenue, Park Slope  
Listen:

There is no shortage of NYC Halloween activities every October. If you throw a stone in Brooklyn, you'll hit a spooky bouncy castle. For something a little more memorable, get tickets for t

he Met Live screening of the classic "It's The Great Pumpkin, Charlie Brown" with live musical accompaniment

. Kids over the age of four are invited to attend in costume and participate in a parade afterwards.  

Saturday, October 29,, with screenings at 11am and 1pm. Tickets: $45-50. Met Fifth Avenue, The Grace Rainey Rogers Auditorium, 1000 Fifth Avenue, NYC
Read:

I usually hate reading parenting books, and put them down feeling more conflicted than when I cracked them open. 

The Awakened Family

by Shefali Tsabary

(published in May 2016) has been featured on Oprah's Super Soul Sunday, so I thought for sure this would not be something I would relate to. Surprisingly, this book gives practical advice on parenting, focusing on looking inward rather than outward. Your kids are trigger points for your own emotions, control issues, and projections. Tsabary believes that learning from our kids instead of always trying to teach them will make us calmer and happier parents. "

When we are able to look into the mirror [our children] provide us with and address our issues, we not only clear the fog from our own vision, but also begin to see our children for who they truly are. In this way, we become a reflection of their authentic self." This is one parenting book that could actually change your relationship with your children. (And here's another one, reviewed by Annaliese Griffin, if you are on a roll.)
Sail: If you've got money to burn, but don't have time for a weekend getaway upstate, then nothing screams "Autumn" quite like

the Fall Foliage Brunch Cruise

. This nearly three-hour cruise leaves from Chelsea Piers and travels up the Hudson River where leaf peeping is at maximum capacity. Included on the tour is a full brunch buffet (waffles! eggs!) and including Mimosas, Bloody Mary's, Champagne or Wine for adults and juice for the kids. You can opt to sit inside the heated yacht or chill out on deck. Bring a copy of

The Little Red Lighthouse and The Great Gray Bridge

by Hildegarde H. Swift, and you'll be able to point the actual lighthouse out to the kids as you go sailing by.

October 15- November 6

Leaves from Chelsea Piers, Pier 62 (W. 22nd Street) Adult: $102; Child $48. Not recommended for children under 4.