Welcome to October. I mean, it's been October for nearly a week, but we're just now ready to accept that fact. Get ready for an onslaught of great movies and books coming out this month, plus art openings (and restaurant openings). Even if the cooler air and chance to start roasting squash and simmering stews again has you longing for the couch rather than the theatre, there's plenty to watch and read from the comfort of your own apartment. Here are 10 things to experience in October, in no particular order.
---
VISIT
10. First we flocked (haha) to an art piece on the East River that was basically an experiment in bird watching en masse. Now there's a miniature forest planted in Downtown Brooklyn called Lost Man's Creek. Think New York is feeling the need to get back to nature a bit? Brooklyn artist Spencer Finch, who has also had an installation on the Highline in Manhattan, has recreated a specific area of Redwood National Park in California on a 1:100 scale at Metrotech, in partnership with the Public Art Fund and Save the Redwoods League. If you can't escape upstate this fall, simply visit the forest in downtown Brooklyn (though there won't be any brightly colored leaves to peep).
---
WATCH
9. The New York Film Festival is in full swing and truly, if you've never considered getting tickets, each year manages to be an exceptional collection of talent, innovation and exciting new things to watch in the dark. 20th Century Women, by director Mike Mills, is one of the most anticipated films in this year. It takes place in Santa Barbara in 1979, with an eclectic ensemble cast including Annette Benning, Elle Fanning, Billy Crudup and Greta Gerwig. It screens at the NYFF on Oct. 8 and opens around the country in January.
---
8.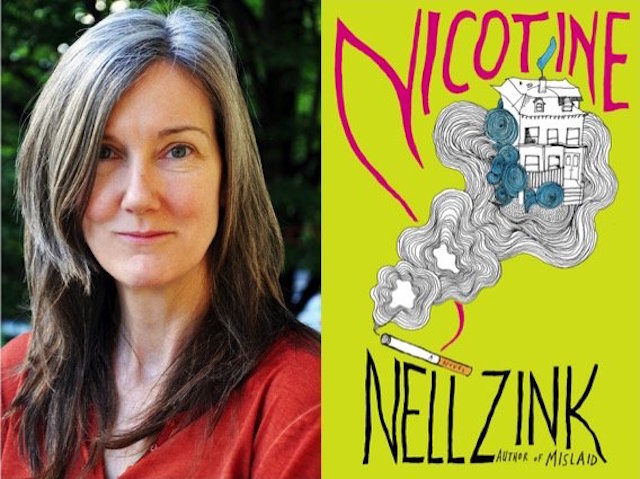 READ
8. As our reviewer, Meredith Craig de Pietro put it, "The epic myth around novelist Nell Zink precedes her books." Zink's newest novel, Nicotine, was published this week, and she'll be reading at Community Bookstore in Park Slope tonight, Oct. 6, and at WORD Jersey City on Oct. 19. Read our full review here.
---
GRIT YOUR TEETH AND WATCH
7. There are two more presidential debates coming up this month, the first is Sunday, Oct. 9 and the second is Wednesday, Oct. 19. That's two more chances to stock up on wine and Triscuits and listen to Trump talk about how great stop-and-frisk is and hope to god that Hillary Clinton (that's Secretary Clinton if you're nasty) does that little victory shimmy again when he inevitably backs himself into a corner. Don the right gear with our guide to wearing your politics–or drinking out of them in the case of a Chillary Clinton beer koozy.
---
Letter To A Man from Lisa Rinehart on Vimeo.
ATTEND
6. If ballet primarily conjures images of tutus and well worn classics like The Nutcracker and Swan Lake, take a chance on Letter to a Man, a psychologically complex piece of dance making its U.S. debut as part of the BAM NextFest, Oct. 15-30. Mikhail Baryshnikov, yes, that Baryshnikov, dances director Robert Wilson's staging of Vaslav Nijinsky's diaries. Nijinsky was one of the most famous dancers in the world in the early 20th century, and Letter to a Man explores his struggle with schizophrenia in an incredible physical expression of a mental battle.
---
WATCH, PERHAPS WITH GRITTED TEETH
5. Sarah Jessica Parker's new show on HBO, Divorce, seems to be billed as the anti-Sex and the City, a show that doesn't get its full due in the pantheon of television that changed television. We'll see if Frances, a character in the middle of a long, difficult divorce, is less annoying than Carrie. What we do know for sure, is that the delightful Molly Shannon is a regular on the show, so it's definitely got that going for it. In any case, we'll be curious to watch sometime next week, after Divorce premieres Sunday night, Oct. 9, during the second presidential debate. Is there some weird irony in that? Up to you to decide.
---
TAKE A CHANCE
4. Ok, if you go to this and it's the worst thing you've ever seen, well, we're sorry. We'll buy you a drink sometime. This being Brooklyn though, sometimes we've just got to go out on a limb and suggest a weird, wild card of an artistic endeavor, like The Beatles Present: "The Lord of the Rings" at the Brick Theater playing Oct. 6-8. Supposedly, sometime in the late '60s the Beatles tried to save their strained relationship by pitching a live action musical to Stanley Kubrik based on The Lord of the Rings. Needless to say, the movie was never produced and The Beatles broke up. This play imagines a different world. What could go wrong?
---
THINK OF THE CHILDREN
3. If you've got small fry we've got a bevy of suggestions for things to do this month that you will enjoy too, promise. Take a peek at our cool kids calendar by contributor Meredith Craig de Pietro, whose son is one lucky little dude to have such an in-the-know mama.
---
LISTEN
2. Back before the easiest way to listen to music was digitally, on your pocket computer, it wasn't uncommon to line up at a record store on the day a highly anticipated album was being released and then race home to listen to the whole thing. The excitement surrounding album releases has changed, sure, but artists like Beyoncé and Lady Gaga have found innovative ways to create the same energy around their work. Lady Gaga's new album, Joanne comes out on Oct. 21, but she's already created a buzz with her "Dive Bar Tour" (sponsored by Bud Light, natch), which are all unannounced "secret" performances at dives bars, and which kicked off at Sunny's in Red Hook last week, one of our favorite bars of all time.
---
WATCH THROUGH YOUR FINGERS
1. It's October so you should probably go and see a scary movie, or pop some popcorn and watch one on your couch. All my podcasts keep telling me to go see the new thriller Girl on a Train, and 31 from horror maven and dreadlocked beard wearer Rob Zombie, which includes a literal carnival full of murderers and makes me want to cry just thinking about it, is also in the mix. For my money, Halloween should always be spent eating the Reese's Peanut Butter Cups out of the candy bowl while watching Alien, but you can catch a variety of other classics at venues around Brooklyn all month long, including Syndicated, Café Steinhof, and, of course, Nitehawk, this month as well. Boo!