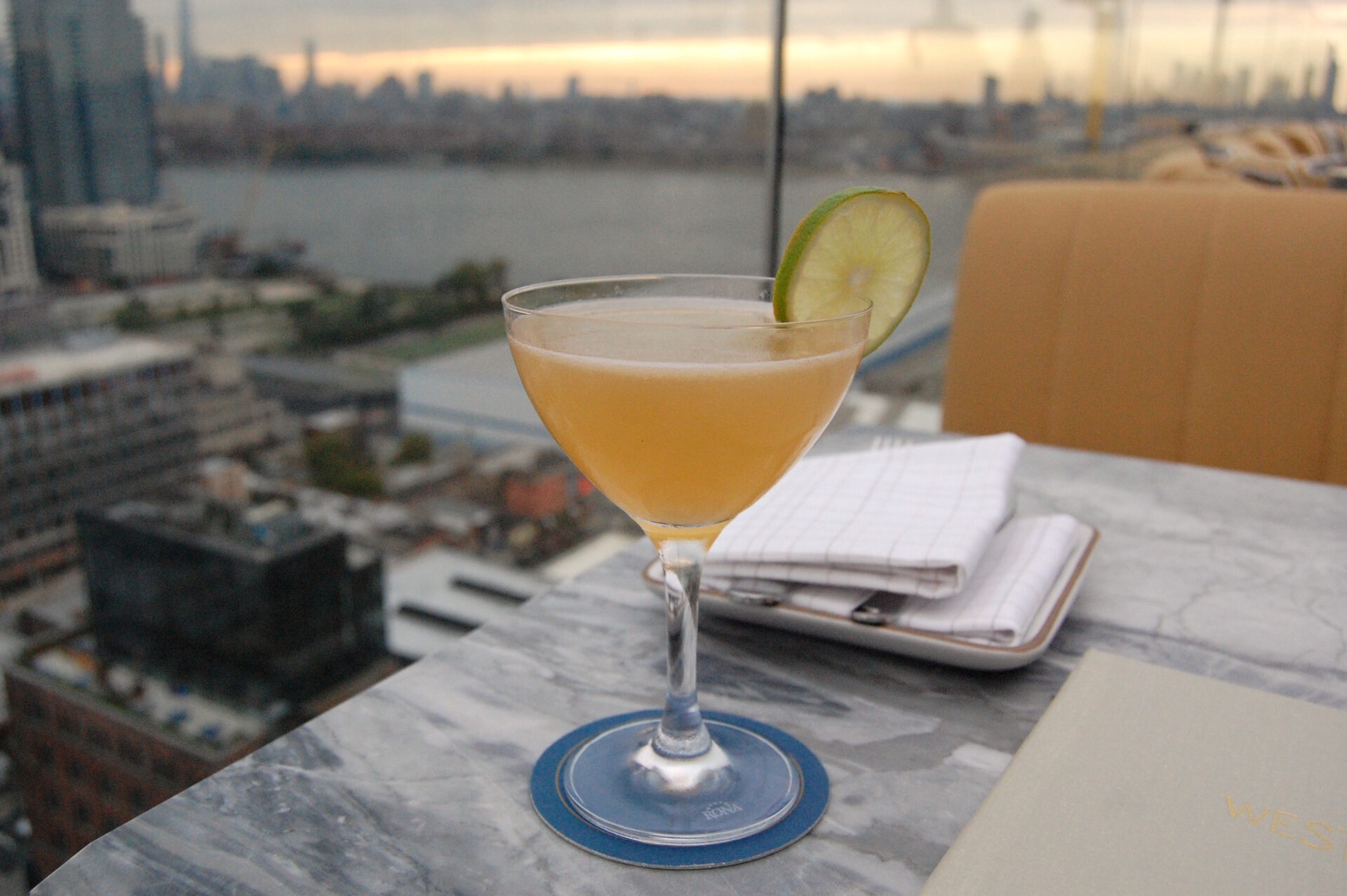 A hotel can't open in Williamsburg these days and not feature a rooftop bar and a whole host of chef-curated food and drink options. The trend is true across the river in Manhattan, too, but Brooklyn has the current edge on the hotel dining scene, with the recently opened William Vale Hotel, run by chef Andrew Carmellini.
The William Vale is impossible to miss. Situated on the strangely hip stretch of Wythe that is also home to Brooklyn Bowl, Output and the Wythe Hotel, it is an imposing structure that looks out of place even though it's just a few blocks away from the luxury high-rise apartment buildings on the Williamsburg waterfront.
"The look of it is not very Brooklyn, but this is a very Brooklyn project," Carmellini said at a New York City Wine and Food Festival event at the hotel. "When we signed on we said we wanted to embrace the neighborhood," he added, saying that he'd personally hired a staff member to do cultural programming at the hotel, from book signings to musical events and talks. Those, as well as the eats, are open to all comers, not just hotel guests.
And the food? Carmellini and his restaurant group NoHo Hospitality (Locanda Verde, The Dutch, Bar Primi) are running the whole show at the William Vale, including room service and poolside bites. Here's what you can, and should, eat now and what's coming soon.
It only took one look (the view was likely more down than across!) at the city skyline from the roof of the hotel for Carmellini to know what he had to do.
"The first time we came here we took a construction elevator up the side of the building. It was scary as shit," he said. "Once we saw the views we wanted to build around that."
Located on the 22nd floor, Westlight is a bar with light bites, but the food is not what you'd expect from your typical rooftop bar. Sure, there are wings, ribs, dumplings and spiced nuts, but here the wings are chicken-fried and served with honey mustard and dill, the ribs are baby back and from the prized Kurobuta pig, the dumplings are stuffed with velvety roasted eggplant and served with sweet chili, micro greens and bonito aioli and the bar nuts are spicy coconut cashews with fried curry leaves. The nuts are $6 but the rest of the "bites" are in the $12-16 range.
Cocktails are "fancy," multi-ingredient affairs and will set you back about $15 a pop. Try the Delores Royale, a perfectly-balanced (and strong!) mixed drink made with mezcal, amontillado sherry, mandarin vodka, apricot, lime and Cava.
Mister Dips is where Carmellini's inner Midwesterner comes out to play. A 1974 airstream trailer that Carmellini bought on eBay and retrofitted to the tune of $200,000 sits outside the hotel but up a level from the street. Surrounded by plantings and grassy hills and walkways, Mister Dips is where you go at the hotel for a casual snack.
The concise menu features three categories: burgers, fries and "dairy dips." There are single and double burgers ($6-8), both served with a funky, aged cheddar cheese and secret sauce–a tangy variation on Russian dressing. Another burger comes with Hatch chilies, jack cheese and sriracha verde ($7). There's a veggie burger too, here called the Green Label and the addition of beets makes it look like it "bleeds" ($8). The fries are waffles and can be served plain or with spicy cheese and scallions.
And then there's the soft serve. Three flavors ($5 each) are available including buttered caramel popcorn with salted peanuts, the cheekily-named "Malter Cronkite," which is a malt and chocolate twist and a Tahitian vanilla with pineapple preserves and toasted coconut. All three are "dipped" in a sauce that hardens quickly.
"Even though I cooked high-end food for so long, this was my dream restaurant," Carmellini said of Mister Dips, adding that because he's from the Midwest (outside Cleveland), burger places have always had a certain appeal for him. "There's no reinventing of the wheel, but it was fun to focus on that."
Leuca, opening in November
The most formal dining entity at the William Vale has yet to open. Carmellini, who is known for his Italian cooking, said the menu will be Southern Italian-influenced but "won't be super traditional." Guests can expect "New York ingredients with Italian techniques," and both lighter, coastal Italian dishes and heartier dishes from central Sicily.
An Acunto wood-fired pizza oven has also already been installed at Leuca.
Du's Donuts and Coffee (coming soon)
Acclaimed chef Wylie Dufresne (Alder, wd-50) announced the news on Twitter in early September: "Super excited to announce my new project at 55 Wythe/The William Vale Hotel…more details coming soon!!"
Turns out, Carmellini had a little something to do with that.
"I wanted to bring a couple of friends in on my little adventure here, so Wylie is going to do doughnuts and coffee," he said. Carmellini wouldn't divulge which other "friends" might be headed to the W.V. in the future, but added Dufresne was a sure thing. "He signed the lease!"