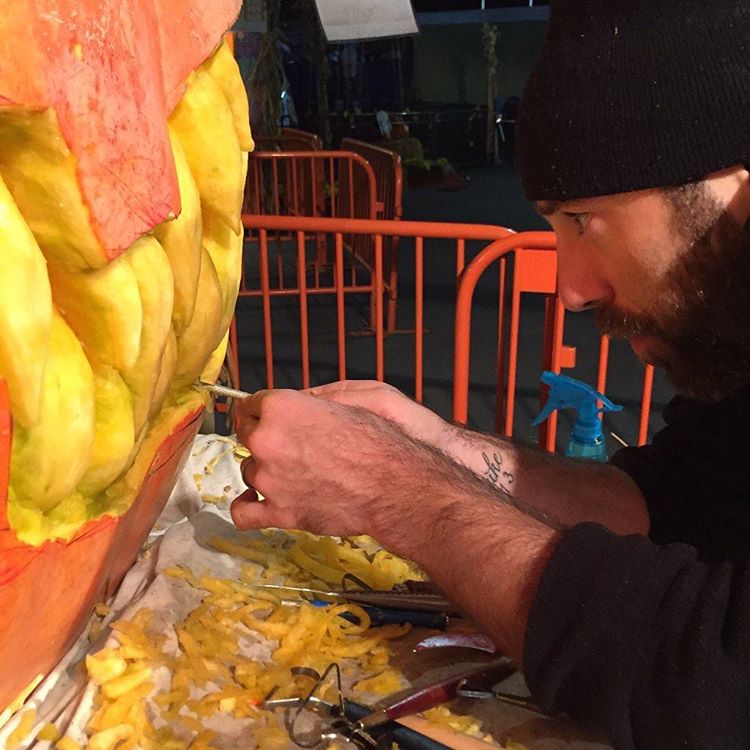 [sponsored_by name="Luna Park" url="http://lunaparknyc.com/events/halloween-harvest/" logo="http://www.brownstoner.com/wp-content/uploads/2016/09/luna-park-coney-island-logo-2.png" byline="Get ready for spooktacular fun with Halloween Harvest at Luna Park in Coney Island! Join us every weekend from Sept 24 – Oct 30 for a family-friendly event." attribution_name="BlankSlate" attribution_url="http://www.blankslate.com/"]
This Sunday, October 23, watch a team of knife-wielding artists carve up a giant pumpkin. It's a highlight of the seasonal fun and games at Luna Park's annual Halloween Harvest Festival, running every weekend from 12 p.m. until 6 p.m. now through the end of October. Guests that guess the correct weight of the giant pumpkin, either at the park or online, can win up to $1,000 in prizes. The winner will be announced on October 30.
https://www.instagram.com/p/9SWMf1ssLW/
"It's almost a ton of fun," says Marc Evan, co-founder, with Chris Soria, of Brooklyn-based Marc and the Maniac Carvers about the pumpkin carving event. The team returns to Luna Park's Halloween Harvest for the fourth consecutive year to give a makeover to an enormous gourd at Jack's Pumpkin Shack.
The Harvest Fest has treated kids to face-painting, tattoos, kiddie karaoke, pony rides, and a petting zoo. Last weekend, the annual Dog Parade and Costume Contest occurred. The winners included:
Mr./Miss Congeniality: Mitzu-Miki as "Bat Diva"
Cutest: Biggie as "Bunny"
Best in Show: Cooper as "The Lion King"
Most Original: Shaggy as "Jason Voorhees"
Audience Choice: Gus, Harley & Mr. Blue as "Under the Water."
For Maniac Carvers Evan and Soria, the Harvest Fest is like a homecoming. "We grew up visiting Coney Island and hearing all about its rich history from our parents and grandparents," says Soria. "To be able to do something special at Luna Park, and add a small piece to the ongoing legacy of Coney Island, is something we are so grateful for."
https://www.instagram.com/p/9Ry_P3ssM0/
When asked what plans they had for the 800-pound carving, Evan was noncommittal. "We always plan out ideas and designs ahead of time," he says. "But we still like to leave some room from improvisation. Every pumpkin is different and sometimes magic happens when you are carving and in the zone."
https://www.instagram.com/p/BLboJVijnC0/
Luna Park is located off the Coney Island boardwalk, and entry is free. Nearby transportation includes the D, F, or N or Q trains. Check out the full schedule of Halloween Harvest Festival events here.