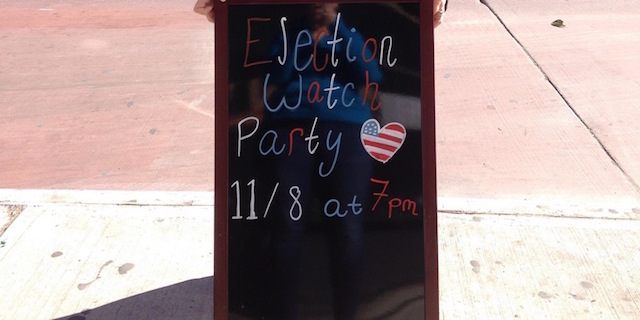 I must say that it's weird to sit down and write a roundup of the events of the coming week when the only thing on most people's mind is the feeling that fate of the human race will be decided in a mere seven days. But the time is finally here, everyone, and so I will start this week's edition of Your Ideal Week by telling you what you already know: There is nothing more important you can do this week than cast your ballot on Tuesday (if you haven't already).
That said, I'm willing to wager some of you might be looking for some stress relief until then, and as luck would have it there are a bunch of fun things happening in and around Brooklyn to help you pass the time.  This weekend brings the Marathon, the New York Comedy Festival, and the Brooklyn Electronic Music Festival. In addition, Creative Time has installed another awesome-sounding public art project, Doomocracy, at the Brooklyn Army Terminal and it's running through Nov. 6. An interactive haunted house based on our current political situation, artist Pedro Reyes' work is causing a stir and has already sold out, but if you register here you can get on a list to be notified when additional tickets are released.
But we're just getting started, so be sure to peruse our day-by-day tips on how to squeeze the most out of the next seven days and make an Ideal Week of it. See you next Wednesday, when, with any luck, we won't have handed over the reins to a tasteless, dim-witted misanthrope who has spent the better part of the last two years deliberately stoking the flames of racism, sexism, selfishness, and disregard for the truth in his quest to emblazon yet another piece of property with his undeserving, ignominious name. Please let it be a great defeat. A tremendous defeat. A big league defeat. The best defeat. [And then let us all in the media make a pact to never, ever mention his name again, unless it's "that guy who lost the election that time." –Eds.] Happy Ideal Week! 
---
Thursday, November 3
Elena Ferrante, the Italian writer who sent the literary world and book clubs across the country into a frenzy last year with her Neapolitan Novels series, has released two new books this week and Ferrante Fever has been unleashed across the nation yet again. On Thursday night, Park Slope's Community Bookstore is hosting a Ferrante Night Fever release party for Frantumaglia, a collection of the writer's letters, essays, and interviews, and The Beach at Night, a children's book, starting at 7pm. Author Darcey Steinke will lead a discussion with actor John Turturro, New Yorker staff writer Judith Thurman, and Italian literature professor Giancarlo Lombardi.
---
Friday, November 4
If you're looking for some fun new art to tie your apartment together, you'll want to drop by Littlefield on Friday night for the tenth annual Prints Gone Wild! fair hosted by Brooklyn's own Cannonball Press. Graphic artists from all across the globe will be displaying and selling their fine art prints for $50 or less, which is a pretty great deal. You can see live printing as well, and there will be be beer and live music too, all starting at 6pm. Admission is free.
---
Saturday, November 5
Comedian Tig Notaro has been getting a lot of much-deserved love lately–for her brave, public battle with cancer; her book; her turn on Transparent; and her new Amazon show One Mississippi, which is next on my list. On Saturday, she's returning to her standup roots at a 7pm performance at Carnegie Hall as part of New York Comedy Week, and there are still tickets available. It's a great opportunity to see an extraordinary talent at the top of her game, and the perfect excuse for a Saturday night on the town.
---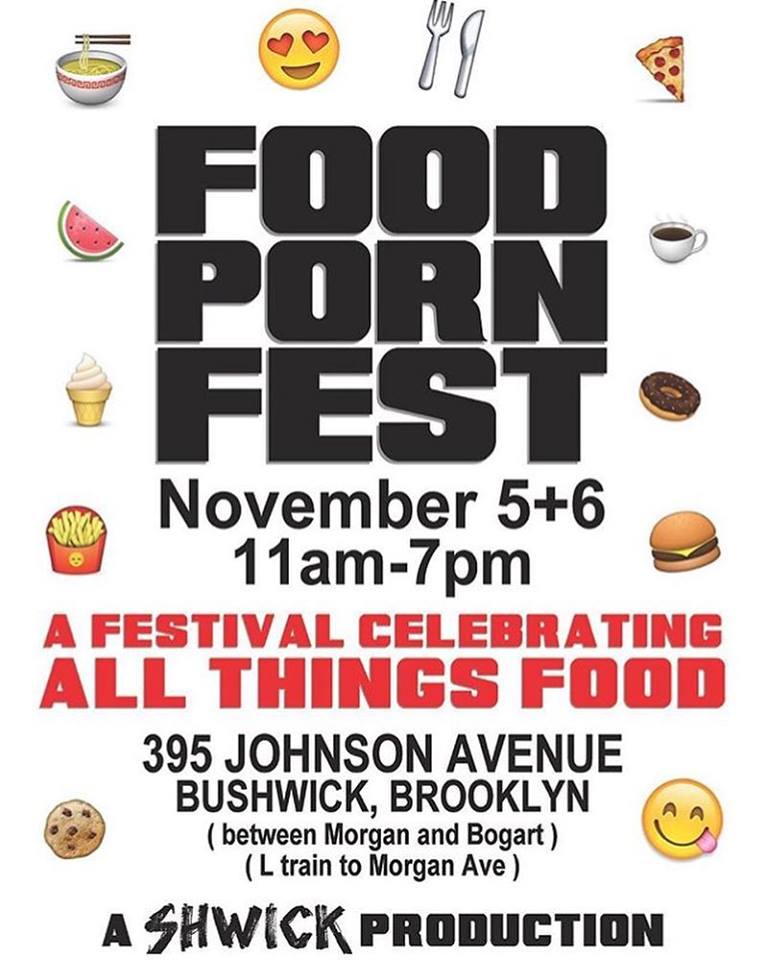 Sunday, November 6
The New York City Marathon is this Sunday, and even if you don't know anyone who is running this time around, it's always fun to post up on Fourth Ave., Lafayette, or Bedford and people watch for an hour or two. You will have gained an hour due to the time change, and as of press time the forecast for Sunday looks like perfect spectator weather. Or, if the thought of other people's extreme exercise routines just makes you want to stuff your face, you can head to Bushwick for the first annual FoodPornFest, a celebration of all things food, at the Schwick. It's free if you register here, and that includes a supply of snacks like mac and cheese, fried chicken, arepas, and gelato from 11am-7pm.
---
Monday, November 7
Greenpoint's coolest piano bar, the Manhattan Inn, is closing its doors after seven years on Nov. 13, and they're going out in style with a whole month of final shows featuring live music and special guests. On Monday, the bar will welcome Optional Funeral by Jen Goma and a host of others starting at 8pm. You can RSVP here, and there is a suggested donation of $5-10.
---
Tuesday, November 8
It's amazing to think that after all of the think pieces, rallies, convention speeches, debates, attack ads, low blows, embarrassing moments, and panic attacks, the 2016 presidential race will finally be decided on Tuesday night (god willing, can you IMAGINE if we have another hanging chad scenario? Ugh.) Hopefully, you have a safe space where you can watch the results come in (preferably with some comfort food and alcohol handy), but if not, Repair the World's Kegs With a Conscience Election Watch Party will definitely fit the bill. From 7-11pm, there will be beer and an assortment of food available as the returns are reported, and we're sure there will be a lot of similar events that night that will be announced as the week goes on.
---
Wednesday, November 9
I saw Ophira Eisenberg emcee a live Modern Love podcast taping at Town Hall last month, and was reminded of how engaging, funny, and original of a comedian she is, and how well-suited to the task of hosting a show with diverse guests. She's bringing the live variety show that she hosts with Adira Amram back to C'mon Everybody on Wednesday at 7:30pm, and you can expect top-notch comedy, music, and magic from them and guests Michelle Buteau and Matthew Holtzclaw. Tickets are $8 if you buy them in advance here.
---