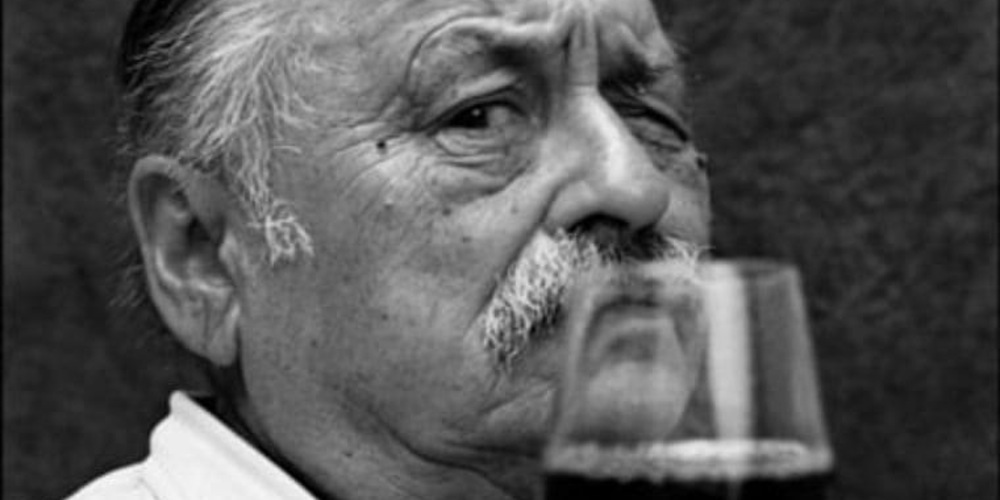 Well Brooklyn, what are your plans for the week? Oh right, I guess that's actually our job, to help you figure out the best way to spend the next seven days. This time of year is always tough–it's dark when you get out of work, the holidays require a good amount of organization, energy and cash, and it just seems so appealing to cozy up to a book and forget the outside world exists.
Maybe I'm just feeling that way because of the news that Brooklyn author Emma Straub is planning on opening a bookstore somewhere in the Carroll Gardens, Cobble Hill, Columbia Heights area, to keep independent book selling alive in the wake of BookCourt's closing at the end of the year. Straub herself, not to mention her juicy novels, is a delight and I can't wait to do next year's holiday shopping at her sure-to-be bright and cheerful store. Somewhat related, The New York Times asked writers around the world to name their favorite bookstores and the list is like a nerd's dream vacation planner.
Not that you asked, but the two books that have been keeping me on the couch lately are Zadie Smith's wonderful new novel Swing Time and Eight Flavors, The Untold Story of American Cuisine by Sarah Lohman, filled with the fascinating history of ingredients that you wouldn't expect to make the cut. (Curry powder? What?) Like every other white, liberal American, I also have Hillbilly Elegy by J.D. Vance on hold at the library, but that's a whole other story.
Truly though, there are a lot of ways to enjoy the week ahead that are not in your apartment and we've compiled our top picks here. Get out there and have some fun. 
Thursday, Dec. 8
Earlier this year Bushwick got a proper cheese shop, Foster Sundry, helmed by an expert cheesemonger, Aaron Foster, who was the head buyer at Murray's and Brooklyn Kitchen before opening up his own speciality store (in the home of a former cheese shop owned by the grandparents of another Brooklyn business owner, but that's another story).
Turns out Foster is also a bit of a beer geek, and Brooklyn Brewery's brewmaster Garrett Oliver is a bit of a cheese snob, so together the two, who happen to be pals, are teaming up for a class at MoFAD on beer and cheese pairing for the holidays. You'll walk away with know-how on creating a killer cheese plate, and taste a lot of good beer and cheese in the process, too. Tickets are $32.
---
Friday, Dec. 9
The annual No Office Party, hosted by Brokelyn and the skint, is the one holiday office party where you stand little chance of running into your colleagues (and if you do, they must be cool). Which means you can really make an ass out of yourself, especially considering that this is the first year it's held on a Friday night. Along with the opportunity to cuss out your boss on stage, there'll be live-band karaoke from the famous Rock Star Karaoke, DJ Doctor Mister spinning holiday tunes, a holiday photo booth, sexy Santa and Lady Santa, tasty food from Yeah Dawg and drink specials, plus a few more surprises.
Tix are $5 in advance ($8 at the door), and you get a free tote from Artists and Fleas when you buy beforehand. A portion of the proceeds will also go toward local organizations that will help fight the Trump administration. If you go, be sure to tell him He's Fired.
---

Saturday, December 10
The BAM Next Wave Festival is a collection of performances and artists that push art of all kinds forward, from music and dance to theater and film. Saturday is the closing night of Green and Green, which is likely to involve a little bit of pretty much all of those disciplines, plus a few more. Brent Green is an animator who creates narrative short films. Sam Green is a documentarian. Together they'll provide a kind of cinematic light show as a band filled with members of Fugazi, Nation of Ulysses, and Silver Mt. Zion performs the live score. Tickets start at $25 and the show runs Wednesday, Dec. 7 through Saturday, Dec. 10 at 7:30pm.
---
Sunday, December 11
I'm as tired of the next person of complaining about this stupid year, but among its other unforgivable sins, 2016 took from us Jim Harrison, author, thinker, outdoorsman and cook. Harrison's fluid prose, wide-ranging imagination and garrulous intellect is already missed, but leave it to writer, cook and Greenpointer Millicent Souris to throw Harrison a birthday party at Archestratus. Expect wild game pie, cream of sorrel soup, aioli, wine-braised chicken thighs and lots of other delicious surprises. The event description says to expect a leisurely meal and to wear loose clothing and I think you should take her at face value on that. Tickets are $65, wine and beer available for purchase, and everything gets started at 7pm.
---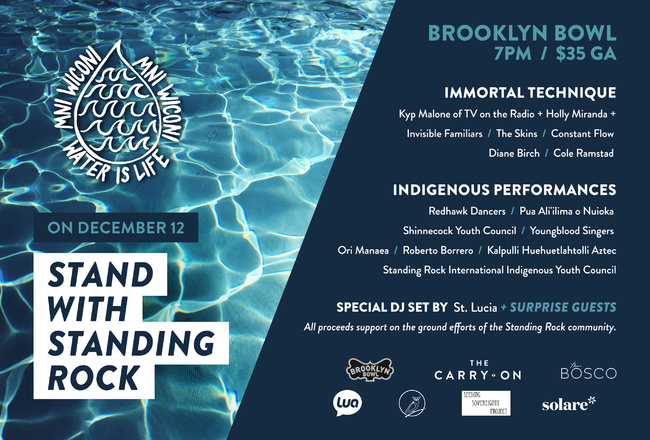 Monday, December 12
If you've subscribed to our new weekly newsletter, #actiontrumpshate, then you know about the Injustice Boycott. Journalist and activist Shaun King is sending participants an action a day now through Martin Luther King Day to target systemic racism and police brutality–you can read more here. His message today urged readers to continue to support Standing Rock, which is by no means a done deal. You can also have some fun in the process, if you head to Brooklyn Bowl on Monday night and attend the Stand with Standing Rock benefit concert, which includes performances by Diane Birch, Kyp Malone of TV on the Radio and Holly Miranda, as well as indigenous speakers and musicians. Tickets cost $35 and the show starts at 7pm.
---
Tuesday, Dec. 13
Now that we're all spending a lot more time in our kitchens, baking for cookie swaps and braising up a storm, you've probably noticed all the cookware and spices you don't use, just taking up precious kitchen space. Well, we've created the perfect place for you to refresh your kitchen collection–The Great Cook Swap. Just bring the cookware, cookbooks, unopened spices and fancy foods you no longer need or want to 61 Local next Tuesday, and trade up for new (to you) goods. The event is free with RSVP, and you can get tickets and learn more about the tiers here. As a bonus, we'll announce three random winners who will each get a $100 gift certificate to online grocer Peapod.com, at 9:30pm, when we will also open up all leftover goods to any willing takers.
---
Wednesday, December 14
Yup, this is a heavy event for a Wednesday in the middle of December, but these are heavy times we're living in, my friends. The Brooklyn Historical Society has been producing some incredible social justice programming this year, and tonight they present Stop and Frisk: An In-Depth Look at a Contentious Policing Tactic. Michael White, a criminal justice expert who just published a book called Stop and Frisk: The Use and Abuse of a Controversial Policing Tactic, will speak at 6:30pm. New York City has greatly reduced the use of stop-and-frisk, but our President-elect has loudly proclaimed his support for it. Tickets are $10. If this is, in fact, too heavy, that's okay. Head to the Museum of the City of New York for a screening of the documentary, Bill Cunningham New York–another late, great victim of 2016. The show starts at 6:30 and tickets are $12.
---