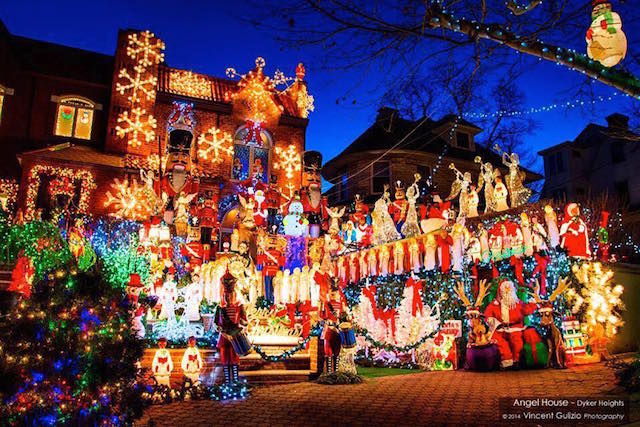 The holiday season makes us do some pretty dumb things, like spending heaps of cash on crap that our loved ones don't want or need, eating pannettone, and setting foot inside any NYC post office with the expectation of receiving service and a smile. But I'd argue that the time honored tradition of getting schnockered with colleagues at what feels like a never ending stream of "work holiday drinks" occasions is the worst/stupidest thing that I do with consistency at this time of year. Take last night, for example, when an innocent "team dinner" at a Mexican place in the East Village rapidly devolved into a situation where I was taking a cab home from 7B Horseshoe Bar at 2am, ON A TUESDAY. "Why, why, why would you do this?," I've been asking myself all morning, as memories of various inappropriate things I said to coworkers in my margarita-induced fugue state come flooding back. Today, I feel like I've been run over by an Uber XL, I look like a Walking Dead extra, and I am staring down a Gcal of endless meetings one after the other, with no one to blame for any of it but myself! Hopefully you all are smarter with your time, but if not keep in mind that adding more structure to your week might prevent some bad decision making later.
This week, there's tons to do all over the city, but let's be honest, most of us will be frantically shopping for holiday gifts. Two great places to find unique presents and support indie artists are the Brooklyn Makers Market, which is at the Williamsburgh Savings Bank Building from 11-7pm Saturday and Sunday, and the Renegade Craft Fair, which is at Industry City for the final weekend of its holiday run. You could also brave the polar vortex and check out the world-famous Dyker Lights with some friends (pro tip: head to Tanoreen in Bay Ridge afterwards for some truly incredible Middle Eastern food). Or you could check out one of the many other cool things that are happening during this Ideal Week, which we've listed below with links. Whatever you end up doing, stay warm and remember: friends don't let friends get four hours of sleep on weeknights! See you next week!
Thursday, December 15
Hanukkah is very fast approaching, and we've got a memorable way for you to celebrate on Thursday evening. If you don't mind being in Manhattan for the night, there is a special menorah painting workshop happening at WeWork's Irving Place location from 6:30-9:30pm. Participants will each receive a ceramic menorah, all the supplies you need to customize and decorate it, snacks and drinks. Tickets are $54. Meanwhile, back in our home borough, the Brooklynite Choir will be doing a live performance of their end-of-the-year show at Halyards Bar at 7:30pm. The set will include a range of vocal harmony covers from Fleetwood Mac, Green Day, TLC, and more, and tickets are $6 each.
---
Friday, December 16
Get festive and kinda freaky at Morbid Anatomy's annual Krampus Party at the Bell House on Friday night. With your $15 ticket, you get to participate in an awesome costume contest with prizes, a sing-along with Night of the Krampus author Matt Lake, an old-fashioned Krampus pinata-bashing, and a variety of themed drink specials. The party starts at 8pm and it sounds like a super weird way to kick off the last weekend before Christmas.
---
Saturday, Dec 17
Saturday is a great day to venture over to Park Slope/Gowanus for fun times and booze. First up, Gowanus' Strong Rope Brewery is celebrating its first anniversary with a cask festival featuring nine casks from New York State breweries, including Strong Rope, Sixpoint and Transmitter. In case you were wondering, cask beer simply means that it was carbonated naturally, and there will be a wide variety of flavors incorporated, including Long Island peaches and white coffee stout. After you've sampled a few brews, walk up to Union Hall and watch comedians like Jo Firestone, Jean Grae, Will Miles, and Kyle Ayers rewrite and act out the climactic scenes in very famous movies they have never seen before, like Annie Hall and Miracle on 34th Street. The show, which is called Never Seen It, starts at 8pm and tickets are $8 if you buy them in advance.
---
Sunday, December 18
Puppies n' Pints, a nonprofit that combines my two favorite things–dogs and happy hour–is having its first Christmas party on Sunday afternoon at Bat Haus in Bushwick. From 11am-3pm, you can meet and give belly rubs to local dogs from Sugar Mutt Rescue who are looking for forever homes for Christmas, have a few beers, and buy doggie-related holiday presents from vendors like DoggyChef and Ollie. Tickets are $10. If you're the type to get super obsessed with the skating events at the Winter Olympics, you can also watch our own uber-talented figure skaters strut their stuff for free on Sunday afternoon at the Ice Spectacular at Lefrak Center at Lakeside Prospect Park. Or if you're in the mood to chow down on Sunday, there is a Brooklyn Cookie Takedown happening at Royal Palms at noon (tickets are $20), and a $30, three-course wild boar dinner with Other Half beer pairings at 6pm. All proceeds from that dinner will benefit the ACLU, an organization that we need now more than ever.
---
Monday, December 19
Ring in Hanukkah this Monday night at the Brooklyn Museum, which is throwing its 8th annual latke festival from 6-9pm.  This delicious tasting event celebrates the beloved potato pancake by challenging accomplished chefs to come up with creative interpretations of the traditional holiday treat. Your $55 ticket includes unlimited tastings of latkes, other food provided by local restaurants, and drinks, and net proceeds will benefit The Sylvia Center, a nonprofit dedicated to addressing childhood food-related diseases and food insecurity.
Meanwhile, across town, the Side Ponytail comedy show will be hosting its final show at Williamsburg's Over the Eight, which is closing later this month. The show is free and starts at 7pm, and boasts a pretty awesome lineup that includes Josh Gondelman and Mary Mack, among others.
---
Tuesday, December 20
Tuesday marks the inaugural event put on by the brand new Ditmas Park reading series, Ditmas Lit, in the heated backyard Lodge at Sycamore Bar and Flower Shop. The series will feature emerging and established writers in all genres, and it will take place at 8pm on the third Tuesday of each month through March. The lineup for this installment includes Isaac Fitzgerald (editor of BuzzFeed Books, co-author of Pen & Ink: Tattoos and the Stories Behind Them and Knives & Ink: Chefs and the Stories Behind Their Tattoos (with Recipes)); Jeanne Thornton (author of The Dream of Doctor Bantam and The Black Emerald); Gabrielle Moss (author of Glop: Nontoxic, Expensive Ideas That Will Make You Look Ridiculous & Feel Pretentious and associate editor at Bustle.com) and Tommy "Teebs" Pico (author of IRL, Nature Poem, and the zine series Hey, Teebs).
---
Wednesday, December 21
I for one have never been able to turn down any drink involving any type of amaro, but the unmistakable mixture of Campari, sweet vermouth and gin that is the Negroni is my all-time fave. I'm not alone, it seems, as House of YES now has Negroni Wednesdays, where you can enjoy the delicious orange Florentine quaff all night long for $7 a pop. This particular Wednesday, the eclectic performance venue will also be hosting its live, 3-D Xmas Spectacular, which features an intergalactic theme, food, drinks, and performances by Misfit Drag Queens, Santercise Instructors, North Pole Dancers, and an alien Father Christmas. Tickets are $35 and the show starts at 7pm.