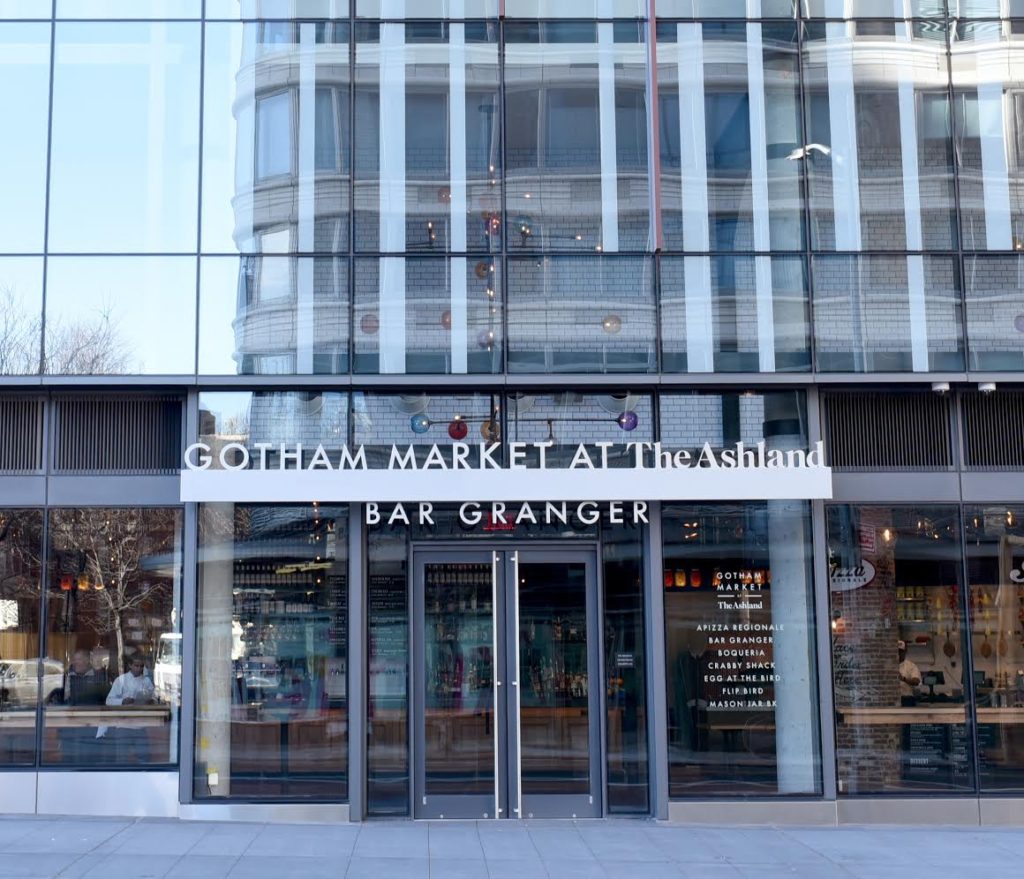 Fort Greene has hit peak gentrification–there's a food hall on the ground floor of one of those fancy new apartment buildings clustered near BAM.
Despite how you may feel about the numerous luxury towers dotting the landscape of Downtown Brooklyn (and there are more on the way, along with more food halls), there is little doubt Gotham Market at the Ashland will be a boon to eaters and drinkers.
The 16,000 square-foot space is impressively laid out, with different rooms that flow naturally into one another and consistent design elements throughout. It's modern industrial chic, complemented by warm lighting and pretty glass light fixtures designed locally by UrbanGlass.
"We wanted to honor the neighborhood," said Chris Jaskiewicz, President of Gotham Properties and Hospitality.
And then there's the food and drink.
The space is anchored by a central bar called Bar Granger, named for a group of local tradesmen from 1850s-era Fort Greene. It is the first of four concepts at the Ashland from John Stage, the founder of Dinosaur Bar-B-Que. The others are Flip Bird, Apizza Regionale, which slings very good brick-oven pizza and charcuterie, and Egg at the Bird, a breakfast counter that will open in early spring.
A second location of Crown Heights favorite Crabby Shack is also located at the Ashland. All things crab are served at this stand, from crab nachos to crab grilled cheese to steamed crab rolls.
Flip Bird, specializing in fried chicken dinners and sandwiches and Mason Jar and MJ Station, which specialize in Southern classics like smoked meat sandwiches and barbecue, round out the food options. Early next month, popular tapas spot Boqueria will open a full-scale restaurant with seating.
This is the second location for Jaskiewicz and his team. Gotham West Market at 44th Street and Eleventh Avenue opened in 2013. That space proved tough for Brooklyn businesses–both Brooklyn Kitchen and Little Chef, a sit-down restaurant from Caroline Fidanza of Saltie, were opening tenants that failed to find footing there. Gotham West though, has hit its stride with theater goers, as well as runners and cyclists from the Hudson Greenway. Gotham Market at Ashland certainly solves the problem of where to get a bite before or a drink after a movie at BAM, which was part of the location's appeal.
Jaskiewicz says Gotham Market at the Ashland has three intended audiences: residents, people taking in culture or a game at the many institutions in the BAM Cultural District or at Barclays Center and, during the day, the business crowd.
"It's always been a vision in this community to make this area a live, work, dine destination," he said.