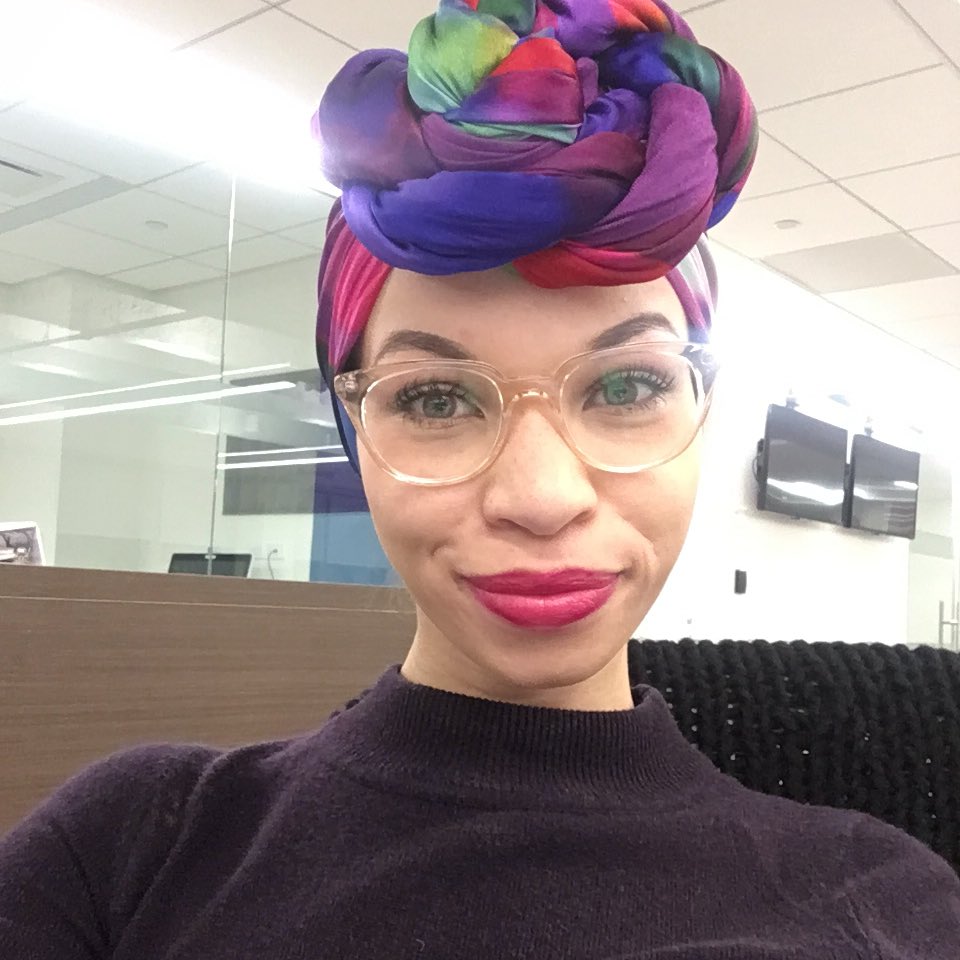 When Linda Sarsour spoke at the Women's March on Washington saying that she was "unapologetically Muslim American, unapologetically Palestinian American, unapologetically from Brooklyn, New York," she was not wearing a pink pussy hat. The march co-chair wore black and white headscarves, layered and tucked into a black jacket, instead. Despite Sarsour's simple elegance in a sea of wild fuchsia and deep magenta, to some, her choice of headgear made her a far more potent target for hate.
It didn't take long for headlines like, "Women's March Organizer Linda Sarsour Makes Islamic State Signal," to start popping up on far-right and white nationalist websites, like Jihad Watch where that post appeared on Tuesday, Jan. 24, just days after the march. The hashtag #IMarchWithLinda began to trend across social media, as supporters rallied behind the activist.
As a public figure who wears the hijab, Sarsour has been called a terrorist, a friend to ISIS, and a supporter of Sharia law in the past, but following the march, she was attacked with renewed vigor. She may be highly visible as an activist and executive director of the Arab American Society of New York, but she is not the only hijabi in the city who has been singled out for being identifiably Muslim in recent months.
In a post-election climate in that has seen an uptick in anti-Muslim bias crimes, and with President Trump's executive order to suspend visas from seven Muslim-majority countries last week, some Muslim women have considered changing the style of hijab that they wear, donning less distinctive headgear like hats, or simply not wearing a head-covering at all, out of concern for personal safety as Islamophobia becomes more pronounced.
Most concisely put, hijab is head-covering worn by Muslim women around the world that symbolizes modesty and privacy. Most commonly in New York, women wear a scarf that wraps around the head, neck and shoulders hiding the hair, but hijab refers to any sartorial expression of Muslim faith, including veils and robes, as well as the practice of presenting oneself as observant and modest. Hijabis are women who wear or observe the hijab, in whatever way makes sense for them. It's similar in nature to customs of dress followed by observant Jews, some Christians, like the Amish, and many other religious groups. Some Catholic churches require women to cover their shoulders and knees when entering, which leads to a lot of impromptu scarf purchases outside of St. Peter's Basilica in Vatican City.
Rana Abdelhami, a 23-year-old student at Harvard and a Queens resident who is also an organizer at Women's Initiative for Self Empowerment said that she knew more than a few Muslim women who avoided leaving their homes the day after the election, because, like her, they wear the hijab and would be easily identified by their faith.
"It's scary because attacks are now higher than they were after 9/11, and I thought that it was bad back then," she said.
The Southern Poverty Law Center confirmed 94 cases of anti-Muslim harassment between Nov. 9 and Dec. 12, 2016. Rebecca Sturtevant, a spokesperson with the SPLA said via email that 74 of those incidents were reported in New York City and Long Island.
According to data released by the Pew Research Center, 2015 saw the biggest rise in anti-Muslim assaults since 2001. There were 257 reported incidents and a 67% increase of assaults from 2014 to 2015.
The same data also highlighted that there were more than 30 cases of anti- Muslim incidents in the five days following the presidential election. And though complete reports for 2016 have yet to be released, it's possible that 2016 will surpass the 296 incidents reported in 2001, in the wake of 9/11.
Abdelhami began to wear her head-covering in a turban style in hopes of being less obviously hijabi, to avoid stares and harassment. She has also heard stories from friends who have have had trouble talking with more traditional and religious family members about taking their hijabs off out of safety concerns.
She said that she thinks that some of those relatives see taking the scarf off as weakness, that young women should tough it out and wear the hijab. Others, she said, may fear being judged for allowing their children to dress less traditionally. Abdelhami urges women to do what feels right, especially when it's to avoid attacks or harassment.
"There's this fear of losing community connection if you decide to take off hijab," she said, "You have to center your mental health and your day to day without feeling constantly anxious."
Abdelhami noted that the stress of being easily identified as Muslim is heightened right now, but that Muslim women have long been wary when traveling around NYC.
Fatima Alvi, a new Brooklynite who is originally from New Jersey, said that she has noticed a difference in how people look at her when she is out and about in recent months. She said that prior to the election she felt singled out as a hijabi, but recently, she's begun to feel uncomfortable when she realizes that someone has been looking at her for too long.
"The other day I was sitting on a train, and this guy was just staring at me, it clicked to me that he was giving me a dirty look," she said. "A girl sitting next to me said that it wasn't just me, she noticed it too."
Rebecca Farmer Huselid, a social psychologist at CUNY Hunter College, said that the perception that you could be the victim of a hate crime and the reality of constant harassment can affect both physical and mental health.
"It comes out in higher blood pressure, levels of anxiety, it's highly related to depression. People get tired of the weight of that [discrimination]," she said.
According to Huselid, feeling supported by the broader community is one of the few ways to offset some of those negative effects. She encouraged bystanders to try to speak up or get help and to imagine potential scenarios and actions whenever they see a potential incident in public. Conflict experts suggest asking a person who you believe is being targeted if they need help, or simply starting a conversation to change the dynamic.
Alvi experienced another incident in December when she was volunteering with her husband for Who is Hussain, an organization inspired by the life of Hussain ibn Ali, a grandson of Muhammad who embodied generosity and worked to help the poor, that volunteers by handing out necessities to the homeless and organizing other charitable events. Another woman who often volunteers in the same park as Alvi, but with a Christian church, was being pushy and didn't want Alvi or her organization there handing out winter supplies to the homeless.
"We do face a lot of racism at times,"said Alvi. "We were handing out gloves and scarves, she literally blew up on us."
She also said that she had considered taking her hijab off at first and felt that doing so would make her feel better when commuting. But in the end she decided to tough it out and keep her scarf on in hopes of showing those around her that she's just another New Yorker.
"I'm not hurting anybody. We're humans too," she said.
Professor Huselid said that becoming paranoid is another negative consequence of having to constantly fear harassment.
"It's a self-fulfilling prophecy," she said. "Every day interactions become more fraught with emotion and sometimes anger."
Blair Imani, a hijabi and activist who moved to Brooklyn toward the end of 2016, wrote an essay for Vice last November saying that she had not felt safe when wearing the hijab since Donald Trump had been elected president.
"I travel to the South a lot and I wouldn't want to be in a vulnerable situation," Imani said.
Imani said that she has started to wear hats in place of a headscarf, which makes it easier when traveling to see family or for work. Recently Imani wore a hat through security when flying back from visiting relatives and asked a man to watch her things while she went to the bathroom.
"And then I put a hijab on with the traditional style, you could see the look on his face," said Imani. "He was like 'Oh my gosh, I just did a nice thing for a Muslim.'"
She has also noticed that without a headscarf, people have stopped asking her whether or not she can speak English. And though wearing hats has made some day-to-day elements of life easier, it hasn't lessened Imani's faith as a practicing Muslim, or her determination to advocate for other hijabis through her work.
"The most radical thing you can do sometimes is to survive. By pushing the envelope a little bit and telling my story and telling people my reality and making different decisions," she said.
Abdelhami echoed that sense of apprehension and hope."I have no idea what to expect in the next coming weeks," she said. "I'm trying to hold my community tight and any other communities that we can align with."