February may be the shortest month, but it has a tendency to feel more like the longest page on the calendar. Instead of despairing that your work schedule or bank account won't allow you to escape somewhere warm to recharge, find some inner sunshine with these three inward retreats, for less than you spend on your morning coffee.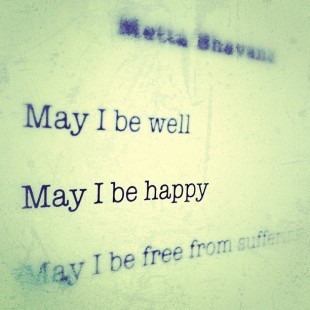 Lovingkindness Fridays
If you love the idea of guided meditation, but don't want to wear yoga pants or feel like you've joined a cult, The Interdependence Project may be where you make more space for yourself in New York City. The approach is a secular study of all aspects of Buddhism, mixed with psychology and a deep exploration of meditation as a tool for living better and more fully. In addition to special classes, intensives and series they offer regular weekly sessions like introduction to meditation classes on Sunday afternoons and Metta meditation on Friday evenings, which focuses on exploring the Buddhist concept of "lovingkindness." Many workshops and classes are also available online, including a series called Transforming White Privilege, if you prefer to dive inward in the privacy of your own home. The suggested donation for most classes is $10-20, and the center is committed to making sure that people of all incomes are welcomed and have access to the community.
A weekend in the woods
Perhaps you really, really need to get out of town. A weekend yoga retreat doesn't have to cost a small fortune. There are several ashrams in New York State, and many offer relatively inexpensive lodging, and you won't spend a dime once you're there. The Sivananda Ashram Yoga Ranch in the Catskills offers what they call Yoga Vacations–a single room is $115/night Sunday-Thursday, $130 on the weekend. A bed in a shared bunk room is $80/$95. There are also double rooms and apartments and families are welcome. Those rates include two yoga classes, vegetarian food, and two periods of satsang–times when the community gathers for silent meditation, chanting, spiritual lectures and reflection–daily. You're also expected to engage in "karmic yoga" each day, which basically translates to pitching in with the chores. There's a sauna and plenty of time to stroll the grounds or hike, and many themed weekends focusing on advanced asana practice, meditation or positive thinking.
Sivananda is a traditional ashram, the waking bell rings at 5:30am, you are expected to attend meditation and yoga classes, shoulders and knees should be covered for modesty, and there is no alcohol, tobacco or meat allowed. Read through the guidelines to make sure this is a fit before you commit to a weekend in the woods. If peace, quiet and simplicity sound like the cure for what ails you, book an ashram retreat (The Ananda Ashram has a similar program and both are easy to reach via bus and taxi), and turn your phone off the minute you get there and don't turn it back on until you're back in your apartment. Or, really, just leave your phone at home.
An evening of enlightenment
The Uplift Project is one of those only-in-New-York collaborations that come across like graduate studies for beautiful people–past events have included an urban retreat at Brooklyn brownstone and a guided meditation at Soho House. Equal parts Tony Robbins-style self-actualization and powerful good vibes, all filtered through a brand-manager-finessed social media presence, Uplift Projects explore big picture questions about modern life through a spiritual lens to help cut through the noise and distraction we experience so constantly, leaving participants…uplifted. Their next project, on March from 7-9pm, is an evening with Jillian Turecki, a yoga teacher and coach, titled Emotional Fitness. Sign up for their email for details and future projects.