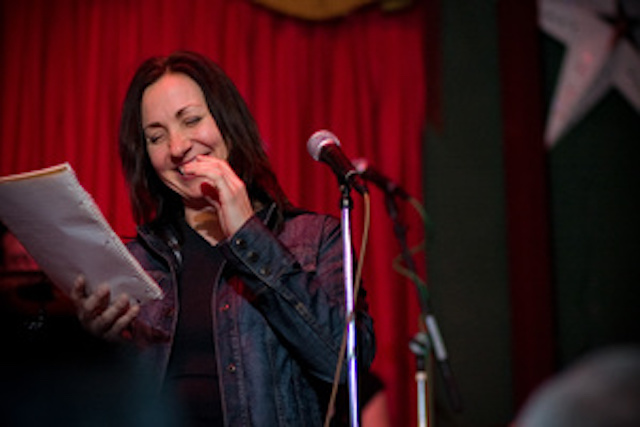 Insa is throwing a dance party Sunday night to raise money for refugees affected by Trump's hideous travel ban. Video: Insa
Buenos miercoles, todos, and welcome to another edition of Your Ideal Week, our weekly roundup of eats, activities, readings, cultural events, and other gatherings happening in and around the best borough. Hope everyone survived the snowstorm OK, and maybe had a fun day off/wfh in PJs day in the process? And then of course we had Valentine's Day, which in my case involved a sugar binge and resultant crash yesterday that was the stuff of legend. I blame it on the colleague who brought in V Day-themed pixie sticks, which I've always maintained is the laziest candy. Think about it: At some point someone literally sat in a Big Candy boardroom and gave this approximate pitch: "We take actual, plain sugar out of the Domino box, see, and then we dye it and put it in a rolled up piece of paper and sell it. Mic drop." Needless to say I'm still feeling the effects. . . And now these latest revelations that Trump et al. had improper and possibly treasonous dealings with Russia, which everyone is acting surprised about for some reason even though we've all known this was the case the whole time. Hillary Clinton was screaming it from the rooftops during the campaign and Trump himself was joking (?) about it in tweets but now we all have to feign shock like we do when a friend's boyfriend pops the question after they spend months picking out a ring together. Whatever, don't hate the player, hate the game, I guess? Unless by "the player" you are referring to an elected official who deliberately compromises the safety and sovereignty of our nation, in which case, hate away. Hopefully, this will continue to erode the legitimacy of this administration and hasten the end of this nightmare without causing too much irreversible damage to US interests here and abroad, but we live in The Upside Down now, so who can say for sure?
Moving right along, this week brings (not my) President's Day, which is a double-edged sword in 2017 as it means a reminder of the utter disaster that is currently playing out in the White House but also a long weekend. We'll give you some great ideas of how to spend your free time between now and next Wednesday but before we get to that I wanted to let you know about Nitehawk Cinema's upcoming Film Feast revolving around John Carpenter's 1986 cult classic, Big Trouble in Little China. Nom Wah Tea Parlor and Lagunitas are collaborating on a five-course menu inspired by specific moments in the film, with dishes like "Chinatown Dumplings," "Pork Chop Lost in an Alley" and "Green Eyes" (interpreted as Matcha lotus sesame balls). It will be delicious and it will definitely sell out (I'm still mad I missed the window for the Coming to America Film Feast earlier this month) so be sure to pick up a ticket now, even though the event won't happen until April 18. Once that's taken care of, take a gander at our picks of things to do over the course of the next seven days and, until next time, have yourself an Ideal Week!
Thursday, February 16
Last week's snowstorm pushed a couple of items to this week's agenda, so if you weren't able to attend this month's instance of Mortified at Littlefield, you've got a second chance. The long-running show invites attendees to get on stage and read the most embarrassing diary entries, stories, and correspondence that they created during their teen and pre-teen years. The results are awkward, uncomfortable, and absolutely hilarious, so it's definitely worth a trip. Tickets are $10 and the show starts at 8pm. Also rescheduled due to Winter Storm Niko: The Give a Puck air hockey fundraiser for the ACLU at Ocean's 8 Billiards is now at 7pm this Tuesday. Tickets start at $20, and it involves what is arguably the best bar game and the opportunity to contribute to a cause that needs your help right now, so it's a no-brainer.
Friday, February 17
Comedians Sharron Paul and Calvin Cole are at Union Hall on Friday night hosting the Valentine's/Black History Month installment of their comedy show Cheap Date, which involves standup sets from special guests, sketches, prizes, and free snacks. The lineup this time includes Pat Brown, Jeffrey Joseph, Rob Haze, Eric Neumann, and Chanel Ali, and tickets for the 8pm show are just $8 if you buy them online.
Saturday, February 18
Here's a unique idea for a Saturday on the town: Gowanus' CrossFit South Brooklyn is hosting the third annual Iron Maidens All-Female Weightlifting Competition this weekend. Starting at 9am, more than 60 competitors, ranging in age from 21 to 71 across five separate weight classes, will be bench pressing and deadlifting their way to glory all day long until 6pm. It's free to be a spectator at the event, but the badass women who are competing will be raising money for Grace Outreach, a nonprofit that helps low-income women pay for college.
Sunday, February 19
On Sunday, catch the Brooklyn Symphony Orchestra, under the artistic direction of Nicholas Armstrong, as it performs a selection of music by Offenbach, Faure, Walton, and Gershwin at 2pm at The Brooklyn Museum. Tickets are $20 at the museum, but $18 if you buy them online, and just $10 for Brooklyn Museum members and free for kids under 16. Later that evening, Korean restaurant/karaoke spot Insa is throwing a special Sunday night dance party to raise money for refugees affected by Trump's hideous travel ban. There will be a DJ, asian nachos, and free karaoke beginning late night at 11:30pm.
Monday, February 20
If you've got the day off on Monday, it's a great time to catch up on all the Academy Award-nominated movies that you missed, and one way to really give yourself a legitimate edge in your Oscar pool is to take in a screening of the various 2017 nominated short films at BAM. On Monday, the selection of animation shorts will be playing at 4:30 and 9:30pm, and the live action shorts at 6:40pm. Tickets are $14, and just $7 for members.


Tuesday, February 21
Comedian Jordan Peele (of Key & Peele fame) is making his feature-length directorial debut later this month with a satirical but terrifying horror movie, Get Out, in which a young black man (Daniel Kaluuya) visits the home of his white girlfriend (Allison Williams) to meet her parents (Catherine Keener and Bradley Whitford) and discovers some very scary goings on. On Tuesday, Peele will be appearing at the BUILD Studio in Manhattan from 2-2:30pm to discuss his latest venture in an up-close-and-personal setting. If you can steal away from the office for 30 minutes, entry is free with registration.
Wednesday, February 22
On Wednesday night, Greenpoint's Archestratus Books is hosting a new storytelling series that is expressly designed to spark creativity and combat nihilism in the Trump era. Stories My Friends Tell Me is hosted by writer and artist Chris Cobb, and it encourages you to tell a story that is important to your life in five to ten minutes in front of a live audience in the hope that it will inspire you to write and produce more. It starts at 7pm and is free to attend, whether you've got a yarn to spin or you just want to watch and take it all in.