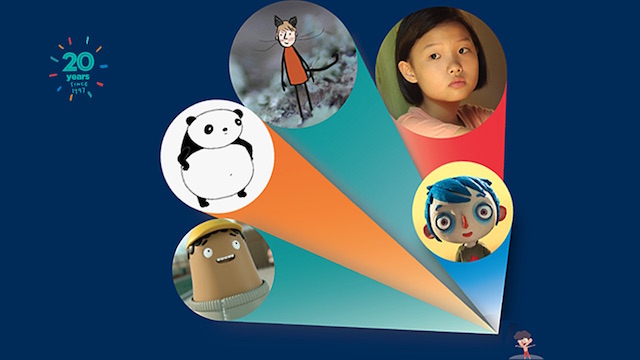 Spring is in the air…but so are the snowstorms. If the weather has you completely confused on how to spend your time with the kids (or just plain confused), you're not alone. Here are a few suggestions for either enjoying the balmy weather by going out, or holing up inside your house during the deep freeze. Climate change is real, and my only advice is to dress your family in layers and get ready to change plans on a dime.
IF MARCH COMES IN LIKE A LAMB, GO OUTSIDE:
GO: Bonjour March! Even if you can't book tickets to Paris for your kids' spring break, you can soak up some French culture at the 2017 TILT Kids Festival from March 4 through April 16. This second annual festival is put on by  The Cultural Services of the French Embassy and the French Institute Alliance Française (FIAF) and includes art exhibits, performances and interactive events. (Last year included this memorable kid-friendly art show.) Many of these are totally FREE. Highlights include: a children's art opening of famed author Hervé Tullet at The Invisible Dog Gallery featuring hundreds of pieces with some as tall as eight feet tall. (Saturday March 4 4-6pm FREE) Also of note, a Philosophy For Kids Class led by author, philosopher, and New York Times columnist Simon Critchley at the Brooklyn Library. (Sunday March 19 FREE) Or get your groove on with Stéréokids, presented by French DJ Pedro Winter (aka Busy P), known for his work with Daft Punk and founder of the Ed Banger record label. (Saturday March 25, 2-5pm FREE.) Some of these events require an RSVP, so check the website for further details.
---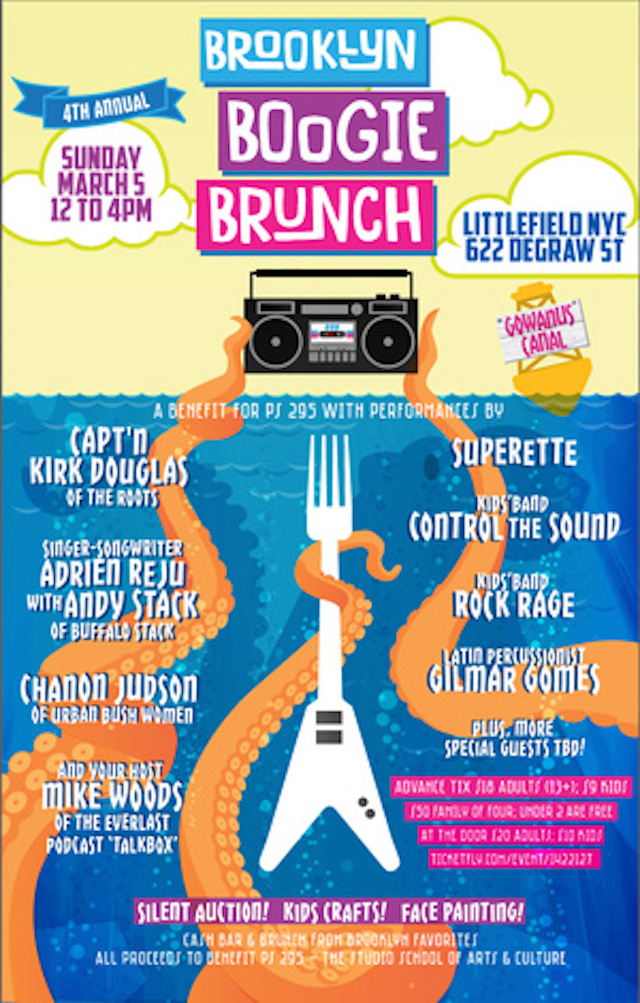 GO: In a time when the government threatens to take away public arts funding, it's more important than ever to vote with your dollars. On Sunday March 5 from noon-4pm boogie down to Littlefield for the 4th Annual Brooklyn Boogie Brunch benefit concert for P.S. 295 The Studio School of Arts and Culture. There will be performances by Capt'n Kirk Douglas of The Roots, singer/songwriter Adrien Reju with Andy Stack, Latin percussionist Gilmar Gomes, Chris Lightcap's Superette, and kids rock band Rock Rage. Plus, delicious eats on hand all day from local brunch favorites. Discounted tickets are available online or regularly priced at the door. $20 adults/$10 kids.
---
ACT: Twenty percent of families in Brooklyn have limited or inadequate access to food, according to a recent report from the Food Bank for New York City. Let this statistic sink in for a minute. On March 7, 2017, Hungry Marketing is organizing a day of action called Brooklyn Feeds that will bring together around 20 restaurants (including family favorites like Frannys, Taco Dumbo, Hugo and Sons, Olivier Bistro, and so many more) who will donate a portion of their revenue that day to combat this food crisis. "Brooklyn is associated with great food, but sadly many Brooklynites go to bed hungry," says Jennifer Friedlin, owner of Hungry Marketing, the organizer of Brooklyn Feeds. Make your reservations today for a feel good date night or bring the whole family for a teachable moment. For an updated complete list of restaurants, check out the Brooklyn Feeds website.
---
GO: Sometimes you just feel jamming out at a kids music class and other times you need a beer to get you through. On Sunday, March 12 from 3pm- 5pm join Hopalong Andrew for a special fundraiser concert for Carry The Future, an organization that collects baby carriers for traveling refugee mothers.. Hopalong Andrew will perform his classic cowboy tunes in a singalong for the kids, while grown-ups will drink in a happy hour, and the $15 suggested donation will be collected for a worthy cause. If you can't make this event, catch one of Hopalong Andrew's weekly drop in music classes all over Brooklyn. (A few even have more beer.) The King's Beer Hall, 84 Saint Marks Place, Park Slope.
---
SEE: A day at the movies doesn't have to mean fast-paced animated toys whipping across the screen in an attempt at building a franchise. Last month, we recommended Film Forum Jr. for classic films of yesteryear. This month also brings the New York International Children's Film Festival, a film fest playing at indie theaters across the city, including the brand spanking new Alamo Drafthouse. Although films like Roald Dahl's Revolting Rhymes have already sold out, you can still catch solid choices like Animators All Around which illustrates how animation goes from inspiration to sketch to screen. We'll be buying tickets for Mr. Frog, a film from the Netherlands, about a teacher who turns into a frog. Pro tip: each film description includes the appropriate age to bring your kids. Tickets $13; through March 19, 2017.
---
GO: Make your way to the Meatpacking District for an all out STEAM adventure this month. ARTech, hosted by the Meatpacking Business Improvement District, and programmed by Children's Museum of the Arts and the New York Hall of Science, is everything you want from a FREE activity. With timed tickets (that you purchase online, but are refunded at the door) and weekday and weekend spots available, it's guaranteed not to be too crowded. Activities will include building with wooden planks, creating vehicles and testing them on ramps, making your own GIFs, playing in a ball pool, and participating in science workshops. 459 West 14th Street, NYC. FREE; through April 29, 2017.
---
IF MARCH COMES IN LIKE A LION, STAY INSIDE:
ACT: One of our favorite children's authors, Mem Fox, was detained by immigration officers at Los Angeles International Airport when she arrived in America to receive an honorarium at a literary conference about tolerance. She left the airport interrogation "shaking like a leaf" with a new understanding of how insane these new xenophobic policies are. Ironically, her new book I'm Australian, Too is about welcoming immigrants.  Fox was quoted in the The Guardian as saying, "I thought I was an activist before, but this has turned me into a revolutionary." Support this author (and other immigrant children's authors) by reading with your kids her inclusive classics like Koala Lou, Whoever You Are or Ten Little Fingers and Ten Little Toes.
---
SHOP: If you are looking for a new indoor location to while the afternoon away and don't feel like sitting in a playspace, take a cue from the suburbs and bring the kids to the mall. The new space-age Oculus Mall looks like a whale skeleton, and inside is a giant indoor arena filled with upscale shopping. There are no toy stores per se, but my son was engaged at the Apple store, a crazy upscale candy joint, and reading books at Papyrus. After we had tired ourselves out, we took a glass elevator upstairs to Eataly Downtown where we relaxed at a table by the windows with a gelato and cappuccino, picking up fresh pasta for dinner on our way home.
---
BUY: If your winter survival consists of daily arts and crafts  projects to keep the little ones busy, then it's possible you may struggle with storage solutions. Putting away the art supplies and keeping order in the living room, means kids can't have the independence to draw and write when inspiration hits. I found the perfect solution at a friend's house: the Raskog Ikea Utility Cart. For $29.99, this three tiered moveable shelving unit can store papers, markers, paints, unfinished projects, glues, felting supplies, glitter tubes, beads and whatever else you call crafty, for everyday use. Plus, the art cart can wheel from the kitchen table to the bedroom depending on where the young artist prefers to work, and it also makes clean-up a breeze. Depending on where you live, and the ages of your kiddos, you might even make the IKEA trip a water taxi and Swedish meatball excursion in its own right. 
---
PLAY: Dolls are definitely having a moment. This month American Girl released their first boy doll to the line up. Logan Everett, ($115) is a total dude drummer with a Bieber hair swoop, who will definitely woo fans of the brand. The company says it's part of their initiative to diversify the company, and probably also to expand their market and purchasing dollars. Someone must have realized that boys play with dolls too and their parents would also be willing to spend hundreds of dollars on dolls, clothes, American Girl tea parties and toy drum sets. Girl dolls are in the news too. My Friend Cayla dolls can talk and sing, and spy on your family. The doll collects and transmits everything to a voice recognition company and can be intercepted by hackers. Privacy-aware Germany has recommended that anyone who owns the doll should immediately dispose of it.
---