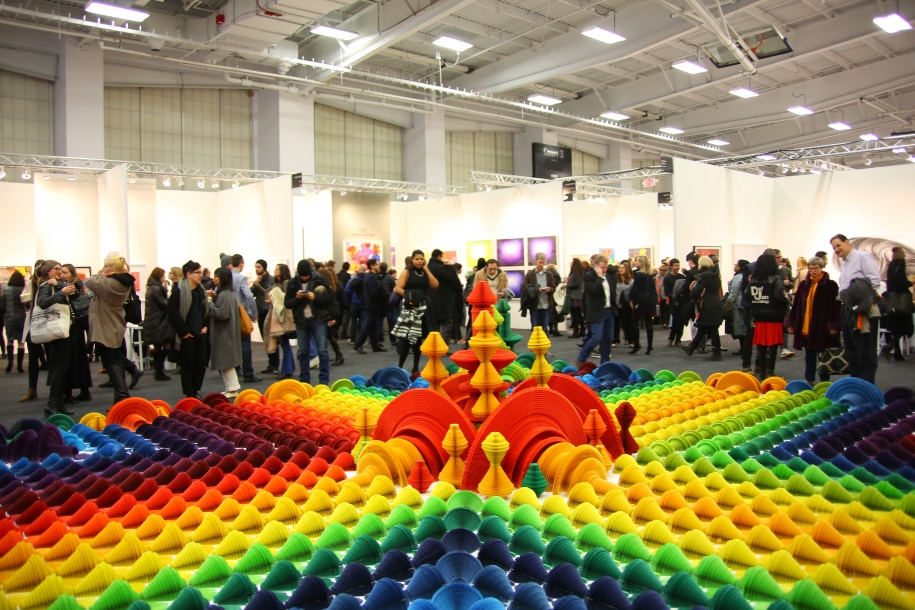 I need to be the adult here and break it to you, someone does. Just because it was 70 last week does not mean that summer starts at the end of the month. We still have a ways to go before the glorious outdoor movies and free concerts of summer are here. Until then, you'll have to make do with some excellent art, scary theater, absorbing new books and the return of the best show on television.
10. The Terrifying
Everything about The Terrifying, a new play written and directed by Obie-winner Julia Jarcho sounds, well, terrifying. It's an intimate theater experience for just 60 guests who are seated on the stage "close enough to hear a faint whisper." The setting is described as a "creepy little village on the cusp of modernity" and there's a warning about strong language and sudden loud noises. We'll be reviewing so check back for the full scoop on just how scary The Terrifying really is. The show runs from March 12-April 2 at the Arbons Arts Center, and tickets are $25.
---
9. Art on Paper, March 3-5
As the name would suggest, Art on Paper is a giant show devoted to art committed to paper, like drawings, prints and photos. It's also home to an incredibly inventive collection of three-dimensional work constructed with paper and some video work as well. The show is held on Pier 36 in Manhattan, March 3-5 (with a preview on March 2), and with participating galleries around the city. A pass costs $25 for a day, $30 for three days, and $40 if you want access during the preview as well.
---
Last year BB contributor Ilana Novick covered Brooklyn Massive Raga during their three-month residency at Pioneer Works. She wrote, "BRM has become known for their high energy jam sessions, fusing traditional melodies with elements of jazz, rock, western classical and any other genre they can get their hands on. While they've been performing around New York City since 2012 this residency in Red Hook has allowed the group the space to add even more elements of dance and movement." For March, Women's History Month, they're showcasing women performers each Wednesday night at Art Cafe + Bar from 8pm until the music stops. Tickets are $10.
---
From movies that aren't just extended toy commercials, to book suggestions, to the super artsy Tilt Kids Festival, this month's kids calendar is full of activities, excursions and suggestions that will make every parent's life easier. You might even consider borrowing a child for a few hours and heading to the Brooklyn Boogie Brunch or the DJ Pedro Winters set during the Tilt Festival.
---
6. My Scientology Movie, in theaters and on Amazon and iTunes, March 10
How to explain this. Here goes: In the name of trying to better understand the secretive world of Scientology, Louis Theroux and a documentary film crew head to Los Angeles and attempt to make a movie. Unsurprisingly The Church of Scientology says, nope, sorry, bugger off. They interview members, current and past, on and off camera, re-enacting some of the stranger tales. Rather than an investigation into the many questionable ethical and financial practices of the church, like other recent docs, articles and books, My Scientology Movie seeks to understand what makes it appealing to people, trying to find the romance in the religion. Oh, and they discover that Scientology is making a movie about them as a really weird sort of counter attack. Definitely worth $10 and two hours.
---
"It wasn't until I was twenty-six and encountered the term intersex in a San Francisco newspaper that I finally had a name for my difference," writes Hida Viloria. "That's when I began to explore what it means to live in the space between genders–to be both and neither. I tried living as a feminine woman, an androgynous person, and even for a brief period of time as a man. Good friends would not recognize me, and gay men would hit on me. My gender fluidity was exciting, and in many ways freeing–but it could also be isolating."
In an time when it's somehow acceptable to try to meddle with which public bathroom another adult wishes to use, Viloria's new memoir Born Both, promises a refreshing, honest and essential booster shot of empathy and insight.
---
4. Georgia O'Keeffe: Living Modern, opens March 3 at the Brooklyn Museum
Georgia O'Keeffe: Living Modern, a new show opening at the Brooklyn Museum on March 3 and running through July 23, frames the famous painter's work and life through a different lens than you may have considered before. Exhibiting her works, portraits of her and pieces of her iconic wardrobe, the show examines the way she created identity and independence through her own image, as well as the images she created.
---
3. Dead Darlings, March 8
We asked Amanda Duarte, the creator and host of Dead Darlings, a monthly show in which artists, writers and performers share tales of work that got left on the cutting room floor how she picks such great guests. This is what she told us, "Well, I'm lucky enough to know a clutch of incredibly talented people in NYC, and I often reach out to them to see what they have on the cutting room floor. I also see a ton of performance, I read a lot, and as a coastal elitist libtard welfare queen snowflake, I try to take in as much culture as I can. Then I reach out to the people who excite and inspire me. Lucky for me, a lot of them say yes!" The next show is Wednesday, March 8 at Judson Memorial Church, and with our chat with Duarte, plus a write-up in a little rag called The New York Times, it's sure to be a full house.
---
2. All Grown Up, by Jami Attenberg
We make no secret of our massive Brooklyn writer crush on Jami Attenberg here at Brooklyn Based (we even invited her to a holiday chip-and-dip and cheap beer party we once threw). Go pick up a copy of the The Middlesteins or St. Maizie and you'll understand why her writing is so evocative, especially for a certain type of city dweller.
So I'll make no secret of the fact that I can't wait to read All Grown Up, a book about a 39-year-old single woman who has it all together in theory, but still can't quite pick out the melody of her own life, coming out on March 7. Sound familiar? Anyone?
---
1. The Americans
Lately I've been taking a break from television. I find that I sleep better when my evening is spent with a book instead, and I've rediscovered how delicious it is to lose yourself in a novel–and redeveloped the ability to read for several hours at a stretch. I'll break edge though for The Americans, which is easily my favorite show on television right now, back for its fifth season starting on March 7. Season one stumbled a bit in over-emphasizing the martial tension between Phil and Elizabeth Jennings, the main characters who are KGB spies deeply embedded in American life. By season two though the show found its footing, and an incredibly fascinating moral, political and philosophical track to travel, producing some of the tensest, most thrilling moments of television in recent memory. If nothing else, watch for the beyond impeccable 80s clothing, hair and set dressing. As spies they have to wear a lot of disguises and there has never been a drier running visual joke than their various get-ups.