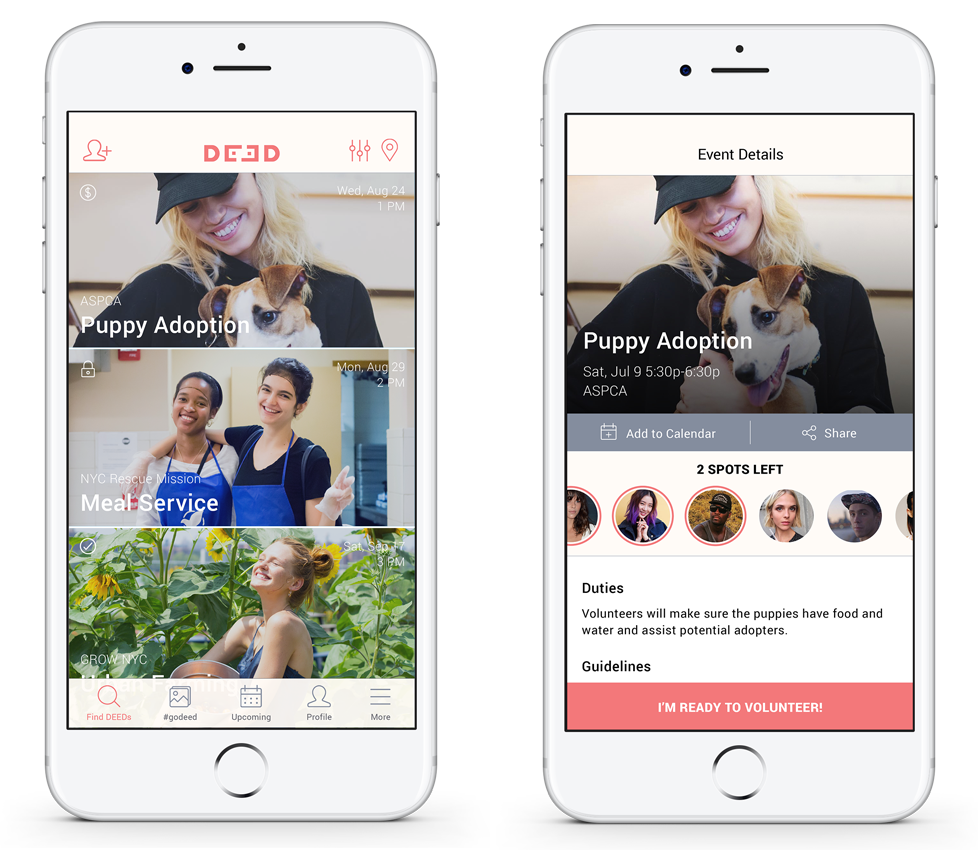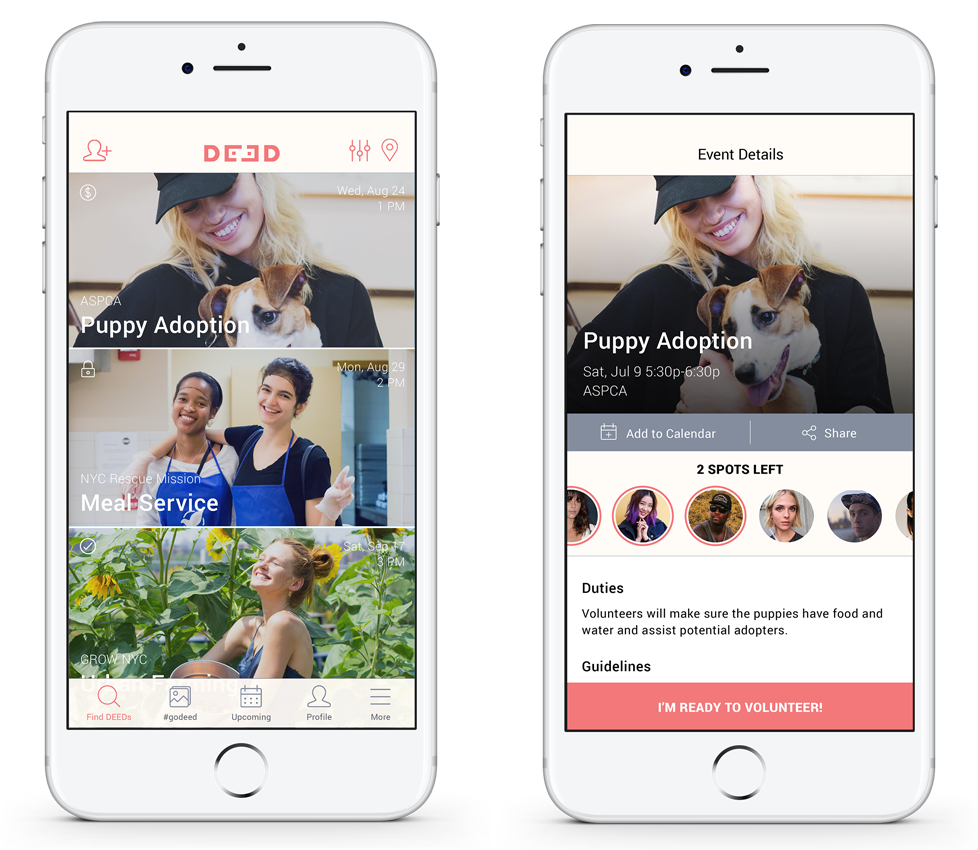 Savvy non-profits make it easy to donate to support their work, but an online transaction doesn't always satisfy the urge to support a cause. The desire to show up in person and volunteer your time and energy is a powerful motivator, but it
 can be a challenge to find the right place to volunteer, and long application processes and background checks may frustrate would-be do gooders, ready and raring to get involved.
A newish app called DEED offers an immediate way to volunteer, and aims to help users create lasting connections with others who are doing the same.
Deevee Kashi and Anthony Yoon launched DEED in October of 2016. The idea came to Kashi when he started volunteering regularly after 10 years of working in the nightlife industry. He quickly started to feel like he was stuck in a rut with volunteer opportunities. He wanted to make it easier for potential volunteers to participate in something without jumping through complicated hoops to do good.
"I also wanted to rebrand giving back for the millennial generation and reintroduce the concept as something viewed as fun as opposed to obligatory, hence the focus on group events," he said in an email.
So far they've partnered with several Brooklyn organizations including BARC, House of Recovery, and North Brooklyn Farms, as well as others around the city, like The Bowery Mission, Citymeals on Wheels and the Central Park Conservancy. They're currently working on adding volunteering opportunities in Los Angeles to the app this summer.
Users download, connect the app to Facebook, and start looking for opportunities immediately. Volunteers can also share photos to social media via the app. (If you'd prefer a volunteer experience sans social media, New York Cares is a highly respected organization that acts as a connector for would-be volunteers and the places that need them. You will need to apply and attend an orientation in their downtown office, then you can search opportunities online by interest, area and time slot.)
Yoon is also especially enthusiastic about groups of friends, and even romantic relationships, that have started through DEED. "Giving back is something that you can do while meeting cool like-minded people," he said.
According to a 2015 report released by the Bureau of Labor Statistics, people in their 20's often have the lowest rate of volunteerism in the country. Overall, only about a quarter of adults in the United States actually volunteer. A recent story on Huffington Post delved into volunteer hours logged around the country and found that only 19 percent of people in New York State volunteer.
Through ease of use and through the magic of social media, DEED is aiming to push that percentage a little higher.
The DEED app has attracted social media influencers throughout the city. Chetna Sabnani, a DEED spokesperson, said that it may be due to the inherently social nature of the app. "When you log in, you can see what opportunities are available nearby and who else is volunteering there," she said.
Sabnani thinks that focusing on making volunteering fun helps the app retain people who will want to continue volunteering and exploring new activities. She said that opportunities like bingo with seniors and reading to younger kids have been the biggest hits so far.
Sah D'Simone, a Brooklyn-based meditation teacher and transformational coach with a hefty online following, who has done extensive work with orphaned children and women in need in Nepal and India, was excited by how many opportunities the app made available, for himself and for others.
As someone who has been involved in all kinds of projects, he mentioned that some groups that want volunteers put candidates through a lengthy application process and sometimes ask for fees for background checks, all of which can be off-putting to a first-time volunteer.
"People end up saying 'well, I tried' and and then just give a dollar here and there on the subway," he said. "They don't get that humanizing exchange of social work."
D'Simone also encouraged New Yorkers to consider how beneficial the helper's high is and to use that as an initial motivation for taking the dive to download the app and start looking for opportunities.
William Lords, a fashion photographer and Instagram influencer has volunteered several times using DEED. He especially appreciated opportunities to help feed the homeless, and discussing education with at-risk teens.
"You inspire the kids to do stuff, to try stuff," he said about counseling teenagers on their career goals and motivation in school.
He urges other New Yorkers to take the plunge and volunteer, regardless of whether the app makes it convenient or not.
"I think people should just do it in general," said Lords. "It makes me feel better about being a human being."