Happy May! The sun is out, flowers are blooming, birds are chirping, and those of us with seasonal allergies are sneezing through it, just happy to be part of this awesome season of rebirth and renewal. I am headed upstate this weekend with a group a friends for a birthday extravaganza, and I must say that although I am really excited for a spring getaway, I'm a little bummed that I won't be around to watch the Kentucky Derby at one of several fun parties happening around Brooklyn on Saturday afternoon.
As in years past, the Brooklyn Derby, which seems the fanciest option, will draw bluegrass bands and hundreds of be-seersuckered and be-fascinatored revelers to Greenwood Park from 4pm on to cheer on the horses. The $95 ticket price covers four-hours of open bar (including mint juleps, natch), a variety of Southern snacks, live music, a hat-making station and more. Another alternative is the Derby Party at Sunny's Bar in Red Hook, which costs $80 but includes food, drinks, a bluegrass jam, contests, and prizes, and has the added edge of being a fundraiser to help the beloved bar meet is goal of raising $65K by mid-summer in order to stay in business. Of course, if you're not looking to break the bank on a several-minute long horse race, you can head to Northern Territory, which is hosting a free party with pay-as-you-go drinks and prizes for best Derby attire, from 3-7pm.
Not into the Derby at all? The Wythe Hotel is hosting the sixth annual Greenpoint Film Festival, which is a series of panels and screenings of carefully selected shorts and feature-length films taking place Thursday through Sunday, and there are still tickets available. Read on for more ideas about what to do with yourself for the next seven days, and enjoy the sunny Ideal Week ahead.
Thursday, May 4
Thursday is Star Wars Day (May the Fourth, get it?), which means that tickets go on sale at noon for The New York Philharmonic's Star Wars Film Concert Series happening this fall. If you have a free morning, however, you can get early access (as of 10am) by showing up in person (and preferably in costume) at a special May the Fourth event at Lincoln Center. There will be live musical performances, giveaways, appearances by R2-D2 and Kylo Ren, and a raffle for free tickets to the September shows for fans who arrive by 9:30am. For those of us stuck in the office on Thursday, DUMBO's First Thursday Gallery Walk is back with another installment at the more accessible hour of 6-8pm. This month's free art immersion features S.B. Walker: WALDEN at Janet Borden, Inc.; Sarah Hickson: Sounds Unseen: A Photographic Memoir of The Calais Sessions at The Studio at St. Ann's Warehouse; and Jamel Shabazz: Sights in the City, an exhibition of street photography Shabazz took in New York between 1980-2016 at United Photo Industries.  
---
Friday, May 5
Governor's Island opened for the season on Monday, and on Friday night they are keeping things going later than usual so that visitors can see the sun set over New York Harbor while listening to Michael Aranella and the Dreamland Orchestra and enjoying a beer and snacks. It's a nice (and inexpensive) way to chill out after a long work week. The last ferry pulls out at 9pm. If the idea of celebrating Cinco de Mayo in New York conjures up syrupy margaritas and annoying drunk people, consider making Lot45 Bushwick's Eat Your Art: An Alternative Cinco de Mayo part of your Friday night plans. Inspired by Frida Kahlo's famous dinner party salons, the evening will include a four-course meal, a live mariachi band, and dance, art, and poetry that celebrates the culture and people of Mexico. Dinner, which includes wine and mezcal cocktails, will run you $125, but you can get a ticket for the post-dinner fiesta only for $35. Please note that there is a dress code.  And finally, our friend and artist Edward Bear Miller has a solo show, "Aids to Contemplation of the Republic," opening at Greenpoint Gallery and running only through Saturday. He's created a beautiful, evocative series that ponders the state of our union: 12 American flags, each transformed by the historic, iconic figures pained upon them.
---
Saturday, May 6
I have an abiding love for craft fairs, and Bust Craftacular is one of the best around, IMHO. It's back in Brooklyn for both days this weekend in the Greenpoint Terminal Warehouse, and as always there is an extensive lineup of vendors who will be selling handmade and vintage clothes, jewelry, art, accessories, beauty products, snacks and more. From 11am-7pm on Saturday and Sunday, you can get your shop on while enjoying DJ sets and tons of free workshops activities like tarot readings, nail art, DIY flower crowns and skateboarding lessons. Admission is $3, and the first 150 attendees on each day will go home with a free swag bag.
---
Sunday, May 7
On Sunday night, The Bell House is hosting the fourth annual Grist Comedy Extravaganza: A Benefit for a Future that Doesn't Suck, a comedy show full of top-of-the-line talent that just so happens to support the righteous cause of saving our increasingly beleaguered environment. The slate for Sunday's show, which starts at 7:30 and costs just $25, includes some pretty big names, including Eugene Mirman, David Cross, Caroline Rhea, Jon Glaser, Aparna Nancherla, and some as-yet-unnamed special guests.
---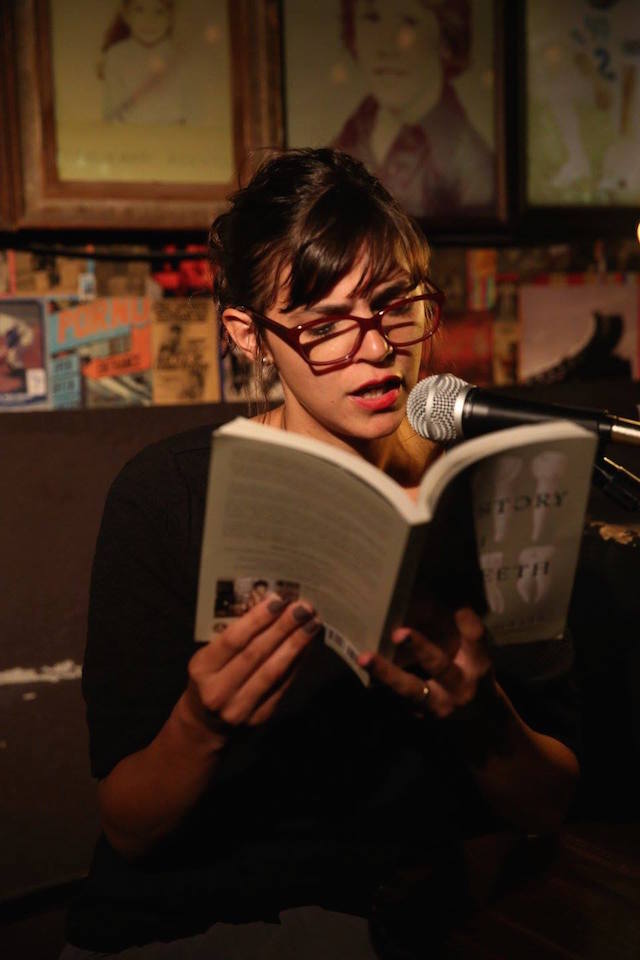 Monday, May 8
Crown Heights bar Franklin Park is hosting a non-fiction night of its acclaimed monthly Reading Series on Monday from 8-10pm, and it's a great way to show your support for local writers and hear them present their recent work. Ben Greenman, Sarah Gerard, Kristen Radtke, Garnette Codagon, and Manesh Demary will be sharing personal essays, a graphic memoir, and even a Prince appreciation piece. Admission is free, beers are just $5, and you can enter a raffle to win books by the participating authors.
---
Tuesday, May 9
On Tuesday night, Brooklyn Winery is kicking off its new, philanthropy-minded Dinner for Good series with a three-course, seated, family-style meal featuring spring flavors and great conversation. The menu includes fresh, seasonal ingredients like asparagus, radishes, arugula, fresh berries, as well as New York strip steak and Brooklyn Winery wine. All proceeds from the $125 tickets will be donated to the New York Immigration Coalition, which "envisions a New York State that is stronger because all people are welcome, treated fairly, and given the chance to pursue their dreams." The dinner starts at 7pm.
---
Wednesday, May 10
Pulitzer prize-winning novelist Richard Ford (The Sportswriter, Independence Day) has just released his first work of nonfiction, Between Them: Remembering My Parents, and as the title suggests it is a memoir that introduces us to Ford's own mother and father, who are both long-dead. More than just a recounting of their outward lives, the book attempts to illuminate who the people who raised Ford really were, and explore the parts of their lives that didn't involve him just as thoroughly as the parts that did. On Wednesday night, he will discuss the work, which Cheryl Strayed called "masterly" in her New York Times review earlier this week, at the Brooklyn Public Library with novelist Francine Prose. The event starts at 7:30pm and is free if you register here.  
---
We love inspiring you to make the most of your week. But the local ad market no longer sustains our work. If each one of our most loyal readers supports us through a $25 subscription or a one-time contribution of any amount using PayPal or Venmo, we can keep the fun suggestions coming. We appreciate every reader who's helping us reach our goal and hope you'll consider it, too.