Oh man, now what? Will we get an independent investigation? Are the impeachment gods finally smiling down upon us or are we one step closer to totalitarianism? Has anyone been seriously looking into the NYC secession option? Why are these the choices anyway? The sudden and indecorous firing of FBI Director James Comey yesterday has prompted a new cacophony of questions and speculation, and amidst it all it seems that Trump and the gang are genuinely SHOCKED that people are skeptical about the motives precipitating the move. And decided that promoting the Instagram of Marlon Bundo, the Pence family rabbit, was the most pressing piece of White House news they could share on the official White House email this morning.
The idea that Dems would cheer Comey's ouster, regardless of the circumstances, simply because they didn't like the way he handled the HRC email investigation, presupposes that we all have the mentality of a six-year-old, and that we can't think beyond an all-encompassing, never-ending pursuit of praise and-or revenge. Hmm, sounds familiar, right? Let's just hope the more rational people in power understand how deep into utter shitshow territory we have ventured and start to pull in the reins a bit.
While we're all obsessing about politics for the next several days (what else is new?), we've got a pretty nice stretch of cool but dry (and sometimes sunny) weather to close out the work week. Saturday looks like the Netflix binge day of the week, with 100% precipitation expected, so I will recommend Dear White People, which I fired through last week, or of course the new season of Master of None, which drops on Friday. And after Mother's Day festivities on Sunday, you might want to take a trip out to Ridgewood's outdoor oasis, Nowadays, for the Mister Sunday Season Opener. While you're making plans in advance, grab a ticket to see one of the Night Train shows at Littlefield over the next three Mondays–Giulia Rozzi and David Cross will be guest-hosting and tickets are only $5.
In the meantime, though, check out our other ideas below for how you can live your best Ideal Week, but not before you text 50409 to send your reps a note asking them to fight for an independent investigation into Trump's Russia ties via Resistbot. It's really easy! Have an awesome week, everyone, and we'll see you back here next time!
Thursday, May 11
Prospect Heights' vegan cheese shop, Riverdel Fine Foods, is ringing in spring with an indoor picnic on Thursday night. They've invited Yeah Dawg!, which makes healthy, plant-based franks out of root veggies, seeds, herbs, and spices, for a takeover, which means that you'll be able to try three different types of dawgs and treat yourself to a PBR or two. Tickets are $10 and the event runs from 6-9pm.
---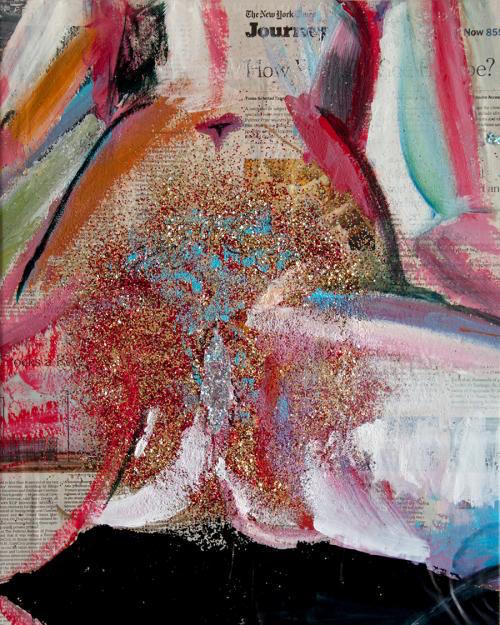 Friday, May 12
On Friday night, head to Bushwick for the opening of Muscle Memory, a visual and verbal exploration of the female gaze by poet (and former BB contributor) Kelly Murphy and artist Madelyn Owens. The event starts at 7:30pm at the World Money Gallery, and features a short reading, drinks, and a DJ set. This weekend also marks the reopening of the Billie Holiday Theatre in Bed-Stuy. The first event in the newly-renovated space is a theatrical reading of the Zora Neale Hurston classic, Their Eyes Were Watching God, directed by Tony Award-winner Ruben Santiago-Hudson. The performance, which honors the novel's 80th anniversary, will be happening on Friday night at 8pm, and at 2pm and 8pm on Saturday, and tickets are $40, or $27 for students and seniors.
---
Saturday, May 13
On Saturday, the Brooklyn Bike Jumble rolls back into town from 10am-4pm. For the seventh year in a row, vendors of used and new bikes, accessories and clothing, most of which can be had for a very good deal, will be back at the Old Stone House in Park Slope. Just several blocks south, kids and the adults who love them can get up close and personal with a variety of emergency and construction vehicles at Touch a Truck 2017, which is happening in South Slope from noon-5pm. Finally, based on my experience two years ago, I highly recommend a trip to Industry City this weekend to the A Current Affair vintage pop-up marketplace happening from 10am-6pm on both Saturday and Sunday. The roadshow brings together a carefully curated group of vendors of vintage clothes, jewelry, bags, and shoes from all over the country, and the selection is really spectacular. Admission is $12, but it was definitely worth it for me as I scored a dress and a jacket that always get compliments.
---
Sunday, May 14
Here's a slightly different take on Mother's Day: BLDG 92 and Kings County Distillery are teaming up for a historical Whiskey Wars tour and tasting in the Brooklyn Navy Yard this Sunday from 4:30-6pm. Learn about the 19th century crackdowns on illegal distilling in the area while sipping on moonshine and bourbon that is made on-site at Kings County Distillery's beautiful facilities in the converted Navy Paymaster Building during the present day. Tickets are just $15. Later on, head over to The Bell House for some comedy from SNL player Sasheer Zamata, who has invited her own mom, Ivory Steward, as well as Bob the Drag Queen, Michelle Wolf, Molly Austin, and DJ Zephyr Ann to this special Mother's Day installment of Sasheer Zamata Party Time! Tickets are $8 and the show starts at 8pm.
---
Monday, May 15
On Monday night at 8pm, The Brick Theater is the place to be for some major catharsis, as it will bring local performing artists together to make everyone cry. The idea behind Good Cry, which is part theater experiment, part concert, is to have people perform the songs that make them cry in order to explore the context and experience of crying in general. Tickets are $10 and are available here.
---
Tuesday, May 16
Assuming you don't live under a rock, you might have heard that Twin Peaks, David Lynch's influential, uberweird, and fiercely beloved TV series from the early 90s, is returning later this month. On Tuesday night from 7-10pm, Brooklyn Bazaar is hosting an immersive tribute to the show, featuring a costume contest, all your favorite characters, and recreations of places like the Double R Diner and Twin Peaks Lodge. The evening is free, but there's already a waitlist, so if you are dying to go, you should get yourself on it now. If it sounds like too much of a zoo, BAM is screening movies featuring the stars of Twin Peaks all month as part of its Peak Performances series. On Tuesday at 7pm, you can catch Laura Palmer herself (actress Sheryl Lee) in 1994's Backbeat, which is about the Beatles' early days in Hamburg and features Stephen Dorff and music from the likes of Thurston Moore, Henry Rollins, and David Grohl.
---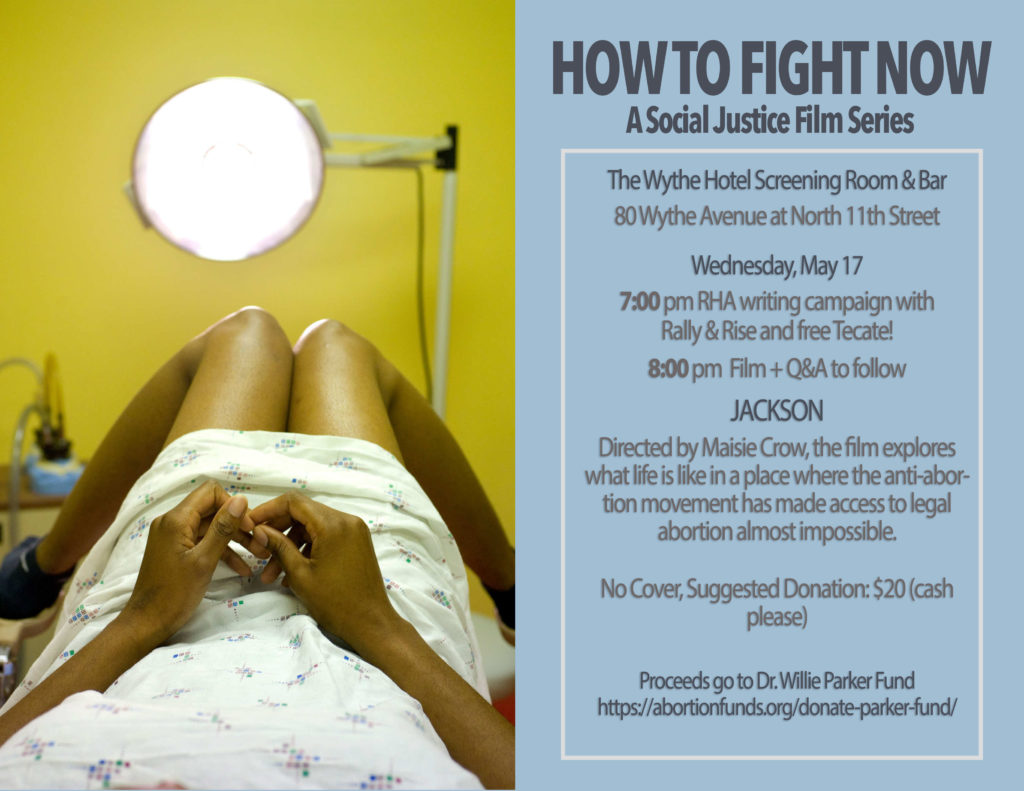 Wednesday, May 17
The How To Fight Now social justice film series has been running on a monthly basis at The Wythe Hotel since Trump was elected, and May's screening is of Maisie Crow's Jackson, a documentary about the last abortion clinic in the state of Mississippi, where access legal abortion is nearly impossible. The film is at 8pm, but you can show up at 7pm for a letter-writing campaign in support for the Reproductive Health Act (RHA) with Rally & Rise. There is a $20 suggested donation requested, but that includes free Tecate and mezcal specials.