Getting a word in with Emma Straub, author and one part of the duo behind Books Are Magic, is nearly impossible while there are customers streaming through the door. And although the Cobble Hill bookstore just opened its doors a few weeks ago, throngs of overjoyed well-wishers are already filling the store in a steady flow. "We're definitely busy from the moment we open our doors in the morning to the moment we close them at night," she says.
When BookCourt, the neighborhood's beloved indie bookstore, announced they were closing, Straub and her husband Michael Fusco-Straub jumped to action immediately. They acquired the Books Are Magic space in October, but Straub says it was the election that really cemented their efforts. "We realized it was so much bigger than just a bookstore," Straub says. "We needed an open space where people could gather, where families can feel welcome, can get informed." Thanks to Straub's established connections with local bookstores (she worked at both BookCourt and at Word in Greenpoint), publishers, and sales reps, the couple pulled off an impressive feat in record time.
The Fusco-Straubs obviously love books and design, and their lovely welcoming space is our new favorite word lair. From the books on the shelves to the sunlit kids room in the back, every swift detail of Books Are Magic takes inspiration from the community in which it blooms. Tulips from neighborhood florists decorate the store's nooks, while the works of local authors are displayed proudly on recycled BookCourt shelves.
"I'm starting to explore collaborations with other places in the neighborhood, too," Straub says. "Warby Parker reached out and we're planning a reading series in their backyard." In addition to being full of local goodness, the shop is wonderfully spacious, with exposed beams and brick and plenty of sunlight. It's the kind of place that makes you feel good the second you step through the arched doorway.
Books Are Magic joins an impressive collection of indie bookstores around Brooklyn. Here are a few of our favorites for reading, listening, lounging and browsing.
Unnameable Books
Prospect Heights
Situated on a busy corner of Vanderbilt Ave, Unnameable Books is a classic place to spend a Saturday afternoon. It's a small shop where you'll bump into fellow book lovers as you navigate the narrow stacks, peering at the titles of used astrology and divination tomes from the 80's. Unnameable's floor to ceiling shelves are stacked with both new and used books, and tall, random stacks of Stephen King classics and dusty hardcovers give the bookstore a cozy attic feel. Just watch your step!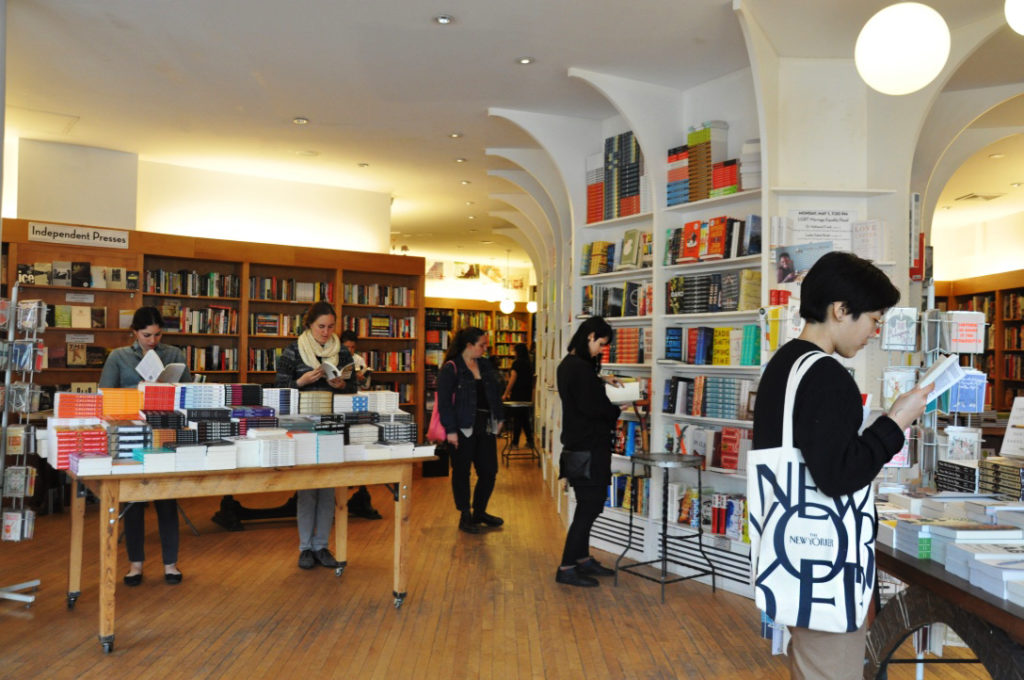 Greenlight Bookstore
Fort Greene and Prospect Lefferts Gardens
Essentially the "OG" of indie bookstores in New York, Fort Greene's Greenlight is like the college bookstore for post-grads who still want to feel like they're in college—it's roomy, bright, and overflowing with the latest bestsellers and staff recommendations. In addition to being super kid-friendly (there's story time on Saturday's as well as a book club for pre-teens), Greenlight boasts some of Brooklyn's most impressive readings and events. Authors ranging from Lena Dunham to Zadie Smith have passed through their doors.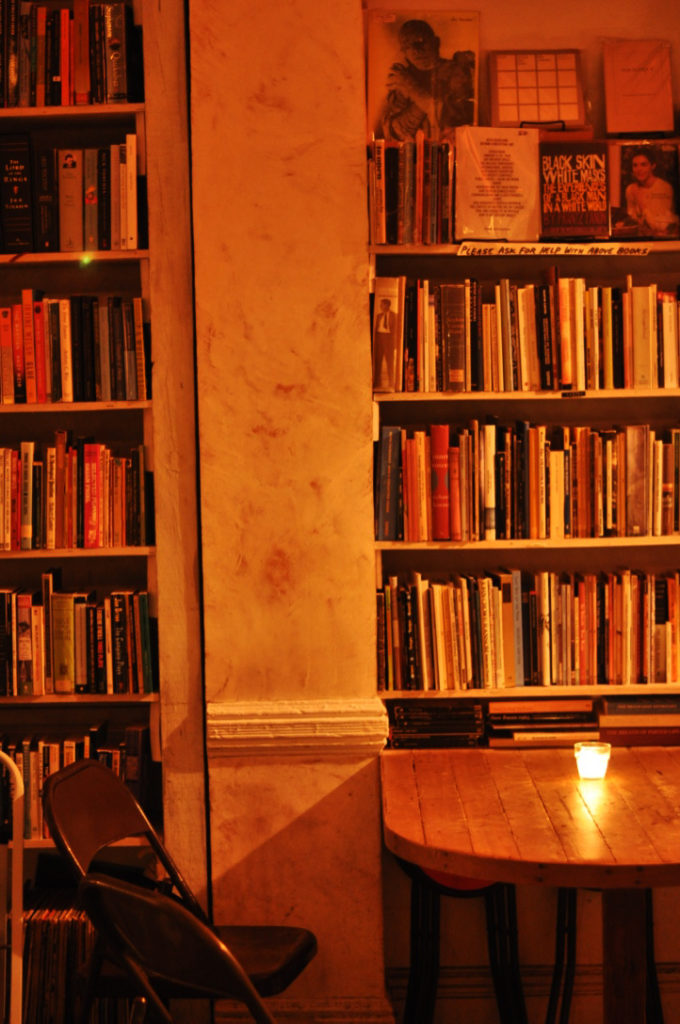 Molasses Books
Bushwick
Every date you go on ever should be in Molasses Books. That's our unbiased opinion, anyway. Located on a quiet residential street in Bushwick, this impressively curated, candle-lit bookstore-bar hybrid offers beer, wine, coffee, and spinach turnovers and cookies to hold you over while you peruse books on art history and poetry, as well as selections on smut. Molasses holds readings and chess nights, but most importantly they're open till midnight every night. It's the perfect, dimly lit place to drink coffee and grapple with your existential crisis in peace.
Berl's Brooklyn Poetry Shop
DUMBO
The only bookstore in Brooklyn dedicated solely to poetry, Berl's is a small yet mighty shop beneath the Manhattan Bridge in Dumbo. It specializes in collections from poets from all walks of life—from bigwigs to those with a chapbook or two under their belts. Owned by Farrah Field and Jared White, two poets who happened to be married, Berl's is home to weekly book launches and readings.
Topos Bookstore Café
Ridgewood, Queens
Topos Bookstore, which admittedly is technically in Queens, is where you go when you want a place to sit, read, and drink coffee in a cozy, quiet spot that reminds you of a wacky aunt's living room. It's not a large shop, but you can certainly spend hours perusing Topos' shelves, and along the way you might find a couple of ceramic rabbits, string lights, plants, and a piñata or two in the corner. Go to Topos when you're looking for something more eclectic to leave with—they've got some great selections to choose from in their history, philosophy, and anarchism sections in the back.
Word
Greenpoint and Jersey City
This Greenpoint staple—which has been around since 2007—only seems to get better with age. You'll have a hard time finding a friendlier or more helpful book staff in Brooklyn, and although the store is only 1,000 square feet you'll likely always find what you're looking for (or leave with something totally unexpected). In addition to a strong graphic novel, travel, and cooking section, Word offers some really great pins and stationery from local artists, making it the go-to place for greeting cards instead of the CVS down the street. The best thing about Word is the community it fosters around its exciting calendar. There are always at least a handful of exciting weekly events—book discussions with Chuck Klosterman, Ariel Levy, and Guy Delisle are coming up in May. Plus, you can feast your brain on a Gilmore Girls book club (!), and even a basketball league for book lovers. They also have a Jersey City location, should you be considering a move across both rivers.