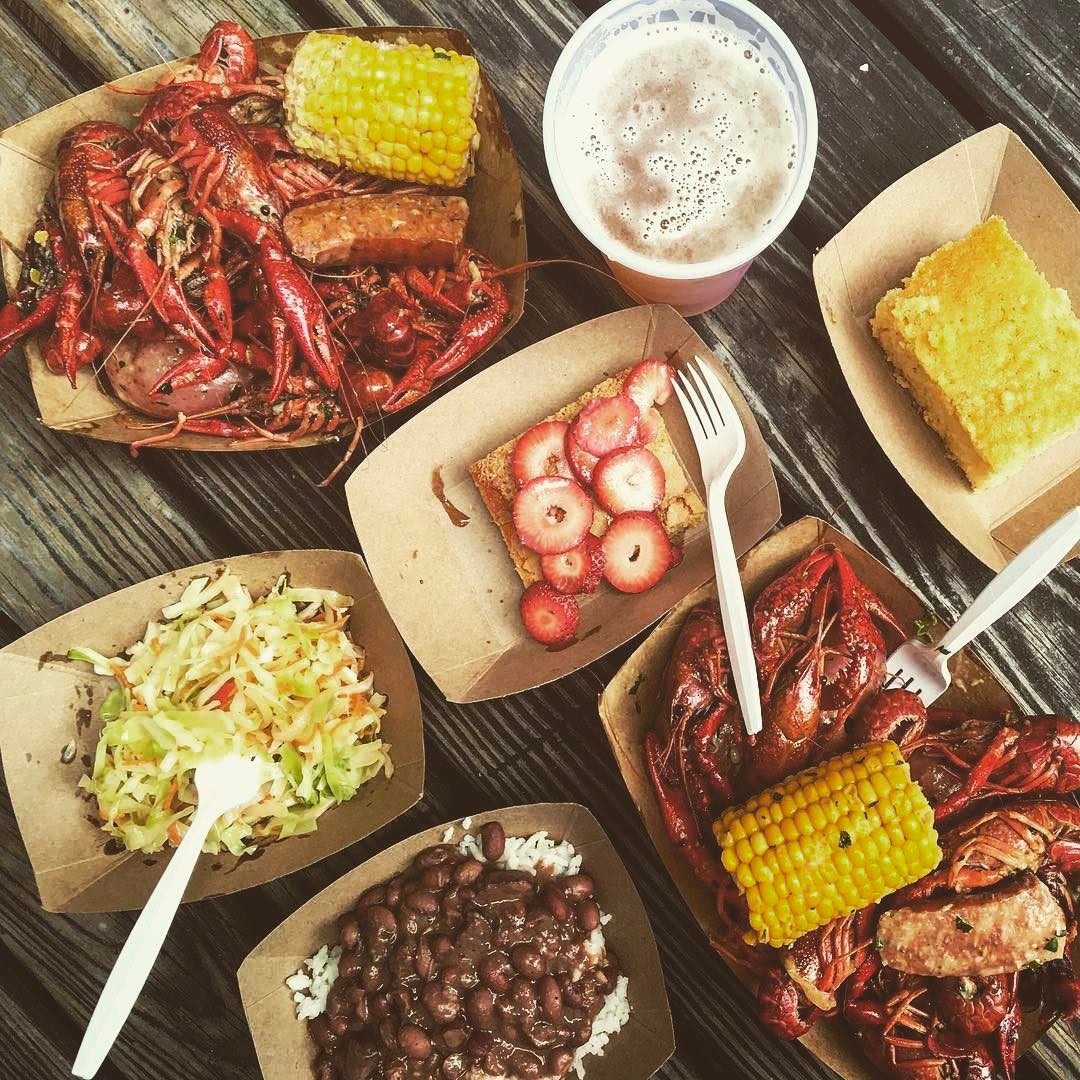 In no way do I want to discourage you from any of the fantastic events we've selected for this Ideal Week. And certainly, the most astounding drama of our time is unfolding in front of our eyes in the White House in ways pretty much no one could have ever imagined. However, I do feel like I need to point out just how much excellent television is on offer right now. Like, really an insane amount of good stuff. Are you watching The Americans? How great is this new season of Master of None and how mesmerizing/terrifying is The Handmaid's Tale? I haven't even had the time to watch I Love Dick or the new season Bosch on Amazon. And man, after the burn of Arrested Development 2.0 I'm trying not to get my heart set on the new Twin Peaks being the show I've dreamed of watching since I binged the original one August weekend in 1998, but boy am I looking forward to it.
In news that is happening here in the physical world and not on a screen or in the Black Lodge, Littlefield is in the last day of its Kickstarter to raise money for its new space, which includes brand-new bar and restaurant, Parklife, that will be a part of our Total Gowanus Immersion this summer. They're so close to their goal, help them reach it before midnight on Thursday. One of our favorite local institutions, the Brooklyn Historical Society, opens a new space in DUMBO this week. The first show is called Shifting Perspectives, and it's a group show of photography depicting the Brooklyn waterfront, opening May 19 (though there is a private event at the gallery on Friday evening). Admission is free all weekend long.
Go forth, or hang on the couch with some popcorn and cherry pie, either way, have an ideal week!
Thursday, May 18
Swale, an intensively planted barge that calls itself a "floating food forest," spent much of last summer docked off of Governor's Island. The combination art project and urban farm is back, and kicking off the season with free tours and refreshments on Thursday night at 5:30pm. Free with RSVP. If you're feeling like taking a quick trip to Sicily, head north to Greenpoint for the Blue Plate Special at Archestratus. Dinner goes from 7pm to 9pm with full plates of Sicilian deliciousness and wine for purchase. You can RSVP for $1 or just show up and hope there's plenty to go around. Dinner itself will run around $18, depending on your preferences.
---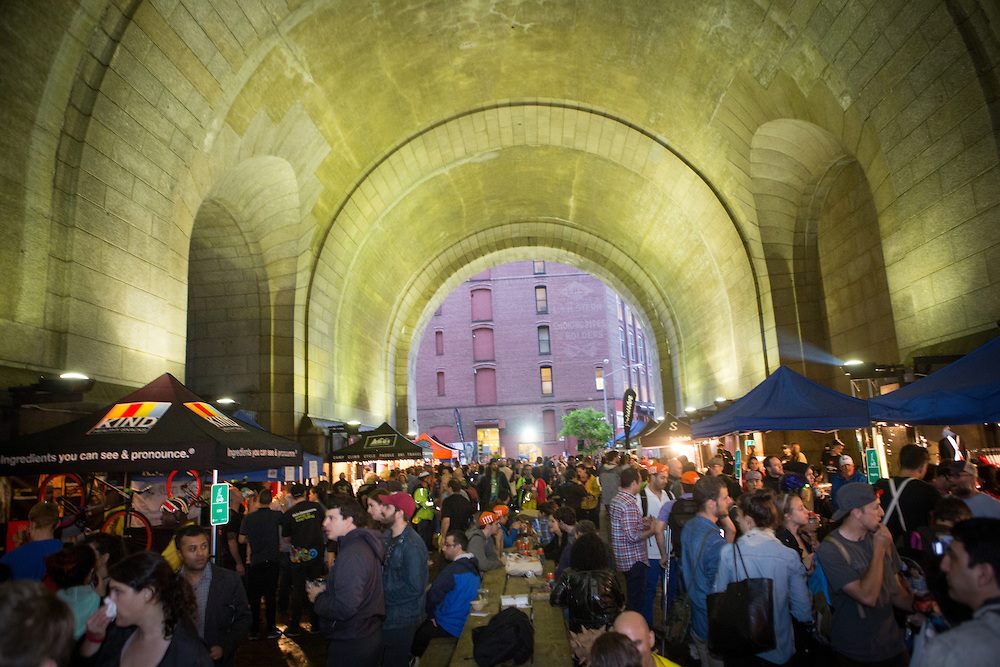 Friday, May 19
Get down with other bike commuters on Friday night in DUMBO with Transportation Alternatives' Fourth Annual Bike Home From Work Party. Meet up at the Pearl Street Triangle to enjoy snacks and drinks from local vendors, a Brooklyn Brewery beer garden and a music and visual experience created by Brendt Barber of the Bicycle Film Festival. Free with RSVP, 6pm-10pm.
---
Saturday, May 20
After a crazy few days of August-like heat, you'll realize you need summer clothes stat, and Lady J+1 can help you with that. They're celebrating five years on Classon Ave. in Crown Heights with a serious sidewalk sale of up to 50% off past summer and fall collections of favorite designers like Samantha Pleet and Mary Meyer (including swimsuits), free mimosas while you shop and a trio of gifts with every purchase over $10 while supplies last (including a rainbow moonstone crystal from Lady J's Tucson Travels). If you're more in the market for a day spent eating, drinking and benefitting, Sycamore's 8th Annual Crawfish Boil is your ticket. $30 gets you a heaping tray of Louisiana Style Crawfish with andouille sausage, sweet corn, red potatoes, a side and beverage plus raffle tickets to support the Billion Oyster Project.
---
Sunday, May 21
Get your goulash fix and shop for artisan goods at Ridgewood Market's first brunch market of the year at Gottscheer Hall, a historic German beer hall in Ridgewood, Queens. (Take a peek at the menu, the strudel is calling your name.) You could also take a field trip in the opposite direction, to Industry City where 100 artists are holding their annual Open Studios tour. If you're in the area, you might as well brave the crowds at Avocaderia, which is going through 650 avocados a week according to Gothamist. By evening time, we'll be curled up, waiting for season three of Twin Peaks to premiere. Videology is holding a viewing party complete with trivia, prizes for best costumes, and cherry pie from Blue Stove to honor the occasion.
---
Monday, May 22
Strong Rope Brewery, one of our Wedding Crashers vendors this past spring, is hosting an open house for couples in search of spaces for their rehearsal dinner or engagement party–or anyone looking for a unique event space. Dish Food & Events will be serving their signature small bites and $5 gets you a complimentary beer in their Gowanus taproom. Tickets available here.
---
Tuesday, May 23
Do you like comedy? Normally you should never answer yes to this in public, particularly if the person asking is holding a clipboard in Times Square. But if you do in fact enjoy stand-up and delight in the many nights of excellent comedy you can see in Brooklyn, add The Fancy Show to your list of shows to check out. Every Tuesday night at the Room at Dizzy's in Park Slope offers a stellar lineup, trivia, and something called "the great candy toss game." This Tuesday is a diverse mix of comics from around the country including Neel Nanda, Jeffrey Joseph andJohn Nguyen. Doors are at 8pm, admission is free.
---
Wednesday, May 24
There are Planned Parenthood fundraisers, and then there is the Night of Nasty fundraiser for Planned Parenthood of New York. It's presented by Stronger Together Events, a group of NYC event professionals who pooled their talents and resources into creating an incredible night at an amazing price point, all of which goes to Planned Parenthood of New York. For $75 you get a five-hour [Yes, FIVE HOUR!!] open bar, and non-stop entertainment hosted by Lady Parts Justice's Buzz Off Lucille that includes performances by Joan as Police Woman, comedian Jo Firestone, Batalá New York, a dance party with MIXTAPE cover band and DJ Juice E, tattoo artists, tarot readings, plus resistance headshots in front of backdrops designed by Michele Bablo and video testimonials filmed by Love+Brain Films. Do not dilly dally, get tickets and tell all your friends to join you.
---