Memorial Day weekend is nigh, and if you are jetting off the Hamptons, the Catskills, the Shore, or somewhere even more exotic, well, good for you, lucky duck! The rest of us will be here holding down the fort, but don't feel too bad for us because there is–as always–a lot to do around these parts over the course of the next week. On Friday night, lace up your skates and get ready to do the hustle at Lola Star's Dreamland Roller Disco, which is doing Saturday Night Fever-themed version of its popular skate night at the LeFrak Center in Prospect Park from 7:30-10pm. After selling out a Friday night show at King's Theater, Nick Cave & The Bad Seeds have added a second night on Saturday and there are still tickets available. If you happened to catch them when they performed at Celebrate Brooklyn! a few years back, you know that it's worth the effort.
Although we're officially in Fleet Week and there are bound to be lots of NYC noobs out and about, in general it is always nice to capitalize upon a holiday weekend when lots of peeps are out of town to check out the touristy areas you usually avoid like the plague. Wanna finally make the trip up to the Cloisters? Or to see the Whitney Biennial or the carpet of bluebells on display as far as the eye can see in the Brooklyn Botanic Gardens? Now is definitely the time to do it. And you can use the time to plan ahead for future fun like the Brooklyn Greenway Initiative's June 24 Epic Ride or July 22 Brooklyn Bike Rave. And if you do bump into a sailor, there's no better time than Memorial Day to express your gratitude for his or her service. 
Check out our other ideas for your entertainment and enjoyment in this final Ideal Week of May, and no matter where you are this weekend, be safe and take care of yourself. Until next week!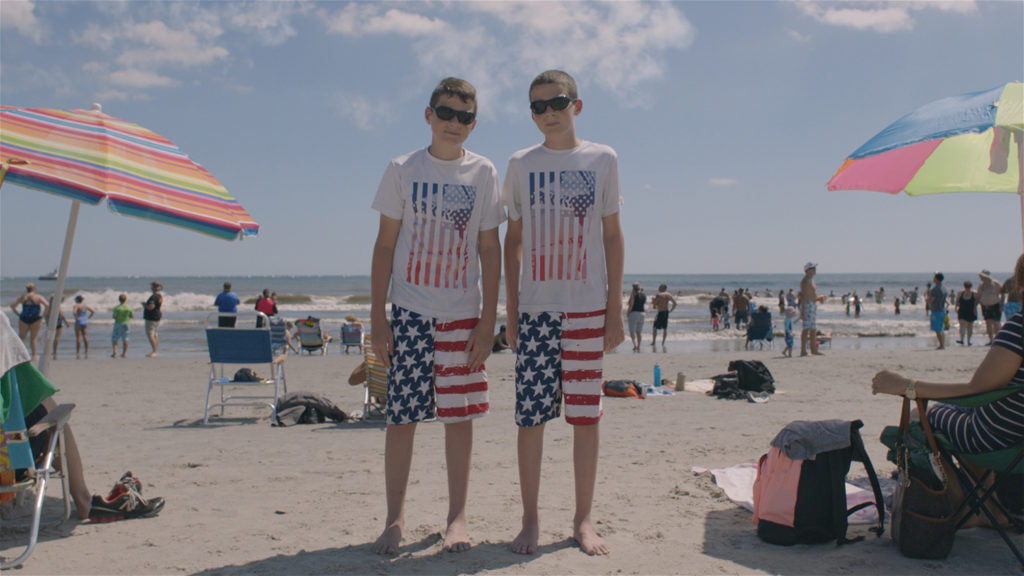 Thursday, May 25
Rooftop Films is back for another season of awesome outdoor movies, and this Thursday night you can catch a series of shorts that each capture a small sliver of the weirdness of modern life in America, featuring subject matter like a Daytona drive-in church or a family meeting point at the Mexican border crossing. I'm particularly interested in Election Night, which centers on the patrons of a London pub who have gathered to watch the U.S. presidential election results come in. It's not technically billed as a horror movie but let's call a spade a spade, shall we? The New American Paradise: Postcards from the United States of WTF will be screening for free at Metrotech Commons starting at 9pm, but you should arrive early to get a good seat and to catch the live music performed by indie-pop outfit Saint Mela. While it's on your mind, now is also a great time to snap up a ticket to the June 28 screening of The Big Sick on the roof of the William Vale Hotel. Based on the amount of Slack activity about the trailer in my office, the Apatow-produced rom-com starring Kumail Nanjiani is going to be a must-see summer flick.
---
Friday, May 26
If you are sticking around this weekend, take the opportunity to kick it off with a very different kind of Memorial Day picnic on Friday night at Pioneer Works. The Scientific Controversies series returns at 7pm to explore the concept of consciousness with a cognitive scientist and a neuroscientist, who will discuss and debate whether consciousness is illusory or a biological fact. After the presentation, take a spin on the Mutual Wave Machine, an interactive neuro feedack installation that will allow you to share brain activity with a friend. There will also be a bonfire, beer and wine, and Hometown BBQ for sale (this may be the easiest way to get your hands on some Hometown all weekend). The evening is free but you should register here. Looking for something a little less out there? Across town, Brooklyn Bowl is honoring the Queen B herself with a Bey Tribute Night starting at 8pm. Tickets will run you $10 if you buy them here, and $15 if you get them at the door.
---
Saturday, May 27
The weather report at press time suggests that Saturday is the day to be outside this long weekend, and there are lots of good reasons to get you out of doors, starting with The Great Brooklyn Grill Out from 2-6pm. Tickets are $65, and include access to grilling stations for meat lovers and vegetarians, craft beer, cider, live music, and cooking demos from celebrity chefs. This sounds like a great option if you don't have your own backyard and grill readily available to celebrate Memorial Day in style. Another way to get your al fresco dining on is to check out the Brooklyn Queer Picnic in the Long Meadow in Prospect Park. The fun starts at 1pm and attendees are encouraged to bring food or drinks, potluck style, as well as used clothing to swap with others. Finally, it looks like a great day to take a pre-season jaunt out to Fort Tilden for a "sonic happening" that will feature performances by percussionist Sarah Hennies, multimedia artist Julia Santoli, vocalist GABI, harpist Marilu Donovan, and electronic sound artist Mara Mayer. The event, which is part of Clocktower's Site: Sound series, is free but you'll need to register to get more info.
---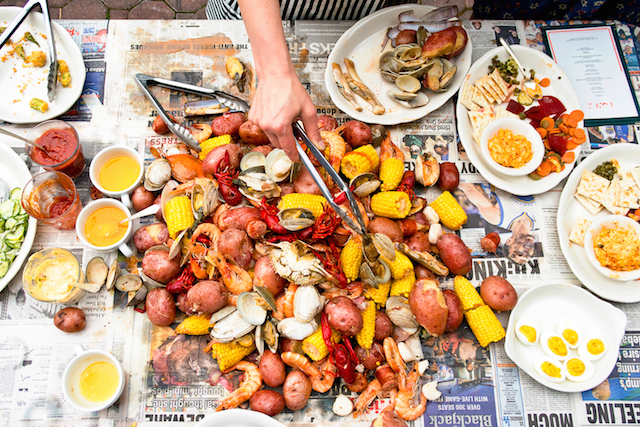 Sunday, May 28 
Continue to eat your way through the weekend on Sunday at a special Memorial Day Low Country Boil happening in the garden at Rose's from 3pm on. There will be free flowing 'gansetts and rosé (my kind of party), and tons of crawfish, claims, collards, and cold salads to feast upon. Entry is $45 per person, which seems like a pretty good deal. This weekend also marks the inaugural Brooklyn Women's Film Festival, which promotes the community of female-identifying filmmakers in their quest to create unique, diverse, and female-centric films and, hopefully obviate the need for the Bechdel Test someday. Screenings of the selected films are happening at Videology on both Saturday and Sunday (buy tickets here), and there will be a free opening mixer at Kinfolk Studios at 6pm on Sunday. ​
---
Monday, May 29
Memorial Day Monday means that, for the nineteenth consecutive year, Green-Wood Cemetery is hosting a free outdoor musical performance featuring works by Fred Ebb, Louis Moreau Gottschalk, Leonard Bernstein, and other "permanent residents" of the picturesque, landscaped grounds. The ISO Symphonic Band, which consists of talented local student musicians, will kick things off at 2:30pm, so pray for no rain mid-afternoon. Although the concert is free, you should RSVP here, and there will be food and drink available for purchase from various vendors. If precipitation does end up rolling in, Alamo Draft House has your evening plans covered with its interactive Clue Movie Party at 7:30pm. If you've seen the hilarious 1985 film adaptation of the popular board game, you already know what it lends itself perfectly to an intense degree of audience participation. If you've never seen it, now's your chance to see why it's a beloved cult classic. Tickets are $16.50 each, which includes props to heighten the experience.
---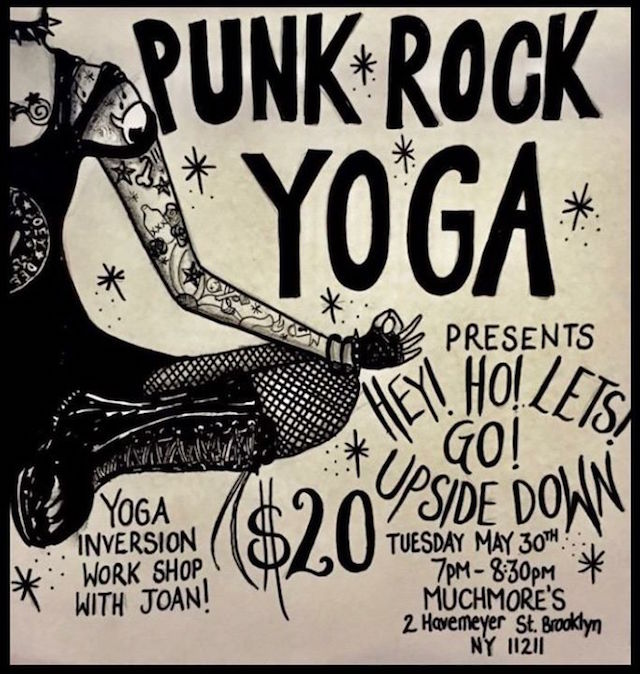 Tuesday, May 30
Get upside down and topsy turvy on Tuesday night at a special Punk Rock Yoga inversion workshop at Muchmore's starting at 7pm. The hour-and-a-half class will delve into handstands, headstands, forearm stands, and the intimidating yet intriguing sounding "no arm stands." You'll need to BYO yoga mat and tickets are $20, but you can avail yourself of drink specials afterward. Tuesday night is also one of two nights this summer that you can impress your social media followers by capturing a shot of a full sun Manhattanhenge, which should hit its peak at 8:12pm.
---
Wednesday, May 31
Gowanus has a new restaurant, bar, whole animal butcher, and coffee shop in A&E Supply Co., and on Wednesday night they are hosting a beer dinner in collaboration with Kings County Brewers Collective that will feature a six course menu that was created with specific KCBC beers in mind. You can reserve a spot for the 7:30 dinner by calling 718-635-3388, and tickets cost $90 per person, which covers the full meal plus seven beers.