It's that time of year again, when you want to drink your favorite cocktail, spritzer or beer outside. Here's a selection of some of our favorite places in Brooklyn (and a couple in Queens) for sips in the sunshine.
Coming Soon
Parklife
Coming soon to 636 Degraw St.
Gowanus
When Julie Kim and Scott Koshnoodi were forced to relocate their beloved Gowanus venue Littlefield because the landlord wouldn't renew its lease, they not only found a great warehouse around the corner, they got a lot of open space to work with—4,000 square feet to be precise, directly in back of the new Littlefield. When it opens in June, Parklife will become a year-round bar and restaurant featuring Mexican food from the geniuses working the kitchen at El Atoradero in Prospect Heights. Parklife will be most pleasant, of course, in summer, seated at one of the 12 communal tables outside or on a lawn chair, sipping one of their new signature cocktails like a mezcal, jalapeno syrup and citrus blend called Summer Friends or the Fake It Till Ya Make it—a frozen spin on the classic Penicillin cocktail with blended scotch whiskey, lemon ginger honey syrup and a single-malt scotch. The anticipated opening of the new Littlefield is next week, Parklife should follow the second week of June. –Nicole Davis
---
Rooftops
Rooftop Reds
Brooklyn Navy Yard, Building #275
Open Wednesday through Sunday
Take a friend, or a date, to Rooftop Reds in the Brooklyn Navy Yard and your cred for knowing the most interesting places for a drink will go through the roof–pretty literally. This rooftop spot is a little walk into the Navy Yard, up a few flights of stairs, to a heavenly roof topped with grape vines, hammocks and tables for drinking wine. (That is one caveat to this experience, if you don't like wine, there's not a lot here for you, other than the spectacular view of the river and Manhattan.) Order a flight of rosé and then continue with a bottle of whichever one you liked the most. New this year they've started a reservation service–you can do it online, even just minutes before you show up, so that when you go through the security booth at the Sand and Navy St. entrance, your name will pop right up and you can enter with zero hassle. –Annaliese Griffin
Westlight at William Vale
111 N. 12th St. 
Williamsburg
Yes, Westlight was featured in the new season of Master of None, so you know it's hip. But beyond that, the cocktails are large and stiff, the small plates (under the auspices of Chef Andrew Carmellini) yummy and the views incomparable. Located on top of the William Vale Hotel in Williamsburg, this spot is the tallest in the area. –Georgia Kral
---
Good for Big Groups
Nowadays
56-06 Cooper Ave
Ridgewood, on the border of Bushwick
The words "adult playground" can conjure undesirable things, but in the case of Nowadays, this bar/park/outdoor dance party venue is actually quite lovely. So off the beaten path you feel as though there is no way on earth it's legal, this swath of greenery in the midst of an industrial zone has a pop-up feel to it, except that the owners are investing in its future, with a year-round indoor space set to open later this summer that will keep its Mister Saturday Night dance parties going long after Labor Day. You'll likely score an empty table for you and a few friends on a weeknight but if you're hoping to cordon off a few tables for your Saturday afternoon birthday party, you can reserve them. It comes at a price, but if you are planning on a day of drinking, ping pong and bocce ball, you'll likely meet the requirements. Come to our Ridgewood Immersion on June 3 to check it out, it's one stop on our neighborhood-wide crawl. –N.D.
Lavender Lake
383 Carroll St.
Gowanus
This Gowanus cocktail lounge has one of the nicest backyards around. The tables are plentiful and even comfortable. Bonus: the food goes beyond what's necessary and you can even order platters for your group. (Just do that ahead of time.) —GK
Lovers Rock
419 Tompkins Ave.
Bed-Stuy
Bed-Stuy is the place to be for chillaxed yet refined hangs these days, and there's really no better place than Lovers Rock, where the rum flows like water and the vibes like a cool breeze on the back of your neck. Inside there's a small dance floor for the many DJ parties thrown there, but the backyard is where it's at. Bring your posse. –GK
Threes Brewing
333 Douglass St.
Gowanus
This brewery and bar is one of those reliable places you know you can always turn to. It's impressive: take a look at the beer vats behind the bar. It's fun: the vibes are jovial. And the backyard is big enough for you, your friends and a whole bunch of other folks and their friends! Food is also available.  –GK
---
Snacks
Forrest Point
970 Flushing Ave
Bushwick
An adorable mural of an elephant watches over the tree- and hanging-plant-filled front patio of this bar and restaurant. There are about 70 seats in a variety of configurations: a table with a tree growing out of it, swings, what look like former school auditorium seats. Try the milk punches, or you need an energy boost, the Brazilian 75, with cachaca, lime, prosecco, white pepper, and yerba mate.
Pros: A short walk from the Jefferson L, excellent views of Bushwick murals, and if you get hungry, the food menu is excellent. Definitely try the cast iron s'mores dessert which is a work of marshmallow beauty.
Cons: Gets crowded and it could use a little more shade. –Ilana Novick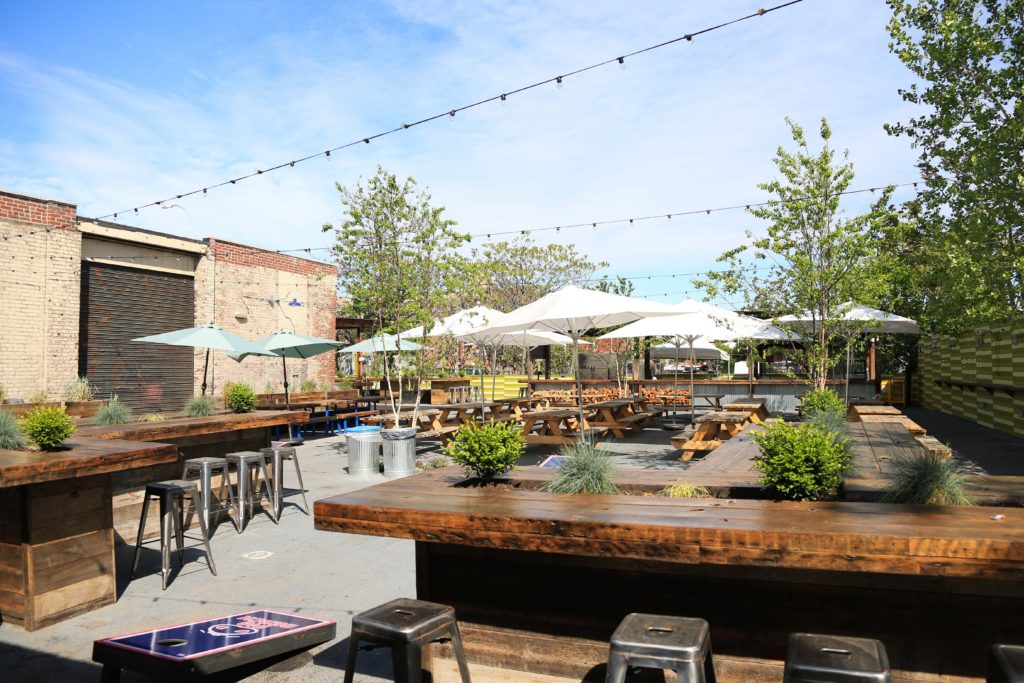 Pig Beach
480 Union St.
Gowanus
Pork ribs, cornhole, and potent vodka slushies, right on the Gowanus Canal. What's not to love about Pig Beach? It's true the weekends can get crowded and kid-filled, so go on a weeknight instead. The BBQ ranges from respectable to divine, especially when they have a visiting Pit Master, the vibe is friendly and chill, and it feels like you're in outdoor bar designed by the editors of Dwell. Later this summer, they'll be expanding their indoor restaurant and bar area, too, to extend the season and make sure you have a place to sit in less than stellar weather. –ND
Sally Roots
195 Wyckoff Avenue
Bushwick
When your Caribbean vacation dreams don't match up with the realities of your bank account, the next best option is Caribbean food. While it won't win a curry contest with the heavy hitters on Flatbush, this year-old restaurant does have one advantage in the form of a back garden. Head there for jerk chicken, frozen drinks made with, as the menu puts it "all the rums," and, if not an actual vacation, a cheerful break from reality. –IN
---
Sidewalk Spots
Bar Tabac
128 Smith St.
Cobble Hill
This is old school Cobble/Boerum Hill, and those of us who've been around for longer than a minute will always think of Bar Tabac as the spot that exemplifies upper Smith Street. Join the club, please? Bar Tabac is great because the French bistro food is affordable and consistent; it's always packed and yet there's always a seat for you somewhere; and stepping inside you'll find old-timers, young families, the not hip and the hip. It's a true mix. And the sidewalk seating is perfect for people watching.  –GK
Pencil Factory
142 Franklin St. 
Greenpoint
There was a time in my life when I sit at a table outside the Pencil Factory in Greenpoint on a sunny Saturday afternoon and get to see about half my friends, but either texting them to join or just waiting for them to walk by. Not many of us live in Greenpoint, or even in Brooklyn any more, but it's still great people watching, the bar has a solid selection of craft beers, strong cocktails and a few decent wine choices, and you can pop in to WORD when you're done for some tipsy book shopping. Cash only. –AG
Five Leaves
18 Bedford Ave.
Williamsburg
Five Leaves is one of the original Greenpoint hipster bistros and its sidewalk seating, nestled around both sides of its corner entrance just across the street from McCarren Park can't be beat. [Our office is around the corner and people sit outside here in all weather  from about 25 degrees to 100+, it's insane. –Eds]  There's a long wait on weekends but FL is open all day everyday so come by at an off hour to get your drink (and maybe eat) on. Cocktails, like the Friend of the Devil with mezcal, Lillet, rosemary, maple and egg white, are just $12.  –GK
---
Great Gardens
Maison Premiere
298 Bedford Ave.
Williamsburg
One step off Bedford Avenue and you've entered a new world entirely. This oyster and absinthe den features a handsome u-shaped bar for bartender and absinthe-prep watching but the garden is downright Parisian. Plants and flowers hang from wrought iron embellishments. The sun peeks through vines. Café chairs crowd around tables overflowing with drinks and bivalves. It's heavenly.  –GK
Tooker Alley
793 Washington Ave.
Prospect Heights
Compared to its interior and certainly its lovingly created cocktail menu, which is probably 30 pages long and includes stories and pictures, the garden at this cocktail bar is simple. But it's also charming and never super crowded. If you're a stiff cocktail and no frills type, you can't beat Tooker.  –GK
Cocoa Bar
228 7th Avenue
Park Slope
This central Park Slope café is mainly known for its decadent varieties of hot chocolate (the spicy dark chocolate has a nice kick), and other sweets. Walk through the front two rooms however, and you'll find a quiet back garden that has the potential to become your secret go-to spot. It's got tons of plants and ample seating perfect for a lazy summer Saturday or a pre- or post-Celebrate Brooklyn show stop.
Pros: It's rarely crowded, and even has a porch swing, perfect for reading with a glass of wine.
Cons: Beer and wine only. –IN
Brooklyn Bavarian Biergarten
265 Prospect Ave. 
South Slope
It's part of the legendary Grand Prospect Hall, local and German beers are available by the pint and the liter stein, there's a good selection of wine for $30 a bottle, you can order soft pretzels and many types of sausage on a pretzel roll and there's a waterfall. Not sure what else there is to say. –AG
---
On the Water
Anable Basin
4-40 44 Drive,
Long Island City, Queens
This gorgeous spot on the East River in Long Island City features almost all outdoor seating, and in addition to skyline and sailboat views. They serve Bosnian food including excellent grilled meats, and reasonably priced drinks. It is a bit of a walk from the train, and almost all of the bar is outdoors, so there's not a ton of cover when it rains, but it's well worth the risk. –IN
Sunny's
253 Conover St.
Red Hook
Ok, Sunny's doesn't have waterfront seating, but it is in one of Brooklyn's most shorefront-centric neighborhoods, and has a distinct nautical feel. It's also best experienced during the summer months when you can ride a bike to Red Hook. This classic and beloved dive has seen its ups and downs: Hurricane Sandy, the death of its owner Sunny Balzano, bank woes, but still it survives. It shows how much a place, especially one steeped in history and booze, can mean to people. While you can't see the waterfront from inside the bar, you can feel it in the ambiance and see it–the sun and salt crust–on the faces of the regulars.  –GK
Brooklyn Barge
3 West St. and Milton Street
Greenpoint
This bar is not just ON the water, it's IN the water. Yes, it's on a boat. The floating barge just opened for its second season and is known for its views and chill breezes, obviously. And that's all you need on a hot Brooklyn day or night. –GK